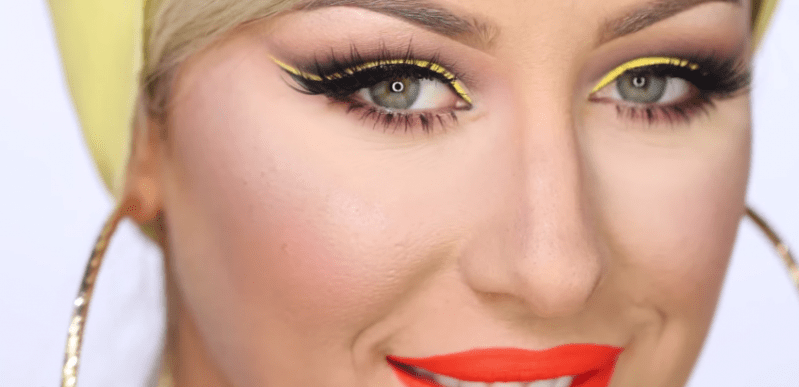 Pearls and pin-up girls have always gone hand-in-hand, and by far this is our favorite pinup style thus far because this pin-up doll is not only true to the pinup cat eye style, but she added a fun and contemporary update to the look. We are so excited to share with you this gorgeous makeup tutorial that has great instructions and wonderful application.
Youtube Beauty Guru, Chrisspy, showcased her skills with this easy step-by-step pinup eye makeup tutorial with fabulous technique that is so modern that it can be worn every day!
In her video, "Modern Pin-Up Makeup Tutorial", Chrisspy shared with us insight on creating a fun and spunky modern day pinup look that can be mastered easily.
We love this tutorial because it is really well explained, fun, and can easily be done by a beginner. The look is amazing with a pair of gorgeous dangling pearl earrings.
To see the tutorial visit youtube.com/ Chrisspy.
Below is a list of the items used in the video that are needed to make this look possible:
MAC Paint Pot- Painterly
StarLooks Champagne Palette
Anastasia Beverly Hills Lavish Palette
Inglot Yellow Gel Liner
Makeup Geek Eye shadow- Corrupt
Makeup Geek Eyeshadow- Cocoa Bear
Mana Kadar Beauty Powder
NYC Liquid Liner
Jesse's Girl Waterproof Liquid Liner
House of Lashes- Precious (bottom)
House of Lashes- Iconic (Top)
MAC LipMix- Orange
This look will be greatly complemented with a pair of our "Cage Egg Pearl Earring Set – Black AAA 10-11mm Tahitian Pearl Earring Set".
And our beautiful, "Royalty Black Pearl Earring Set – Black AAA 9-10mm Tahitian Pearl Earring Set".
What do you think of the look? Do you think it can be worn every day? What would you wear with this look? Share your thoughts…
Photo Source: Chrisspy
(Visited 1,065 times, 1 visits today)