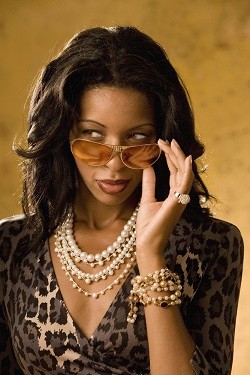 We have talked about wearing pearl necklaces before, but we focused on casual outfits and pairing pearl necklaces with specific types of dresses, among others. Today we will take a look at the etiquette of wearing a pearl necklace in various everyday life contexts, including, of course, formal events, office days, date night and business meetings. Wearing a classic pearl necklace is a pride and a privilege for many women of all ages. Designers together with fashion experts cannot emphasize enough the fact that wearing pearls in this day and age has nothing to do with you looking like your grandma. On the contrary, your grandma would be proud, as pearls are indeed some of the most precious weapons in a woman's arsenal of beauty and seduction.
Wearing a pearl necklace in a classy design can accompany any type of outfit – and it has to accompany certain outfits too. A mix of demure sophistication and glamorous modernity, a designer white Freshwater pearl necklace can look fabulous and modern if you pair it correctly with your clothes and other accessories. The beauty of pearl necklaces is that they can be worn every single day giving you a different look and attitude every single time. Whether you are into more classy combinations or modern-chic ones, it is indeed your best friend. Let's take a look together at some tips, tricks, and rules of wearing a pearl necklace and rock every given occasion!
1. Know Your Pearls
This goes without saying, but before fully embracing the miraculous sophistication of pearls, you should know them and learn everything you can about them. First and foremost, you need to play around with their color and hue, as pearls come in white, gray, pink, lavender, black and everything in between. The second thing you need to know is how to match pearls to the color of your skin, eyes, and hair. If you master these little tricks, you can further delve into choosing the best pearls for different outfits.
The classic single strand white Japanese Akoya pearl necklace is the accessory du jour to compliment and style up any types of outfits, be them formal, casual or elegant. A white pearl necklace is probably the most versatile piece of pearl jewelry, as it works well with all skin tones and personal fashion choices, allowing a myriad of styling options. White pearls are a classic, having been worn since the 15th While indeed associated with old Hollywood glam, fancy grandmothers, and weddings, we will see in a minute that a white pearl necklace can be the highlight of a formal business suit if worn correctly.
A pink pearl necklace plays on the romantic and bohemian side, highlighting the skin tone and hair of blonde women and ladies with light skin and hair tones. A pink pearl necklace goes well with softer, more romantic occasions, highlighting a woman's femininity and soft side.
A lavender pink pearl necklace compliments women with darker skin tones and hair who want to add a dash of glamor to their outfits. Lavender pearls are elegant and sophisticated by definition – you need to pair them really well with your outfits, so they don't clash with your clothes.
A black pearl necklace is the epitome of sophisticated, seductive elegance. Usually worn in formal occasions (black-tie events), they can compliment any evening gown, perfectly blending in the overall attire. They make a gorgeous contrast with lighter skin tones and hair colors and add a dash of mysterious appeal to ladies with darker skin tones and hair.
2. The Etiquette of Wearing a Pearl Necklace
9 a.m. – 6 p.m. office days: If your day job requires formal attire such as suits, jackets, trousers and formal shoes, then your best option is a single strand white pearl necklace with a shorter length to complement a crew neck blouse, a buttoned shirt or a slim fit jacket. If you are the bolder type, you can also pick lavender or even golden South Sea pearl necklace. However, when pairing a pearl necklace to your outfit, make sure it's understated enough not to make your outfit look busy. Also, make sure you never wear two pieces of pearl jewelry together, even if a casual office outfit with jeans allows you to wear an opera pearl necklace you can knot or overlay.
Casual-chic days: for everyday life activities such as errand running days, school days, casual gatherings with friends, visits and city breaks, a two-strand pearl necklace works great with jeans and sneakers, midi dresses paired with leather jackets or cardigans, casual sporty outfits and virtually anything that is not formal or high-end elegant. Young and modern ladies can also spice up their outfits with contemporary-chic pearl necklaces, such as a refined pearl pendant, a lariat necklace, a modern choker pearl necklace or even a stylish designer necklace such as an illusion pearl necklace in a bold color.
High-end formal events: your evening gown is the perfect canvas to paint on with a pearl necklace in a color that appeals to you the most. This is the right moment when you can step up your game and start wearing a pearl necklace, like a multi-strand pearl necklace, multicolored, styled up with a brooch or any of the modern, or chunky and massive pearl chokers that are all the rage right now. The rule here is to wear elegant but understated gowns and outfits in precious fabrics and solid colors to highlight an opera necklace or a massive pearl choker adorned with rhinestone or diamonds. If you want to wear a pearl set with necklace and earrings or bracelet, make sure these are the only jewelry pieces you have and the dress doesn't clash with the pearls in model or An embellished dress asks for a more demure pair of pearl studs or a pearl bracelet. A monochrome dark dress goes well with either a classic white pearl necklace or a colored one.
3. Extra Tips to Consider
If you prefer to wear pearls more on glamorous, elegant events and occasions, you should be aware that long pearl necklaces must be chosen in accordance with your body type. If you are busty, a 30-inch long pearl necklace may not flatter you at all. Longer pieces, above 36 inches long are the preferred choice as they make your body look longer and slimmer. Also, long necklaces can be worn with a loose knot or wrapped around your neck a few times to add more sophistication to your overall look.
Massive, statement pieces go extremely well with strapless dresses, off-shoulder ones, spaghetti strapped dresses and crew neck blouses or dresses as long as the gown's fabric is a solid one and doesn't present patterns or other embellishments.
Wearing a pearl necklace is possible for any given occasion. Everything you need to worry about is choosing the right one for you depending on your skin tone and hair color, body type and your favorite occasions to wear it.
(Visited 57,271 times, 1 visits today)