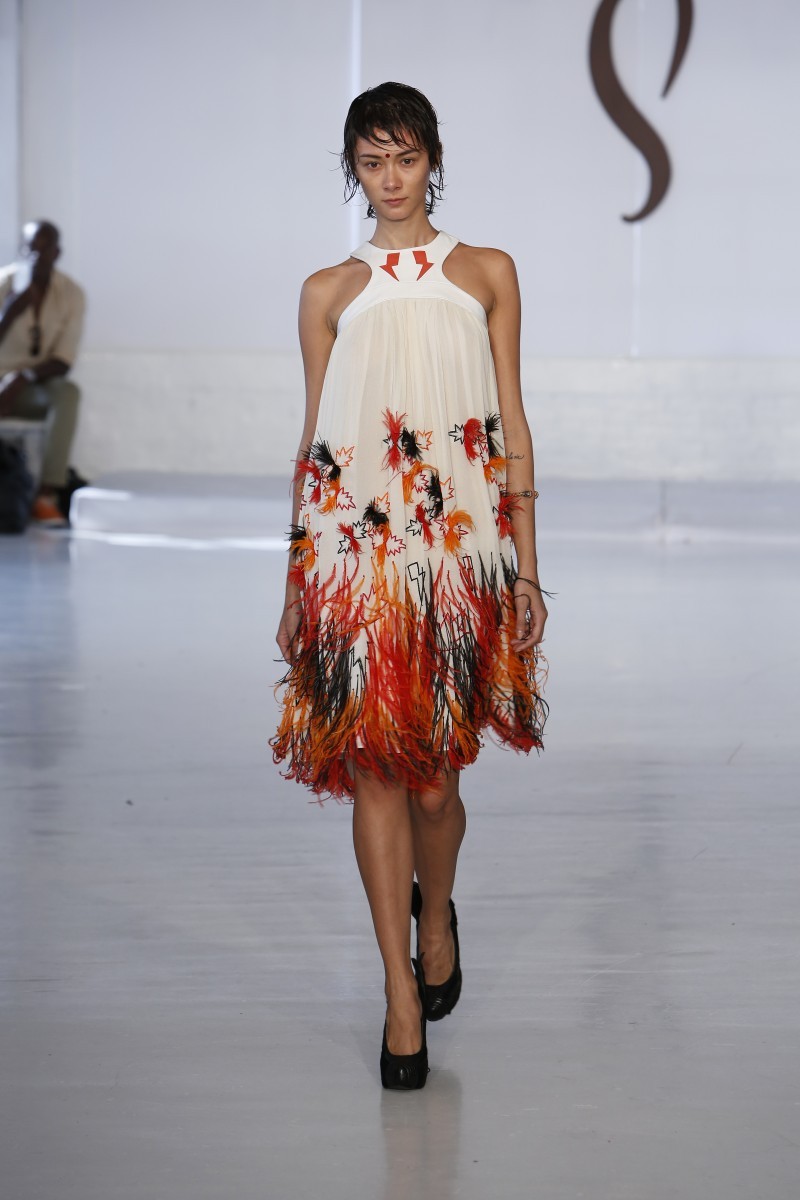 "Inspired by the concept of love and its impact on the creative process, Sheena Trivedi's Spring/Summer 2015 collection marks a new era for her namesake brand, introducing a soft and sophisticated touch to her well-known edge."- Lovers of Today
New York Fashion Week (NYC) — On September 7, 2014, Sheena Trivedi presented her latest Spring/Summer collection for 2015 to an audience that appeared to be captured by the beautiful colors, the comfortably fitted textures and fabrics that were amazing, and very fashionable designs. Sheena has created a niche for herself as a designer that's in touch with the young, hip and chic.
Sheena Trivedi's "Love of Today" collection can be summed up as structured, fun, and feminine. Born from her romantic relationship with her husband, Sheena explained that she met her husband, dated and married him all in just four months. "It was like being hit by lightning, but in a good way," explains Sheena. "This is why you see the lightning bolts in a lot of the clothing. It was fast, striking and colorful. It feels so good."
Anyone in attendance of the presentation could feel the love in the structure of the designs and playful choices of mixed textures and colors. There were many highlights that included dresses adorned with plumed feathers, leathers, linens and silks that made the fashion fabulous.
Fashion highlights that we would love to see with pearls:
The white trapeze dress fancied with teal and red feathers. The dress has red and teal leather details at the top of the dress which was absolutely stunning.
Pay attention to the white leather and sheer tribal printed leggings… they are everything for the upcoming spring! Sheena has created a look that will be all over the street style blogs. A fashion forecast frenzy at this show!
This dark cyan jumper is everything that a girl can want in her closet—unique style, leather in all the right places and belted straps. This was definitely the look of the season. This jumper can be worn day or night and at most fashionable events. Heads will turn!
Overall, Sheena was filled with fashion favorites! She is definitely a designer to watch!
Trend Report (what has been seen on a few runways for Spring/Summer2015):
Lots of Feather Décor
Trapeze Dresses
Teal
White Leather
Sheer Leggings
What do you think of the designs by Sheena Trivedi? Would you dare to wear? Check out more from her fabulous line.
COVERAGE PROVIDED BY: MS. ELITOU (@tweetyelitou)
Photos Provided by: Omen PR
(Visited 163 times, 1 visits today)