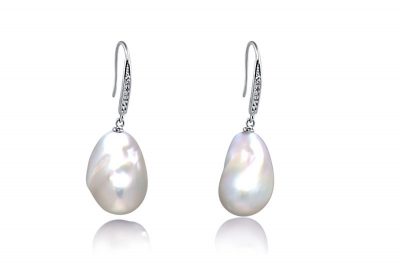 Many celebrities pair elegance and sophistication with pearls. However, modern and chic are also an association to fashion styles also associated with pearls, as many world respected creators are continuing to use them in their creations. Large pearl earrings have a more dramatic flair and that surprise effect, most often people associate them with high fashion, red carpet glamour, but with the changing trends, big pearl earrings can also be worn on casual and street styles, and today we will show you how!
When it comes to celebrities, upper British class and Hollywood glam stars love to spice things up with their pearls. From the Duchess of Cambridge to the former First Lady, Michele Obama who is seen in public with elegant clothing combinations, and quite often, some beautiful pearls that go along with it. When it comes to the Hollywood glam, Scarlet Johansson, Angelina Jolie, Sarah Jessica Parker are only a few beautiful women who are caught wearing some beautiful pearls on the red carpet.
The well known Sarah Jessica Parker, one of the fashion icons today, often says that pearls are a necessary accessory for every lady and that she includes them in almost all of her style choices. Now even if pearls are most often associated with high-end fashion, add sophistication, there are a few bad&bold ladies who took the pearls out of their grandma's jewelry boxes out on the street Rihanna and Katy Perry managed to style some glamorous pearls with their well know street style outfits.
Image 1
The Largest Pearl Earrings From Our Collection
Here is one of our largest pair of pearl earrings. The exquisite Baroque Edison Pearl Earring Set will make a wonderful addition to any jewelry box. The large 12-13mm pearls will add a touch of glam to any outfit. The elongated shape and design of the white almost translucent colored freshwater pearl aid in adding to the pearl's overall length while the unique characteristics of its appearance give it a one of a kind pearl experience. The .925 Sterling Silver fishhook loops are accented with cubic zirconia to add the extra wow factor to an already eye catching set of earrings.

Next, we invite you to discover the Edison Cultured Pearl Earring Set in Dangle White. The large 11-12mm sized white pearls dangle in an amazing and shimmering design which create a wonderful effect next to the .925 sterling silver tops and caps. The high AAA quality in its shape and luster make it a valuable and durable investment! The Dangling design makes this large pearl earrings set suitable to any wardrobe, so wear them with confidence and style!
Large Pearl Earrings Perfect For All Skin Tones
Large pearl earrings can be a bit hard to define, as large pearls are from 7mm of width up, however, when more pearl pieces are combined you can certainly have an interesting design. The Keita Earring Set is a perfect choice for all women that want to step out of the common and classic design. The pearl pieces vary in size from 5-10 mm of width. This large pearl earring set is made out of white Freshwater pearls with a design that can easily go from a day style and pair up with a glamorous night gown, and more importantly it goes well with all skin tones because of the warm white undertones.
The three piece pearl design of the necklace, with its neutral color makes it an exceptionally adjustable accessory, as it can go well with basic t-shirts and jeans, when paired up with some pumps and a leather bag, can be very modern and a good casual office attire. After a busy day, or if you are having a gala event midday or evening, just slip out of the day to day clothes to a gown of any color, make your eyes more dramatic and appropriate for the occasion, with a fast and simple updo, these earrings will make you look like a million bucks.
Large pearl earrings for romantics
There are many ways and occasions where you can wear your large pearl earrings, from business meetings and daily work, to larger events like weddings, but even romantic getaways for you and your romantic partner. If you want to look dashing for them, we have prepared a selection of several large pearl earrings you can choose from, along with some tips on how to combine each model.
Freshwater Heart White
This beautiful earring design is similar to the trends celebrities were wearing in the past years, with a double pearl studded earring. The Heart freshwater cultured large pearl earring set will definitely be a statement, and with its modern design you can wear it for a day and evening event equally.
The flirty earrings can go well with all skin tones and hairdos, which is the benefit of wearing studded earrings. However, even if you decide to let your hair fall down naturally or have some beach curls, you will be able to notice the earrings as well because of the  8-9 mm width of each pearl. Quite a fancy statement. These large earrings are a perfect match for long summer dresses and even boho styes, all types of hair styles and minimalist or nude makeup, as the entire attire should complement, emphasize (but never shine brighter than) your natural beauty.
Impressionist heart shape in Reese Black
The AA Quality, Freshwater Cultured Pearl Large Earring Pair in Reese Black is a perfect statement piece for those women who love to be noticed. The contrast of the .925 Sterling silver with the deep black color of the pearl can emphasize a pale tan, or contrast a warm skin tone with proper makeup and outfits. These earrings are glamorous just enough, and they reveal the romantic and passionate side of you. The shape of each pearl is a bit unusual, each pearl piece is 7-8 mm, however, the shape is not oval, as most pearls are, but it has an intricate, impressionist heart or a usual gemstone shape. Needless to say that these are a beautiful statement piece and should be a part of your collection for those special, but intimate occasions.
These black pearl earrings will go best with the classics, a warm long gown, or a little black dress. A romantic hairdo, some loose curls and a seductive, elegant bun with warm and glittering makeup that will just dazzle your significant other. Remember to combine your accessories and those earrings such as these go best with either a bulky but simple charm, or some rings but be careful to always have a balanced look.
Flower Studs
These freshwater cultured pearls in the Bella earring set comes in black and white, so are a little bit for both tastes. The large 8-9 mm pearls make these a perfect fit for the large earring set caliber, but are modern and minimalist, and can easily adapt to literally all fashion styles, skin tones and hairdos. Depending on your personal preference, choose between the black and white combination, or take both and wear one of each in every ear, break some symmetry rules and reveal that creative and funky side you have.
Studded earrings with larger pearls do fall into the large pearl earring category as, well, it is hard not to notice them, but they are still somehow conservative and not over the top! These are perfect for some dates that are out of the box and involve more activities, long walks, ice skating, movies as well as the usual, dinner and candles after a movie ordeal.
Break that symmetry
We already mentioned that there are a lot of Holywood celebrities that have been trying out different styles, and we have seen studded large pearl earrings with casual wear, long skirts, crop tops and sneakers. Topped off with an urban bag and a messy bun. There are so many ways that you can feel classy and stylish at the same time.
These large pearl earrings in Amy Lavender have the beautiful lilac undertones and are a great choice for people with fair skin. They can be worn with urban styled outfits, in pairs or as single earrings (yes, that's a thing and it looks good!).
Choose your large pearl earring set, or several ones. Pair them up or down, combine two or more different styles- which can be really fun if you have more holes on one or both sides. Even one of our favorite stars, Emma Watson, loves to play around with pearls and styles. Such an inspiration. Notice the cool effect?
Image 2
Let us know what are your favorite designs and combinations to wear them with. Do you like your hair up or down? Have you ever worn just one earring out of the pair, how did you style it? The beauty of fashion is that it is ever changing, and if you want to have style, you can follow the trend, or simple be unique- it is all up to you.
(Visited 2,363 times, 1 visits today)