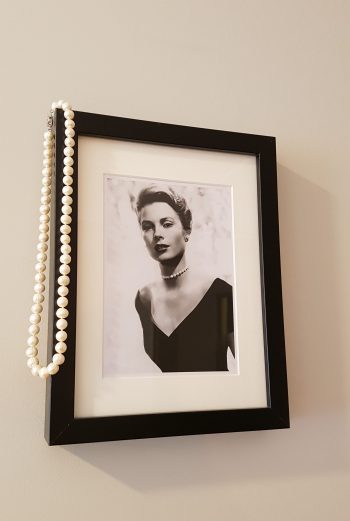 For many of us, Grace Kelly was a true role model: a goddess on the screen, a fighter in her real life. Inspired by her love for simple and classic elegance, we will show you how to wear pearls like Grace Kelly. Being the darling of the screen and The Princess of Monaco, she managed to bring a touch of class to Hollywood and into our lives as well. A real jewellery lover, Grace favored pearls and diamond collection pieces created by the famous Van Cleef & Arpels and Cartier. But this post will cover her passion for pearls and the multiple ways she used to add them into her outfits. Keep reading if you want to find out how you can actually wear pearls in the Grace Kelly style.
Things may have seemed to come easily for Grace Kelly, and that's just what she wanted the world to see. She had the winning combinations of strength and sensitivity, dignity, and warmth, which helped her to conquer many challenges. She is one of the universally loved leading ladies who fulfilled our favorite fairy tale. Grace Kelly was stunningly beautiful and became Hitchcock's favorite actress. No wonder her talent and electrifying eyes charmed everyone. It was extraordinary how she went from one film to another in a such a short period of time (11 films, plus she received the Academy Award). She was constantly working with very important leading men and the most talented directors.
Grace struggled to be accepted as an American in Monaco, became Princess of Monaco after marrying Prince Rainier III, in April 1956 and then gave up her acting career at her husband's wishes. As the years passed, Princess Grace matured from an American star to a royal symbol of dignity and inspiration around the entire world.  She devoted herself to her family and country. It is commonly known that she worked with great effort and energy for charities such as the Red Cross and the Princess Grace Ballet School.
"I favor pearls on screen and in my private life", Grace Kelly used to. Obviously, we absolutely love this statement. It really incorporates her love for pearls and shows her true preference when it comes to her signature jewellery pieces.
Not everyone can be a Princess, but everyone can wear pearls like a Princess. Let's find out how Princess Grace loved to wear her pearl necklaces.
How to Wear a Pearl Necklace Like Grace Kelly
Did you know that Grace Kelly loved to wear her pearls on bare skin? She used to do this mainly because the skin has the property of maintaining pearls hydrated. This accentuates their beauty and shine, so next time you plan to wear your necklace, do it the Grace Kelly style and pick a classic monochromatic off the shoulders dress with a round neckline. Grace's Kelly famous statement pearl necklace was the triple strand pearl necklace from Van Cleef & Arpels, which was received as a gift from her husband.
But her signature style mark is represented by the single strand white pearl necklace, worn close to her neck, as a choker. The pearl size ranged from 3-4 mm to even 10mm. As a result, you can wear a single string of pearls like this 5-10mm  Freshwater Cultured Pearl Necklace in White.  We suggested this one since the effect of the pearl necklace is enhanced with the placement of various sized pearls (just like the one she was wearing in the first photo). The center line begins with the largest pearls and extends out working in decreasing sizes. Or you can always wear a classic pearl necklace: 8.5-9mm Freshwater Pearl Necklace in White.
Moreover, she also enjoyed wearing a double strand white pearl necklace. Just take a look how beautifully it adorns her neck. To get this kind of look, wear this necklace with a classic black dress. Add a silk headscarf, sunglasses, and white gloves and you get a timeless look. If you're wearing petite pearls, then pick silky fabrics. They add a touch of glam to your look.
A popular collection piece, the three strand pearl necklace is a truly majestic piece. It really compliments her beauty in a ravishing manner. It may seem imposing, but not opulent. Today you can achieve Grace's look with this triple strand white pearl necklace and a V neckline blouse or a strapless silky pink dress.
How To Wear Pearl Earrings Like Grace Kelly
The simple way Grace used to wear pearl earrings enhanced her delicate refinement. Her minimalist style was reflected in her choice of earrings: pearl studs, large rounded button style pearl earrings or pearl drop earrings. The small pieces really managed to make a statement, so always remember that less is more!
Taking her photos as a  great source of inspiration, we came up with three suggestions:
the simple and classic pearl studs,
the dangling pearl drop earrings in Reese White.
How To Wear Pearl Sets Like Princess Grace of Monaco
Pearls are never enough!  You can wear pearl earrings, necklace, and bracelet altogether if you opt for a simple and chic outfit. Here is a simple and affordable white pearl set, similar to what Grace used to wear with so much elegance.
Grace Kelly Wearing Pearls In Her Daily Life
It is clear that Grace fancied pearls more than anything else.  Just as she claimed, she wore pearls in her daily life too, not only during her acting moments. These pictures are the absolute proof that pearls are timeless. You can wear them for years and years without worrying they will go out of style. Notice the exquisite air she still has in every photo?
How to look like Grace Kelly?
While no one can actually be like her, we can definitely borrow some style lessons from the Princess of Monaco.  Without any doubt, her flawless sense of fashion made her a true style icon. If you're wondering how to dress like Grace or how to look like her, follow these style tips that became her signature fashion marks:
wear a pair of classic black sunglasses,
wear your hair smooth with back roll up or an elegant classic bun,
go for classic cuts ( a full A-line skirt & a black body suit, custom tailored suits),
wear casually chic capri pant, headscarf, and sunglasses in one outfit,
in terms of shoes, pick those with a low heel (Grace loved to wear elegant, yet comfortable shoes),
wear a "fresh face" makeup look; this kind of look involves bright skin and only with little makeup that enhances your natural beauty,
Princess Grace of Monaco loved gowns; next time you have to attend an event, pick an elegant monochromatic dress,
Grace Kelly avoided anything that looked gaudy, flashy, glittery – a clean simplistic style will always look more sophisticated,
don't forget to wear pearls on bare skin!
Inspired by the woman whose beauty and grace touched the hearts of million, we wrote this article as a tribute to Princess Grace of Monaco and her love for pearls. Nowadays, we can look back and reflect on Princess Grace's life and the legacy she left us all. Beyond her beauty, which was impeccable, she had style and class. She was absolutely enchanting.
Her delightful smile and alluring figure made everyone fall in love with her.  A muse for fashion designers and film directors, Grace of Monaco managed to conquer hearts and souls. Spending time with affectionate, light-hearted people helped her develop a philosophy based on spiritual optimism. We admire and will always remember her for her simplicity, kindness, fortitude, and her candid soul. We hope you enjoyed reading our small portrait of Grace Kelly and discovering how to wear pearls like Her Serene Highness The Princess Grace of Monaco.
(Visited 19,723 times, 1 visits today)