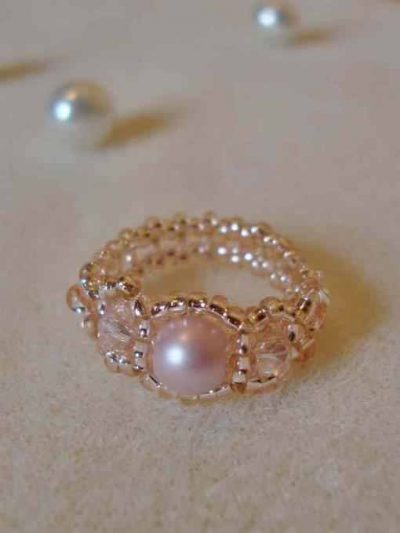 Does your pearl jewelry collection include a pink pearl ring? If not, then you should definitely consider the advantages of owning such a delicate piece. We all know that an elegant pearl ring adds a timeless appeal to any look or ensemble. But a ring with pink pearl has some very special features. Since our collection of pink pearls is truly magnificent, we invite you to discover our top pink pearl ring selections. We will also give you some fashion recommendations hoping to make your choice easier. Therefore, keep reading this article and let us know if we managed to show you how distinctive pink pearls are.
Pink pearl pieces are truly delicate and they have the amazing ability to accentuate a woman's most feminine characteristics. You will be surprised how beautiful and graceful they look on your hand. The pink pearl shade is definitely not so often encountered, so people around you will be pleasantly surprised. Pink pearls are warm, soft, peculiar and remarkable. Just like absolutely every woman is special and unique in her own way.
5 REASONS TO WEAR A PINK PEARL RING
Transition – It represents the perfect occasion to make the transition from white classic pearls. Generally, pink pearls are the next choice for women who love something bolder, but still in a pastel and delicate tone.
Versatility – Single-pearl pieces, like a pink pearl ring, are elegant, charming and very easy to style into basically any type of outfit.  A ring of this type is an elegant touch to business or even casual outfits because of the exquisite pallet of pink shades.
Symbol of romance – Pink pearls symbolize good fortune! This pearl color represents fame, faith, success and romance! That's right, ladies. The delicate and soft pink pearls are perfect for women who wear classic cuts, but refined accessories. Therefore, a pink pearl ring is the ultimate form of sophistication!
Health benefits – Pearl rings bring stability in mind and attract positive thinking. According to an article related to astrological benefits of wearing pearl rings, they help foster healthy relationships especially between husband and wife. Moreover, pearl rings are the essence of female energy. Thet are extremely beneficial for women to cure various diseases.
Engagement- Solitaire pink pearl rings are simple in design, but extremely charming and graceful. The pearl set in gold, silver, or platinum will be easy to pair with corresponding accessories. Moreover, a single pink pearl ring is wonderful for romantic occasions and represents an ideal choice for a truly original engagement ring. If your loved one is not a fan of diamonds and traditional engagement rings, then you will definitely surprise her in a sweet and thoughtful manner.
From our customer experiences, our delicate pink pearl rings represent excellent gifts for your loved one. If you look through our selection of rings with pink pearl you will be able to find the most suitable pearl item for you. But before that, let us help you with some fashion tips.
HOW TO WEAR A PINK PEARL RING
1. First of all, you should find a pearl ring in a pink shade that compliments your skin tone. Generally, rings with pearls suit every skin complexion. If you have the possibility, try the ring on your finger and see if you like how the tone blends. Place your hand into day light and you'll notice the warm glow.
2. You can also wear it with another pearl item. From our experience, a fine piece like a pink pearl ring will always go perfectly with a pink pearl pendant. The pendant's pearl should have a similar shape and shade to the ring's pearl. Together, they will enhance your femininity in a subtle, but very sophisticated way. Another tip is to pair it with a pearl head accessory.
3. Another useful tip would be to find a nail polish color that matches the pink pearl shade.  Nude colors are also recommended. There are plenty of stores that allow you to try the nail polish, so ideally, go with your pearl ring and try on several nail polish pearly nuances. You'll see what a brilliant effect you can achieve with this little and simple tip! Your hands, paired with a pearl ring, will look fashionable and dainty!
4. Moreover, you can apply the same previous tip in terms of make-up. It may sound silly, but a pink eye color shade with pearl shimmer can create a unitary and classy look! If you're worried that the whole appearance could look too pale, apply a dark eye liner and a lipstick in a stronger or bolder shade.
5. There is no doubt that pink pearls are wonderfully understated and incredibly elegant. They make fantastic fashion statements and offer an air of soft sophistication. To make their color pop more brightly, wear clothes in a contract color. A dark color dress, black or in a burgundy or green shade, will bring a welcome twist. Embrace the beautiful unexpected!
6. Last, but not least, take care of your hands. Pearl rings call attention to themselves instantly, so your hands should look beautiful as well. A good skin care routine for your hands will not only make you feel magically, but it will also enhance the beauty of pink pearls. Since you are wearing the ring on your finger, your skin should look supple and glowy. A nice scrub, a moisturizing hand cream, a quick massage to stimulate the circulation and a drop of skin oil will make a big difference. Hydrating your hands will definitely emphasize the elegance of the pink pearl ring.
If you want to find our more information about pink pearls, here is a guide to pink pearls and how to wear them .
5 PINK PEARL RING SELECTIONS FROM OUR COLLECTION
1. This pearl ring in Dana Pink is simple, yet so refined. Elegant and chic, this pink pearl ring in sterling silver allows you to be classy and trendy in the same time in the young pearl world. It showcases small and delicate engravings designed to mimic accent diamonds. This pearl ring is totally appropriate for young girls, but also for ladies with a fine sense of style.
2.  The pink Sadie pearl ring is perfect for the romantic woman who has a predictable and classy sense of style.  Notice the curved and side swiped heart? This lovely design will make your pearl ring stand out for sure. Moreover,  the sparkling gloss is enhanced more with the .925 sterling silver ring. Wear it with a pretty green dress, sandals and perhaps a pink pearl brooch?
3.  Now this is definitely a great choice for a woman who loves to be bold and daring. A truly statement piece, this Fiona pink pearl ring  with a large button shaped pearl  of 9-10mm, will only attract warm energy and positive remarks.  This modern design is suitable for women who have an active lifestyle and taste for contemporary masterpieces of jewelry.  Wear it with a tailored suit, heels and a simple yet impeccable manicure.
4. The large button shaped pearl sits in complete comfort wrapped within the open band of the shiny sterling silver ring. Lovely, isn't it? Wear it with a cashmere sweater, a pleated skirt and heels. If you're not afraid to experiment, team it up with a pink pearl pendant as well.  This cultured pearl ring in Chantel pink is perfect for the poshed lady who considers pearls the girl's best friend.
5. If your girl has a penchant for pink, she'll adore this ring with a beautiful pink cultured freshwater pearl (6-7mm), a blush-tone , and shimmering diamond accents all set in exquisite white gold. And yes, this is a perfect choice for a remarkable engagement ring.
If you find a ring that truly aligns with your values and passions, make it yours! You won't regret a second. It will become your pearl accessory statement. It doesn't rebuild your image, it just glams it up.
To conclude, start by associating the pearl color with your tastes and feelings. You don't have to wear pink clothes in order to pair them with a pink pearl ring. As you could see, the pink shade has some peach tones that go perfectly well with pastel colors or dark colors for an obvious contrast. You have endless options to wear a ring with pink pearl and it will instantly lift your spirit. For a very special piece of jewelry, consider shopping for cultured pearls. So, next time you are shopping for a pearl accessory, don't overlook the idea of buying a ring with a pink pearl.  It makes a wonderful gift for any pearl lover, or it can bring you the joy directly. Make sure to check our collection of pink pearl rings first and feel free to contact us for recommendations.
(Visited 6,663 times, 1 visits today)