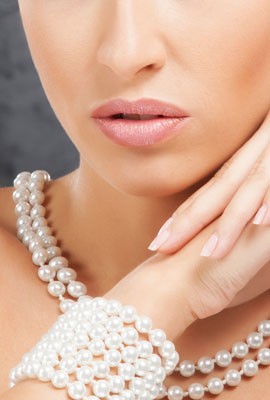 The Dior woman is classic, refined, extremely feminine and in touch with her natural beauty. She wears the iconic Dior dresses and the elegant long gloves. The Chanel woman is strong, takes the world by surprise and a room by storm. She wears expensive perfume and well-tailored suits that empower and enable her to do anything she sets her mind to. The Moschino woman is fun, young in spirit, free and wild. She wears shorts adorned in color and long t-shirts with crazy prints. The Mikimoto woman is all about the pearls. And they're so fabulous she doesn't need anything else.
What the Mikimoto Pearls Woman Represents
Being a Mikimoto woman means to cultivate a lifestyle outlined by beauty, elegance and grace. In a way, if you've ever worn pearls, you are half way there. Mikimoto Kōkichi was the man who created the first cultured pearl and, therefore, started the entire industry that we base our favorite gems of the sea on today. This means that, with every single strand of cultured pearls you wear, you are part of the Mikimoto culture and lifestyle.
The Mikimoto culture was started a very long time ago, in the 1800s, when Mikimoto Kōkichi fell in love with the white spheres and their perfection. He called them "living jewels", watched intently the course which nature took to create and deliver them towards absolute flawlessness. He hoped to recreate that himself. One might argue that trying to beat nature at its own game or even to match it, was a fool's dream, just like Thomas Edison argued when he met Mikimoto. Edison, the great inventor, believed such a thing as creating pearls in a controlled environment was not possible. Luckily for us, he was wrong, because Mr. Mikimoto managed to perfect his process in 1893 and create the first ever cultured pearls.
Since then, he has passed into legend and so have his pearls and his jewelry. The process through which the jewelry pieces are made is both rigorous and romantic, at the same time, closing a paradox only a Mikimoto pearl is worthy of. For every Mikimoto pearl necklace, earrings or ring, every pearl is carefully selected, because only the best pearls are culled. They must be perfectly round in shape and have a very high-quality nacre. After they have been selected by specialists, the pearls are then cleaned using specialized techniques. The next step is to pass them on to the examiner, who studies each individual pearl only in the Northern morning light. It is considered to be the best light of the day, because it's very even. In this way, the true "personality" of each pearl is revealed.
This whole process speaks of an undying love, passion and respect for the gems and the jewelry that comes out of them. Treating them like they are alive and have a mind and spirit of their own is the Mikimoto's house secret, which is why their jewelry has been loved for more than 100 years world-wide. This is also the reason why their jewelry pieces have a level of quality well beyond that of other producers. Quality means endurance over time and endurance means power, exactly the traits of the Mikimoto woman.
What Makes Mikimoto Pearls So Special?
Sometimes, talking about technicalities when it comes to jewelry might seem inappropriate or too harsh for such a delicate and beautiful subject, but when it comes to Mikimoto, they are only another reason which proves why the house has lasted so long. Their pieces are made using only 18K gold or platinum, their gemstones are all natural in color, meaning they never use color treatment or radiation, which guarantees their color will never fade away, making even vintage pieces look shiny and nice and they use the finest silk threads for the pearl strands. Even though not visible, luxury is guaranteed on the inside as well.
If you are thinking about investing in a Mikimoto piece, you should know that you can always identify it by it trademark, which can be either the outline of an oyster or the company's name engraved on the clasp, ring shank or on the back of every earring. The strands and the bracelets also come with a signature charm in the shape of the M-circle logo.
Mikimoto has many collections at our disposal, perfect for using as the appropriate tool into becoming a true Mikimoto woman. Among them, the Akoya collection stands out, as a traditional symbol of pearl beauty. They are named thus because they are produced by the Japanese Akoya oysters, they are the most popular pearls on the market today and they can grow up to 10 mm in diameter, depending in the shell's size. They can be both white, the classics, or golden, which are rich and buttery in color and add, if possible, even more luxury to the jewelry made from them. The reason they are the most popular pearls today is the fact that they resemble freshwater pearls most and actually surpass them, sometimes, by being bigger, shinier and benefiting from a degree of "perfection" higher than that of freshwater pearls.
As far as the Akoya collection goes, either you go for the beautiful Ocean line, with jewelry sporting pearls and lagoon blue sapphires or for the Tempo Lunar line with stellar earrings and necklace of pearls encased in matte-finished gold, the result will be the same – simple elegance, style and stunning romanticism.
The Mikimoto collections vary, ranging from classic to modern. They include the 'Pearls in Motion' collection, the 'Everyday Essentials', the 'Rare and Exquisite' and the 'Mikomoto Regalia' collection, housing the stunning Aurora bracelet, for example, which has eight 10 mm Black South Sea pearls, also known as Tahitian pearls and 0.42ct of diamonds, proof that, while they have been making jewelry for over 100 years, they are still able to synthetize the modern and cool woman.
All the collections have a very high value, reflected in how much they are worth. Prices, as with every other pearl and jewelry piece in general, vary depending of different criteria, such as material, type of pearl, color, size or number of gems which stud the pieces. As far as location goes, you can buy the jewelry in designated Mikimoto stores or from top resellers, such as Ebay.
Kokichi Mikimoto once said that his dream was "to adorn the necks of all women around the world with pearls". Every pearl lover in the world actually stands by that creed. Timeless elegance, iconic style, luxury and, above all, femininity are all qualities of the Mikimoto house, pearls, jewelry, collections and, last but not least, the Mikimoto woman.
(Visited 1,550 times, 1 visits today)