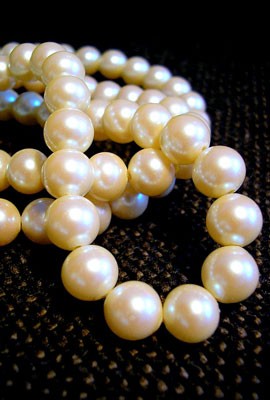 Deciding to buy a pearl necklace is one of the best investments you will ever make but, also, a very important step, especially if you have your heart set on some natural pearls and not the faux ones. They are a symbol of class and elegance and they give the wearer a certain status. But, seeing as they are "organic gems", they come in many shapes, sizes and colors, which might make it a tad confusing to know what to choose. Therefore, here is a guide comprising seven things every buyer should consider before acquiring nature's classiest gems, which will make it a lot easier to choose the perfect pearl necklace.
The type of pearl
The first thing you must consider before even starting to look at necklaces is the type of pearl you would like to be wearing. 'Type' can mean several things:
Natural or cultured – natural pearls are the type that grow naturally and are harvested from oysters fished out of the water, while cultured pearls while they are natural too, in the sense that they grow inside an oyster, they are cultured by humans, in farms. Natural pearls are extremely expensive, which means that most people usually buy cultured pearls, of one of the following types: freshwater pearls, Akoya pearls, Tahitian pearls, South Sea pearls, Eyris pearls. They are usually named after the place or sea they come from.
Color –type of pearl refers to color as well. A little known fact, because almost everybody goes for white pearls, is that they actually come in a very large variety, as far as hue is concerned, which means you have many choices: whites, pinks, mauves, purples, shades of gold and copper, browns, blues, greens, greys and blacks or even multi-colored, which are called peacock pearls.
Shape – another criterion that differentiates the types of pearls is their shape. They can be either round, spherical, ovoid or baroque. The latter comprises every type of irregular shape in a pearl.
The length of the necklace
Once you've decided what type of pearl you would like to wear, think about the length of the necklace. This can be determined by your budget, your taste or the outfits or costumes you are planning to wear it with. As a standard, there are six main types of necklaces, according to their length: collar, choker, princess, matinee, opera and rope or lariat.
Single or set
The next thing you have to consider when buying a pearl necklace is whether you want it to be part of a set or you simply want the necklace. Having a set is ideal, but one should take into account, before buying a set, its purpose of wearing, because one usually wears a set of pearl jewelry on a formal occasion, such as a distinguished party or a high-end wedding. Donning pearl earrings, a necklace, ring and bracelets is a lot to take on the aesthetic side and it is normally very good proof that, sometimes, less is more.
Brand
When shopping for pearls, brand is important indeed, so it must be taken into consideration. A very good piece of advice here is to always shop for pearls from a certified seller or reseller and always ask for the certificate of authenticity. There are quite a few famous brands on the market for their pearl jewelry and, thusly, necklaces, such as: Mikimoto, the world's leader when it comes to pearl jewelry. They have been in business since the 1800s and they were also the first to produce cultured pearls. Other famous brands for their pearl jewelry include the prestigious houses of Chanel, Dior, with their stunning, simple and classy Tribal collection, Misaki, Tasaki or Orchira.
Budget
Probably one of the most important things to consider when purchasing a pearl necklace is your budget. One thing that must always be kept in mind is that such an acquisition is more than a piece of jewelry. It's actually an investment, so springing for the cheap is not really an option. Apart from that, as with most gems out there, when it comes to pearls, a bigger investment means better quality. It is a very well-known fact that the priciest jewelry, while somewhat daunting, are also the ones that will last best over a very large period of time and, also, not spoil. High quality pearls will never lose their nacre, they will never fall out of their casing, they won't have to be restrung, they won't scratch as easily or require as much cleaning.
Encasing
When considering your budget and what you will be wearing the pearl necklace with, also consider the encasing. That means thinking about whether you would like your elegant pearls to be encased in gold, silver or platinum or if you'd like them strung on a silk or leather strand. Most people opt for gold encasing or the almost invisible silk thread.
Simple or paired with other gems
Pearl necklaces come in a very wide variety, so it's advisable to think beforehand if you would like to have a simple strand or one combined with other gems. Normally, pearl necklaces combine the 'organic gems' with diamonds, because of their high value or emeralds, sapphires or rubies, because of their beautiful colors against the white of the pearls. The gems mostly come in the shape of a pendant or a drop on the crystal necklace.
Protecting your precious pearls
There are a few things you should know when it comes to caring for your pearls, as they are quite delicate:
They are extremely prone to scratching, so be careful to always store them in a soft bag.
Put them on after your make-up, because make-up can leave indelible spots on them. Also, hairspray can disintegrate them.
Do not shower or go for swims with them, because they can get holes or disintegrate.
Avoiding sunlight is also a good idea; although it's not the sunlight per se that harms them, but your body's sweat. It will cause the pearls to lose their luster.
Shopping for a pearl necklace is one of the most thrilling experiences you will have as a woman, in the same lines as buying your first little black dress or your first designer perfume, so make sure you give it your undivided attention and make the best choices.
(Visited 1,947 times, 1 visits today)