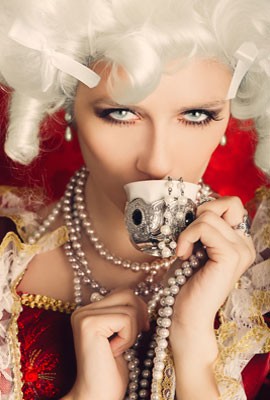 When a person thinks about pearls, the usual picture that comes to mind is what divides pearls lovers. There are the classic pearl lovers, who admire the traditional, white and perfectly spherical jewels of the sea. Then there are the ones who are willing to take a chance and step outside the box, by wearing the elegant and mysterious black pearls. And finally, there are the rebels, the ones who know and love the baroque pearls for their irregularity, which is seen not as a flaw, but as uniqueness. If you want to be one of them, here are the 5 reasons why you will steal the spotlight in baroque pearls.
#1. Uniqueness
As already mentioned, the baroque pearls' main quality is uniqueness. Traditional pearls are valued for looking the same. Actually, the more the pearls in a piece of jewelry are alike, the higher they are valued. But this might also mean that the jewelry themselves risk looking the same. But not when it comes to baroque pearls. They are, by nature, irregular, loose and their shape can range from slight aberrations to very distinctly ovoid, curved or even lumpy shapes. This means that jewelry made using them will be attractive, unique and able to complement any outfit you might be wearing. Baroque pearl necklaces are usually a one-of-a-kind creation, very versatile when it comes to combining it with different items of clothing. Vintage Miriam Haskell creations as well as the Majorica baroque pearl pendant and bracelets point out exactly this uniqueness and large versatility.
#2. Extravagance
Just by saying the word "baroque" one thinks of extravagance, old European charm, class and even decadence. The name of the pearls comes from the art and architecture style that came into existence in Italy, in the 17th century. It was characterized as being bold, ornate and very free in its use of traditional and classical elements, which is exactly what describes Baroque pearls best. They are, in essence, a very classic piece of jewelry, but extravagantly ornate in style. They have a lot of personality, with their beautiful shapes, milky colors and florid styles. Which makes the jewelry that contain such pearls be as extravagant as they should. They attract they eye and steal the spotlight and that is why, if you are planning on being the belle of the ball, you should invest in a Baroque set of pearls rather than in a traditional one.
A Baroque pearl necklace or bracelet, for example, has a much bigger impact than a regular one and it makes a statement, because of its size and beautiful irregularity. It speaks of living life outside the borders and of taking risks when it comes to fashion. In the same way, Baroque pearl earrings are for the strong and secure woman, as they will beautifully highlight the face and let everyone know you are the "queen of the castle".
#3. The Cost of Baroque Pearls
As far as investments are considered, pearls go a long way. Their price has always been consistent with their quality and has always made a stand for status. However, this is not the case with Baroque pearls, as their price is lower than that of other types, which means you will have another reason to glow. Being draped in pearls for a reasonable price will always make any woman smile. The difference between traditional pearls and Baroque is that the former take a long time to be harvested and selected. When building a classical pearl necklace, for example, a jeweler will always strive that all the pieces are almost exactly the same shape, size and hue. That can be a difficult thing to achieve, as it is a well-known fact that nature doesn't like to build in straight lines or to repeat itself. But when it does happen and the jewel maker manages to build pieces like that, all the effort and time consumed will be reflected in the price.
Baroque pearls are different in the sense that, since their beauty lies precisely in the irregularity of their shape, they do not take a long time to be cultivated, harvested or selected. They can come from various sources, such as fresh or saltwater, but they mostly come from saltwater sources. The fact that they are a lot easier to get to as well as use, will be mirrored in the price, which is sure to please everybody, especially when on wholesale.
#4. Their Variety
Stealing the spotlight has never been about uniformity. And neither have Baroque pearls. There are two types which you can choose from – Baroque pearls and semi-Baroque pearls. The latter are irregular as well, but not as irregular as the full Baroque ones. This means they will have a more tear-drop shape, but they can also have what is called a "tale" and which makes the pearl bead look attractively much like a water droplet caught free falling in mid-air.
The best valued types of Baroque pearls are the South Sea and Tahitian pearls, which are produced by the Black-lipped, the gold and white lipped oysters respectively. They are all varieties of cultured saltwater pearls, but the amount of time they spend in the water will greatly influence the nacre and the likelihood that they will come out looking Baroque. This gradation means that breeders are able to produce different types of pearls, perfect for making amazing and striking combinations.
#5. Baroque Pearls in black
They say it's not a good idea to guild the lily, but in this case, a bit more can never hurt. This means choosing the black Baroque pearls, because if white irregular shaped pearls weren't sure to secure you a position in the limelight, the black ones will. As we are already accustomed to variety when it comes to Baroque pearls, there are two types of black pearls – shiny or matte. The shiny, lustered ones have certain Old World elegance to them, especially when they are encased in gold, like a baroque pearl ring would be. They look mysterious and classy, impossible not to be noticed and they will steal the show. Depending on the type of water they were cultured in and on the amount of time they spent submerged, they sometimes have blue, aqua or deep sea iridescent coatings, which earned them the beautiful name of 'peacock' pearls.
Here are the top 5 ways which are guaranteed to steal the spotlight if you wear Baroque pearls jewelry. Variety, class and a touch of mystery in black will never go wrong. And remember what they say – 'if it's not baroque, don't fix it'.
(Visited 1,921 times, 1 visits today)