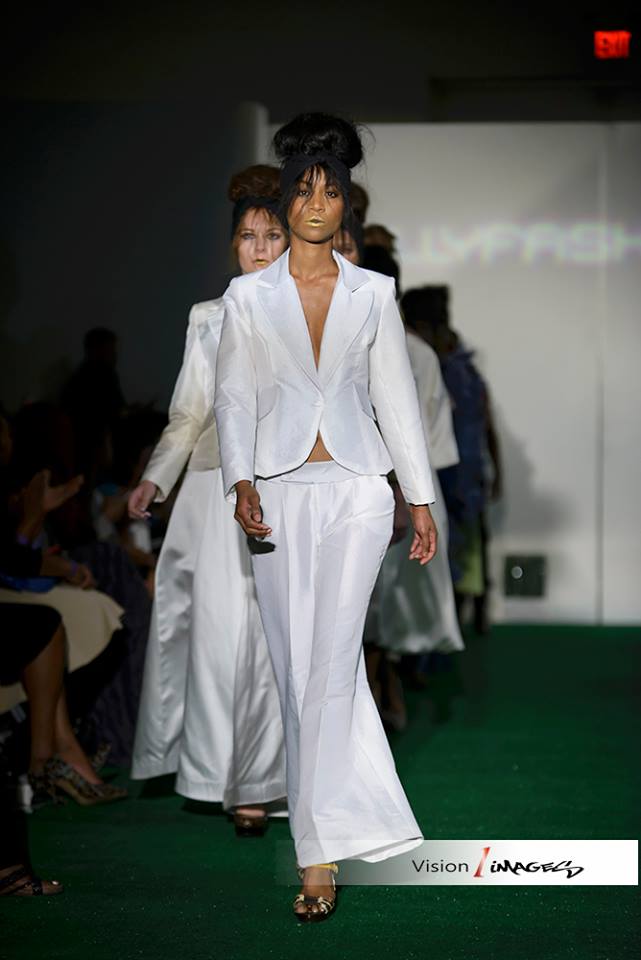 Philadelphia, PA (US)-This year was a unique year for Philly Fashion Week during the Spring/Summer Collection for 2015. In connection with the Philadelphia Collection, Philadelphia Fashion Week is in its 11th Season and still has the ability to go strong.
When we last attended PFW for the Fall/Winter Collection, it was packed from wall to wall with fashion enthusiasts of fellow writers, stylists, showroom owners and Philly's fashion elite that included a few celebrities. There was also the presentation from Project Runway's Season 12 winner, Dom Streater that blew everyone right out of their seats.
This year, we were introduced to a few different concepts that made the event pleasurable but there was also a few that we could use a little improvement.
The staffs at the check-in desk were swift and had people seated quickly. As usual they made sure that people were comfortable and VIP guest were treated with complimentary waters from Box Water and delicious drinks by Sipp.
Although most of the seats were filled from the event, there were a few missing faces that usually grace the front rows. A few of the elite faces that attended the show were: Desiree Peterkin-Bell, the executive producer of the Philadelphia Collection; Mary Dougherty, owner of Philadelphia's Nicole Miller; Angela Edmunds, owner of Showroom77; fashion stylists, Tish Thomas, Anthony Henderson and Debra Ginyard; makeup artist, Rodney Jon; hair stylist, Kia Sterling; fashion writer, Ms. Elitou, and a host of other Philly Fashion greats.
There were a few designers that were on the bill that were not present, which confused a lot of the audience that anticipated their attendance, but the show continued and moved faster than expected.
While there were several designers whose clothes were strutted down the runway, there were mixed views on who was the highlight of the evening and the designer with the most potential.
According to fashion stylist, Tish Thomas, "Jacinta Ligon and Ayasa Afi were the most cohesive of the show. I was impressed by their work. They were creative in their collection, the execution was on point and they have great potential. I look forward to what they have to offer."
Jacinta Ligon has been featured on BET's ON Runway, and Ayasa Afi is a Philly girl that has been honing her craft since she attended the Philadelphia School for the Creative and Performing Arts. Recently, she was a participating designer in the Designer's Collective that was featured at Mercedes Benz New York Fashion Week.  She was very well received.
"Closet by Christobal,"Angela Edmunds added, "Loved the fabric. The coats were very stylish… everything was on point."
Closet by Chrsitobal was founded in 2004 by Philadelphia designer, Chris Brown. He has quite the curriculum vitae having worked with fashion stylist Anthony Henderson, Walishe Gooshe designer, Greg Taylor and many others.
She also had her opinion on designer, Ayasa Afi. "She had a lot of cohesiveness and the concepts were sexy and fun. I really liked the edginess that came from the gladiator boots that were added to the line."
"By far, I think that Michael Thomas was the best of the night," says Anthony Henderson.
Michael Thomas is also a Philly native that knows fashion. His work has been recognized by fashion genius, Oscar de la Renta, while Thomas interned for the legend for more than a year.
"He understands a fashion line. He brings his A-game." Henderson continues, "It won't be long before his work is in the front-line of fashion."
"Closet by Christobal was definitely my favorite," says our very own, Ms. Elitou. "Although the jewel-tone colors for spring were a little questionable for trendiness this year, I thought the clothes were gorgeous, the styles were fun and I especially loved the red jumpsuit and the green coat and pants suit…a must-have!"
So were there any clothes that would look perfect with pearls? "Absolutely!" says Ms. Elitou. "I am going get my hands on that red jumper by Closet by Christobal and a few really good strands of pearls and earrings and knock 'em dead," she jesting states.
Overall, the show is a Philadelphia staple that fashionistas should attend to learn about new fashion designers, network with people in the industry, and share in the fashion experience. We look forward to February's show and seeing the designers reach their highest potential.
To get learn more about Philadelphia Fashion Week, visit their website at: www.phillyfashionweek.org
Photo Credit: Vision 1. Studios
(Visited 203 times, 1 visits today)