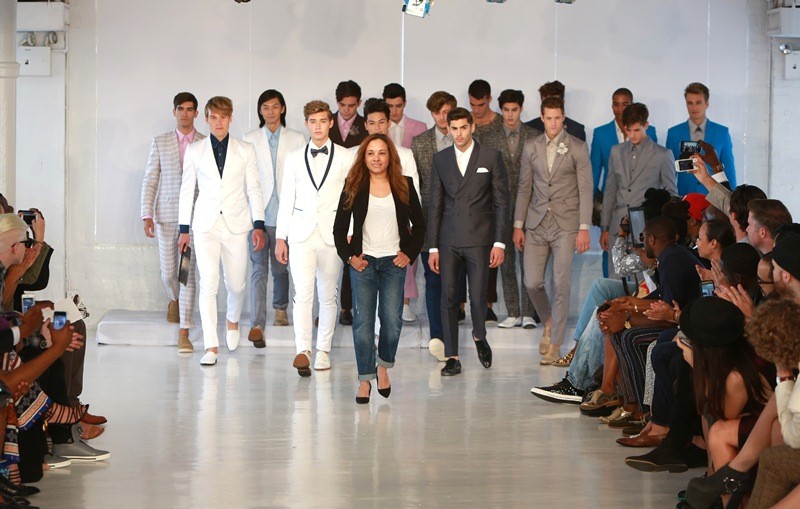 New York Fashion Week (NYC)—The DARKOH Spring/Summer Menswear Presentation at The Designer's Loft on Monday, September 8th was a perfect combination of trendy and sensible styles making for a successful line.
This year's collection was catered to both the young businessman and the contemporary man who is devoted to being confident, successful, and appropriately provocative.
Joyce Darkoh, a German designer and graduate of Germany's prestigious Modeschule Schloss Eller, has taken off since her brand's launch in 2013. Her pieces have really made its mark in the sophisticated world of menswear.
Darkoh has showed that her made-to-order suiting background and over a decade of mastering the art of the perfect suit has paid off and really placed her on the map of the male dominated world of men's suiting and tailoring.
The collection which featured high quality, worsted wool from renowned English and Italian mills, sharp and clean lines, daring denim, light cotton, multi-colored tweed, and fun colors of pink, aqua blue and even daring white.
The line really kept to DARKOH's philosophy of "making customized suits, available as ready-to-wear product to the new generation of fashion conscious men".
Fashion Forecast for DARKOH: We think that men will no longer be afraid to be bold and show their individuality! The modern suits and cuts of the collection make it easier for men to bring back the charm, class and handsome style of latter years without feeling stiff and overdressed.
Trend Report (what has been seen on a few runway shows for Spring/Summer 2015):
Colors- Blues of Various Shades, Tans, Peach, White, Pink, Turquoise, Black
Denim
Tailored Fits
Mutli-Colored Tweed
Classy Bow Ties
Classic Pocket Squares
Suits for the Spring
Check out the images of the collection below:
Coverage Provided by: Ms. Elitou (@tweetyelitou)
Photos: Dennis Madigan Photography
(Visited 242 times, 1 visits today)