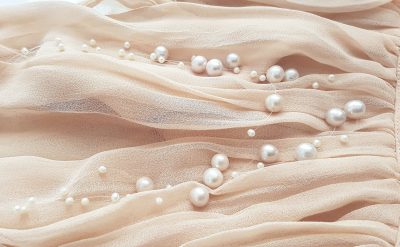 If you fall among that group of women who don't like the traditional stuff, the floating pearl necklace is the perfect solution that can be adjusted to your personality and fashion style. Pearl necklaces have always been considered a symbol of elegance and one of the must-have pieces that can be found in a jewelry box of every true lady. However, fashion changes and trends come and go under the runway spotlight. A few years ago, strand pearl necklaces were a must have, even if they were faux, while in today's fashion, the traditional can be changed to a more minimalist and natural design that simply floats on your neckline! Continue reading and discover what our lovely customers prefer – the top 3 choices of floating pearl necklaces!
What is a floating pearl necklace?
We already confirmed that this necklace design goes off the traditional label and is much more modern and minimalist. This means that but it can still be as sophisticated. One of the main differences between a floating pearl necklace and the simple and classic one is in the way how the natural pearls are stacked. Instead of being next to each other in single or multiple strands, pearls are separated so each piece can be emphasized. There are the single piece and multiple pieces floating pearl necklaces.
Single piece floating pearl necklaces can come with a pendant, be adjusted to your desired length and easily tailored to casual and formal fashion styles for different events. Depending on your preference, you can wear them on silver or gold necklace linings, or even take off the pearl and adjust it to your desire on a choker ribbon or anything else you find appealing. The main idea behind the 'floating'concept is that the thin lining gives off the illusion that the pearl is not attached to the necklace, but is floating on your neckline.
How to Wear It
On the other hand, multiple pieces of floating pearl necklaces are separated from each other. They can be found in a line and have that traditional bling of regular single strand pearl necklaces, but more minimalist and appealing. Other designs are organized with multiple strands, but with their arrangement, they appear to be hanging down from the neck. This type of jewelry freshens the look and provides more versatility to the design of your makeup and outfit as well.
Some women choose not to wear natural pearl necklaces because of their design, and that they seem 'too stiff'. If you recognize yourself in such a group, give pearls another chance as they will seem to float on your neckline and finish off each outfit you choose with a little more pizzazz.
Image 1
A Millenial trend
As we can see, the models tend to combine fabrics and designs all the time. In the image above, the New York model, Melodie Monrose, is wearing a 14K gold diamond half moon floating pearl hoops and lady mother of pearl choker by Mateo NY. The combining design has the single gold half moon floating pearl and the accentuated choker pieces that are almost floating in her neckline and contrasting the black choker, adjusting its shade to the fabric of her dress. It is fascinating how a single small pearl pendant can add an entire layer of mystery and a refined touch to a simple but beautiful gown.
Fashion and jewelry designers are focusing more and more to adapt each pearl jewelry design to the growing demand of the industry. Pearl lovers recently noticed that the most popular Millennials decided not to give up on their pearls, but to adjust them to a new, a bit eccentric fashion style. Rihanna combines classical multi-strand white pearl pieces with sunglasses that are framed with white pearls; Scarlett Johanson (in addition to being the star of "Girl with a pearl earring") she wore a skirt beaded with pearls for the Russian Vogue. Finally, our favorite was the earl necklace choice of Rita Ora, who combined a floating pearl necklace with a casual denim look and a white top, casual and elegant at the same time.
Image 2
The Floating Pearl Necklace – A New & Fresh Look
We put together a list of floating pearl necklaces inspired by celebrities, and our customers experience. If you are looking for a stunning accessory for those fancy occasions, inspired by Rita Ora, we would recommend you to go with the 'classic white with a twist'. The Mary White floating pearl necklace is fun and playful. The virtually invisible lining makes the white pearls accentuate any skin complexion, and is particularly favorable for pale women who like white as it has an interesting mild pink rose undertone. The special Nylon Filament is the secret that makes the pearls look as if to be floating on your classic A shaped necklace.
A carefully thought out combination can do wonders for your style, a v-necklace with some basic and never-ending fashion wardrobe pieces. Pair up a black sweetheart neck dress with these pearls, contrast the outfit with some white heels and ad a pop of color with a handbag and you are good to go out with your friends.
Add a blazer or a business jacket and in just a moment your trendy night-out look becomes a bit more sleek, sophisticated and professional. This is how our Mary White pearl necklace really looks like! Truly exquisite!
Opposing the multiple pieces floating pearl necklaces, a single pearl pendant can also be an interesting finishing touch to your attire. Wearing a single pearl around your neckline lets off an impression of deep thought and a romantic side that every woman has. People who look at your beautiful smile will not be able to help it and wonder, what story lies behind the single pearl.
Get Inspired
If you prefer other colors, the black pearl pendant is an interesting choice for all those rebels at heart. This pendant is also a great choice as a gift for women of all sizes. Finally, if you like to change the necklace, just take the pendant off the silver lining and carefully put it on another piece of your choice. However, if you are uncertain and unfamiliar with how fragile pearls can be, we advise high caution while handling the pearl, or take it to your nearby jeweler and ask for advice, or even better, his services.
Finally, we would like to remind you that it takes a special kind of women to wear the special kind of pearl. This does not mean that you have to have more money or like that girly and glitzy style. Just always follow your heart, inspiration and inner feeling when you look at your wardrobe or reflection and feel something goes just right, or a bit off. Change your taste, experiment and grow, but always treat your pearls with care and respect. If you are a novice, research how to maintain them so they could last you more than a few fashion seasons.
Tell us about your own experience. How would you combine a floating pearl necklace with your outfits? Feel free to share some tips and tricks in the comments below! We hope you enjoyed our post and that we have inspired you to make your next pearl choice!
(Visited 2,913 times, 1 visits today)