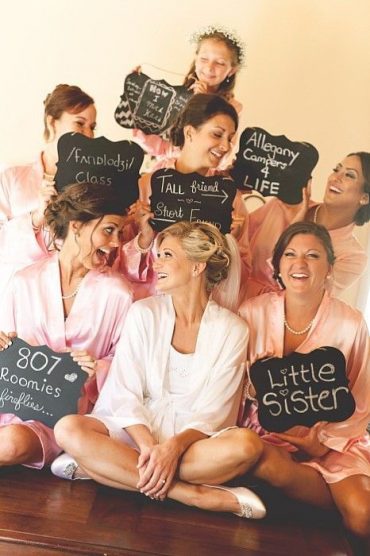 Are you considering pearl jewelry sets for bridesmaids?  If not, then we will show you many reasons to do it. For most women, the wedding day is the most important day of their lives, so it must be a day to remember from all points of view. It all starts with the choosing the day when the big event will take place, booking the venue well in advance and thinking about the entertainment that you will provide for the guests. Last but not least, you get to the details, meaning the arrangements, flowers, dresses, accessories and how to combine them to be aesthetically pleasing and of course, look gorgeous in the photos! Because it's nice to have the memories printed on paper and keep them with you even when the age won't allow you to remember everything in great detail. So, if you happen to be the bride, then for sure you'll have to consider what your bridesmaids are going to wear too, including jewelry.
Pearls have always been considered a symbol of purity and beauty and they can be both classic and contemporary, coming in a variety of colors and shapes. They can accommodate easily any taste and style. So, are you getting married and still don't know what to offer your bridesmaids as a gift for thanking them for sharing with you good times and bad times? Some pearl jewelry sets for bridesmaids can be a gift that will stand the test of time. If you already know how your wedding is going to look like, especially concerning the chromatic, then this gift will come in handy for your gorgeous bridesmaids and they will be grateful for it.
In order to look well all together, you have to harmonize the colors and to match accessories. All these peculiar details make the difference because they tell a story, emphasizing your individual style as a bride and the personality of your bridesmaids. Even if you are close friends, most likely you have all different personalities. So, why not choose the dress and the jewelry based on these criteria? We bet you know how each of your bridesmaids is in terms of personality, so helping them with the jewelry will be much appreciated. Your bridesmaids will be more than happy because you make room for them to express themselves.
It's important, of course, to discuss with them in advance about preferences and share how you would like your wedding to look like, especially in terms of colors. Then, just leave it up to them to choose what kind of dress and shoes to wear.  If you go for pearls as accessories, the pearl jewelry sets for bridesmaids will definitely make their attire stand out! Your bridesmaids will be in the spotlight too. And they will love it!
Source
The pearl jewelry sets for bridesmaids will definitely make everyone turn their heads after your ladies. But before deciding which type of pearls is the most suitable, it's crucial to know the style of the wedding. Is it going to be an outdoor wedding, in the middle of nature or in a grand ballroom? Will you have a special theme? Is it going to be formal or casual? Anything you choose is great, but the bridal and bridesmaids' clothing and jewelry has to be selected according to your wedding style. And let's not forget about your personalities either.
THINGS TO CONSIDER WHEN CHOOSING PEARL JEWELRY SETS FOR BRIDESMAIDS
1. Pearls are always an amazing choice because there is a wide range of options to choose from, from classic to more contemporary styles. Usually, brides choose whites and creams for the big day, so the coloring and the shape of the pearls would fit perfectly. But even if there are also other colors involved, for example, darker ones, there will be some special jewelry pearl sets for your bridesmaids to match the wedding landscape as they are available in white, pink, lavender and even black.
2. When choosing the kind of pearls to wear, there are some simple rules to keep in mind. For instance, if your bridesmaids think about wearing a sweetheart neckline dress, a string of pearls will complement it perfectly. Only pay attention to the length: longer chains might be too much for this kind of dress style. If they are in the mood for a strapless dress, then you don't have to worry. It is the perfect dress to show off a beautiful jewelry pearls set.
3. Not only the shape of the dress is important, but also the shade. Freshwater pearls are definitely a match for ivory and cream dresses.
4. Regarding the size of the pearls, they should be smaller than the ones of the bride. As for style, pearl earrings are more versatile for day wearing, while adding a pearl necklace would work both for day and evening.
PEARL JEWELRY SETS FOR BRIDES FROM OUR OWN COLLECTION OF PEARLS
Whatever type of pearls you may choose, they are a timeless purchase because they will last forever and they will always be in fashion. While real pearls certainly sound like an expensive option, there are affordable ones as well. Here we refer to cultured pearls which usually cost a tenth of the price of natural pearls. They are also real, don't let yourself misguided by the term 'cultured'. It only refers to the fact that humans intervene in order to make mollusks produce pearls. The value is determined by size and luster. Tahitian and South Sea versions are considerably more expensive but don't worry, freshwater pearls can be an under budget option.
So, let's see how to choose the pieces of jewelry that will make the bridesmaids' appearance unforgettable!
1. Go pink!
You may be used to wearing white pearls. Why not make a change and go for pink pearls instead? There are naturally pink freshwater cultured pearls, in case you have doubts if the color is natural.
If white pearls are too classy for you, pink pearls will add extra glamour to your outfit. This 6-7 mm freshwater jewelry pearl set for bridesmaids will definitely fit in the wedding setting.
These are simple, but they will make you feel even more feminine. It is a perfect match, especially if your wedding abounds in soft and creamy colors.
For pastel colored clothing, which is quite common for bridesmaids, this kind of jewelry pearl sets for bridesmaids in pink fits like a glove. However, even if the trending color is darker, pink pearls will look equally well on the bridesmaids. If you want to draw attention, you can always contrast your pearls with the clothes you're wearing. A pink pearl necklace, combined with a pink pearl bracelet and earrings will definitely highlight your features and make you look elegant. A set of pink pearls will show off your natural taste and sophistication.
What's more, you can now choose the perfect shade of pink that matches your skin. Pearls can vary from pink to peach and beige-toned. They can enhance your skin tone and give your skin a natural glow. As a bridesmaid, wearing a jewelry pearl set in pink, you will definitely not leave unnoticed.
2. Traditional or modern? Why not both?
If you want something both traditional and modern, you can opt for a freshwater jewelry pearl set for bridesmaids in Lilian white. Its art-deco styling will definitely add beauty and grace to your outfit. They are simple, yet it can turn your appearance into a sophisticated one. This set of pearls matches very well if you have a cool skin tone. They go well even with less formal clothing. This is one of those jewelry pearl sets for bridesmaids that will make their appearance look delicate like a flower.
3. Lavender pearls
Exotic isn't it? Let's say that the bride decides that she would love to have lavender arrangements for her wedding. Here's your chance to bring out your soft femininity! For a refined look, the bridesmaids can go for a set of lavender freshwater pearls.
Lavender pearls are simply stunning and again, they are all natural. No color enhancement is used, nor needed. Just like the pink pearls, they come from aquaculture ponds in China where pearl mussels are bred.
Lavender symbolizes purity, devotion, and love. So if the wedding set will be enriched by lavender, the jewelry pearl sets for bridesmaids in lavender color will add an extra touch of beauty.
The secret to choosing the appropriate jewelry pearl set for bridesmaids is related to what kind of dress the bridesmaids are going to wear, its color, color of your skin and the colors that the bride chooses for the wedding arrangements. The bridesmaids are an important appearance at a wedding. Each of them has a special meaning for the bride and they are an extension of the bride's beauty.
Pearls are a gemstone. Colored pearls create a unique look. They are simple, yet beautiful. Keep it simple, because as Leonardo Da Vinci once said: 'Simplicity is the ultimate sophistication'. When you have pearls, there is no need to dripping in jewels. Pearls are the perfect piece of jewelry to complement your look.
The world of pearls is so wide and our life is short, so why not enjoy every moment and look gorgeous at the same time! Because you deserve the best! So, have you already decided which jewelry pearls set for bridesmaids are you going to pick?
(Visited 1,614 times, 1 visits today)