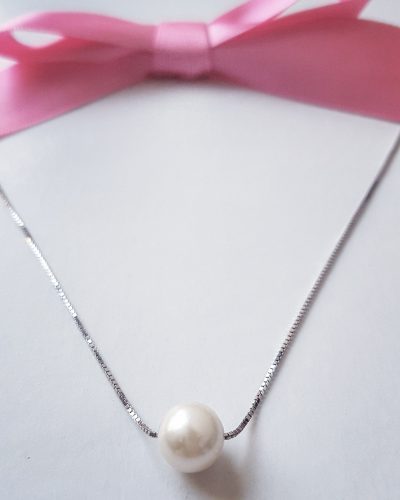 Throughout the centuries, women have admired pearls around the world.  You only have to look at some of the world's most popular celebrities to see how fabulous even a simple pearl pendant necklace is.  Pearls have become the epitome of elegance and can add a touch of sophistication to any outfit you choose to wear.  Of course you don't need to stick with convention, there are plenty of ways to put a more contemporary twist on even the classic pearl.  Continue reading to find out our recommendations!
There is so much more to pearl jewelry than the pearl choker favored by Princess Diana or strings of pearls often favoured by the likes of Angelina Jolie.  There are plenty more exciting designs to choose from especially when it comes wearing a pearl pendant necklace.
Pearls happen to be among the most versatile of all gems that we can wear these days.  They don't just work well with a range of different clothing styles but also options.  How you wear yours will depend a lot on how long the necklace you choose to wear is.
Of all the kinds of pearl necklaces available the pendant style ones have become very popular indeed.  This is because it allows designers to come up with designs that put a more modern twist on what many consider to be a classic jewelry accessory.
Yes you could go for the simple one where a single pearl hangs from a curved bail, or go for something a little more intricate.  Say a single black Tahitian pearl pendant necklace where it is the centre piece of a bail more intricate in design.
Before you go out and buy any kind of white pearl pendant necklace there are certain things you should know:
As the pendant is going to be the focus it is vital that you match it with the colour of the outfit you are wearing.  If not, you'll end up standing out for all the wrong reasons.
2. If you are intending to wear a red top then look for a white gold pearl pendant, as this will help to bring out the lustre of the pearl more.
3. But it isn't all about your outfit.  You need to make sure that you also pair them with the right accessories.  Remember that pearls are quite distinctive so they don't always complement other pieces of jewelry.
4. Yes, pearls and pearls look wonderful.  But sometimes opposites do attract.  For example why not team a white pearl pendant necklace with a pair of stud or teardrop earrings.  This will allow the beautiful gems to help create the right look for any occasion.
5. Also, it is possible to team such a necklace up with other stunning gemstones.  If you choose to go down this route then keep the rest of your outfit simple.  If not the look you end up with could seem quite messy.   The best gemstones, to really choose, for teaming with any, pearl pendant necklace is diamonds.
So What Options Do You Have When Wearing A Pearl Pendant Necklace?
1. Team Up With Leather
It might seem like a contradiction in terms, but a black leather jacket will help to show off the beauty of the pearl even more.   You can of course wear a plain crew cut t-shirt underneath, but the beauty of the pearl will be hidden.
Instead think about wearing a low cut top or nothing at all underneath your jacket.  Then zip it up to a point just below where the pearl on your pendant necklace sits.  This will help to bring people's focus in on the necklace.
2. Team With A Crew Neck T-Shirt
Go for the more vintage looking t-shirts if you can.  Also stick with one that is going to really accentuate the colour of the pearl in your necklace.  For example if you intend to wear a white pearl pendant necklace make sure that you wear a black, grey or dark blue t-shirt.
Above we've offered up a couple of ideas of ways to wear any kind of white pearl necklace.   But the best way to come up with ideas for wearing say a single pearl pendant white gold necklace is to look at how some of your favourite celebrities choose to wear such jewelry.
These days more and more celebrities are choosing to wear pearls.  Some prefer to go for more classic designs, whilst others look to be a little more edgy.
Pearls have now become a very trendy item of jewelry as they really can add a touch of elegance to any outfit.
So Who Is It You Should Look To For Inspiration?
1.  Kate Middleton
Just like her late mother in law, Kate the wife of Prince William loves to wear pearls.  She can often be seen wearing a pair of pearl drop earrings.  Usually, Kate tends to opt for white pearls as they suit her skin tone much better.
She doesn't just team pearls with more formal wear, but loves to team them with more casual outfits.  So why not take a leaf out of Kate's book and team a white pearl pendant necklace with a simple white blouse, skirt and some pearl drop earrings.
2.  Sarah Jessica Parker
As well as having a genuine sense of style, Jessica also loves pearl jewelry.   She is one of those celebrities who isn't afraid to team several different pearl necklaces together.
There are plenty of images online that will really give you some great ideas of how to team say a gold pearl pendant necklace with any outfit you've got in your wardrobe.  Don't just wear it on it's own but team it up with a couple of rows of pearls that sit higher up against your throat.
3. Angelina Jolie
Over the years Angelina has become known for her sense of style and elegance.   She tends to choose to stick to more simple looks.  She definitely loves wearing black.  But who can blame her as it helps to really bring out certain features.
Like her outfits she loves to keep the style of pearl jewelry she wears simple.  She tends to team white pearl earrings with necklaces.
But unlike other celebrities who choose to stick with say a gold pearl pendant necklace she likes to opt for black pearls as well.   You can create a similar statement by wearing a black Tahitian pearl pendant white gold necklace.
4. Michelle Obama
Even these days she may not be in the limelight as much but she still holds a place in many women's hearts.  For the eight years that her husband was president of the USA she lead the way when it came to be daring to be different.
She has always seen wearing pearls as a real act of femininity.  She is someone who has been able to show us that if you wear the right pearl necklace it can add a touch of class to even the most casual of outfits.
But she has really become synonymous with teaming pearls with that little black dress as Princess Diana did.   You could create a similar look by teaming a gold pearl pendant white gold necklace with an LBD.
Make sure that there is no other adornment on the dress otherwise the necklace and the drop earrings you choose to wear won't stand out.  Also opt for a pearl pendant necklace that is made using white, lavender or pink pearls.
You will have noticed that with all our celebrities they avoid wearing neon or fluorescent clothing.  This is because such tend to wash out the colour of pearls.  Yes you can go for brighter colours such emerald green, royal purple or cardinal red.  All of these help to bring out the delicate nature of any piece of jewelry containing pearls.
Also they tend to avoid wearing pastel colours as they tend to make a person look older than they should.  Yes back in the 80's high-necked tops were all the rage, but don't sit well when you wear say a white gold pearl pendant.  So make sure that you choose an open necked blouse or top so that your pendant necklace sits comfortably against your skin.  This will help to bring out the lustre in these beautiful pieces of jewelry even more.
But if you really want your white pearl pendant necklace or white gold pearl pendant to stand out, then team with darker shades.  Along with black, pearls of all colours look amazing with dark grey, dark blue and even dark red.
Hopefully we have shown you how easy it is wear a single pearl pendant white gold necklace for any occasion.   These days, pearls aren't just for your mum or grandma they look amazing on women of all ages.
A quick look through our designs and you will soon see there is plenty of amazing pearl pendant necklaces available for you to wear on any occasion.   All you need to think about is your skin tone and also the colour of the outfit you want to wear to choose the one that best suits your particular sense of style and grace.
Take a quick look at PearlsOnly.com and you'll find that they have a wonderful array of pearl pendant necklaces.  That won't just suit your particular taste, but also your particular needs! Enjoy our collections and have a treat for yourself or your beloved one!
(Visited 1,798 times, 1 visits today)