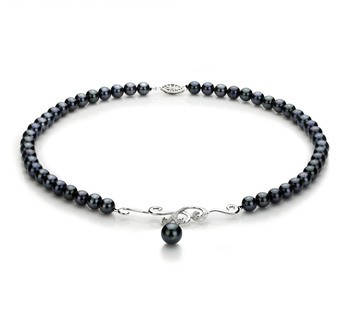 The knowledge about the millennial heritage associated with the pearl choker necklace, and interpreting it to your personal can benefit from both assumptions when it comes to building a bold look. The trick is to be able to compete with the ever changing trends and demands of the fashion industry on looking, original, polished and bold at the same time. In the past we already wrote that there are ways that you can spice up your pearl choker necklaces, and this time we will reflect and reveal how you can enhance the traditional look with some wardrobe color choices, and reflect how the celebrities did it and still do it today.
The trend that has flaked from the past and exploded on the fashion scene for the past two years is definitely the choker styled necklace. This provocative and feminine accessory won the hearts and minds of women around the world, even while many of them are not really familiar with the symbolism and history the choker necklace has had. Nevertheless, the pearl choker necklace has always caused a sense of pride among women wearing them as their unspoken tradition bears the feminine power and the pride of a strong or royal woman.
The Pearl Choker Necklace – a royalty inspired look
Choker necklaces were a favorite fashion detail in the royal world. Anne Boleyn, one of the most famous and influential queens of the United Kingdom, wore this type of necklace as her trademark. Her famous necklace was made up of a series of pearls and a B-shaped pendant, which were attached to her neck. Because of her bold and lavish style, she was considered a dramatically attractive woman, although she was not particularly beautiful. This particular style was revived in the 19th century by the Queen Alexandra from Denmark, the princess of Wales.
Left – Anne Boleyn, right – Princess Alexandra of Denmark
When people unacquainted with the fashion world think about choker necklaces, they think of lace, promiscuity, maybe even the dominant nature of women, while pearl necklaces are considered more vane, traditional and formal. The most interesting reactions occur when the two concepts are merged together and can have a great impact on all viewers. It comes with an entire history, a bit of mystery and a small amount of dramatic effect when showing up in a room.
If you are inspired by the bold looks of these strong historic women, we would recommend considering combining two types of pearls for the dramatic and high end look of your neckline. In contrast to their white choice of choker necklace, you can wear a white dress and dark pearl necklaces. The pearl necklace in Betty Black combined with the Akoya cultured pearl  choker necklace with Amira black is a great and seductive combination.
If you like to personalize your style inspired by Ana Bolen, you can even find a pendant or other significant gemstone and replace the pearl pendant on the choker (but find a professional jeweler to do it!).
A style guide for wearing the choker pearls
Pearl necklaces can be unique and stunning, but it requires some thought and knowledge on fashion when you want to choose the perfect attire for your formal and important events. Choker necklaces are usually wide up to 16 inches. This length can be achieved either by buying a specially designed pearl choker necklace or shortening longer pearl strands by wrapping them more than once around your neckline. This type of necklace is a perfect fit for all formal events and women who have longer necklines and even stronger facial features. Beauty gurus recommend combining sweetheart necklines with chokers, as well as V-necks and boat necks. When it comes to color, white is the most traditional way to go, however, in the ever changing world of fashion we recommend to even try thinking outside the box.
A 2018 fall and winter fashion hit
According to Vogue, pearls are back in trend! Particularly choker pearl necklaces with a single strand, as opposed to the 30s' and 50s' when multiple strands were the fashion choice of the era.  Experts in Vogue referred to the new design of Oscar de la Renta. For all women that want to be in the latest styles and high fashion, our ribbon necklace with pearls, that is available in several colors can be the perfect twist of classical refreshed by leafy inspirations, taking the flow of nature from your wardrobe to your neckline accessories.
The trendy Bohemian lady
Women who like Boho style love mixing their patterns and including elegant pieces of jewelry in their everyday wear. This style is filled with vibrant colors and has always a fresh, fun and playful look that requires special attention to the details. Choosing a pearl choker necklace that can be combined with casual and more formal boho wear can seem tricky only at first.
If your outfit is consisted out of base colors, pair your white freshwater pearl choker necklace with other fabric or metal choker necklaces and bold colors. On the other hand, if you like repetitive patterns combine the shell motive of the necklace somewhere else into your wardrobe with contrasting colors and designs that suit your mood, age and, most importantly, personal taste!
Multiple or single strand pearl choker necklace?
It really depends on personal preference. Some celebrities combine vintage choker necklaces with other pendants, such as the world famous pop star Rihanna. While other Holywood famous stars like to go with the old school and high elegant, classy style and wear a simple one strand choker necklace with their evening gowns.
If you are more like Scarlet Johanson, and like the simple glam of the classic but modern single strand pearl choker necklace, the fun and trendy design (as well as its affordable price) can be a great addition to your everyday wear.
Our single strand Atina white choker pearl necklace can even be a perfect gift for that fashion loving friends who admires but does not have the courage to start wearing real pearls.
A short history of the choker necklace
Like with everything else, fashion details are repeated throughout history.  There are still people who believe that chokers originated from the 90s' craze of the last century, but they were actually present for a long time in history, and in each epoch, they signified something different. They were worn by the Chinese, the Indians, the Native Americans, the ancient Egyptians and many other cultures, bearing different meanings and traditions.
Most of the time, like with any jewellery, choker necklaces, made out of different materials and decorated by different symbols, which varied from culture to culture, had a function of a protective amulet as these were the times when people were superstitious and were looking ways to protect themselves from their gods or demons.
The 16th century
Ana Bolen, according to many, was one of the most influential queens of England, and wife to Henry VIII Tudor. Her recognizable pearl choker was an inspiration to the entire nation who copied her trends and style as a way of paying their respects and admiration to the queen. If someone at that time still believed in the protective role of the choker, this could no longer be because Ana Bolen's life ended beheaded on a guillotine.
17th and 18th centuries
During the Baroque and Rococo in France, chokers were extremely popular.
Marie Antoinette wore a strip of fabric attached to her neck, and she ended up on the guillotine. This is the beginning of a trend in which, during the French Revolution, tangled red ribbons around the women's necks as a memory of those who lost their head in this way. In the same period, young people in England accepted this type of fashion, but for purely aesthetic reasons.
19th century
In the 19th century in France, black strips around the neck became the symbol of a particular social group. Prostitutes, such as Olympia on Monet's picture, wore chokers as a mark. Soon the French ballerinas were marked with these ribbons, which can be seen in the pictures of Edgar Degas.
During this time, in Germany and Austria, the choker necklaces (called Kropfkette in German) were worn by women who wanted to cover the scars on their neck caused by the debilitating disease.
The Queen of England, wife of Edward VII, worshiped choker necklaces. According to the rumours, she wore them to cover the scar on her neck she received during her childhood. England saw a great fashion inspiration in it, and the population began to wear them massively
20th century
The wearing of the choker has also passed to the next century among the flappers (the term from 1920 about women who rejected social norms: smoked cigarettes, went out, and listened to jazz).
In America during the Great Depression (1928-1939), wearing chokers was a part of a social subculture – gay women. For them, it was a secret sign of mutual recognition. In 1940, these necklaces were a favourite among all women.
However, after that, in the '60s and '70s, these necklaces did not return in fashion. The biggest rock stars reintroduced them in big style, and chokers were again worn by Mick Jaeger, Jimmy Hendrix, Elvis Presley, David Bowie, and Iggy Pop.
Finally, during the '90s, pop starts took over the trend. At that time, black chokers became the symbol of the Goth and grunge looks. They were worn by everyone, from Gwen Stefani, Prince, and Britney Spears to Princess Diana.
To conclude, we hope you have enjoyed our selection of pearl choker necklaces and our circuit along the history and symbolism of this precious statement piece of jewelry.  Make sure to check our collection of pearl necklaces in order to build your own marvelous royalty inspired look!
(Visited 3,462 times, 1 visits today)