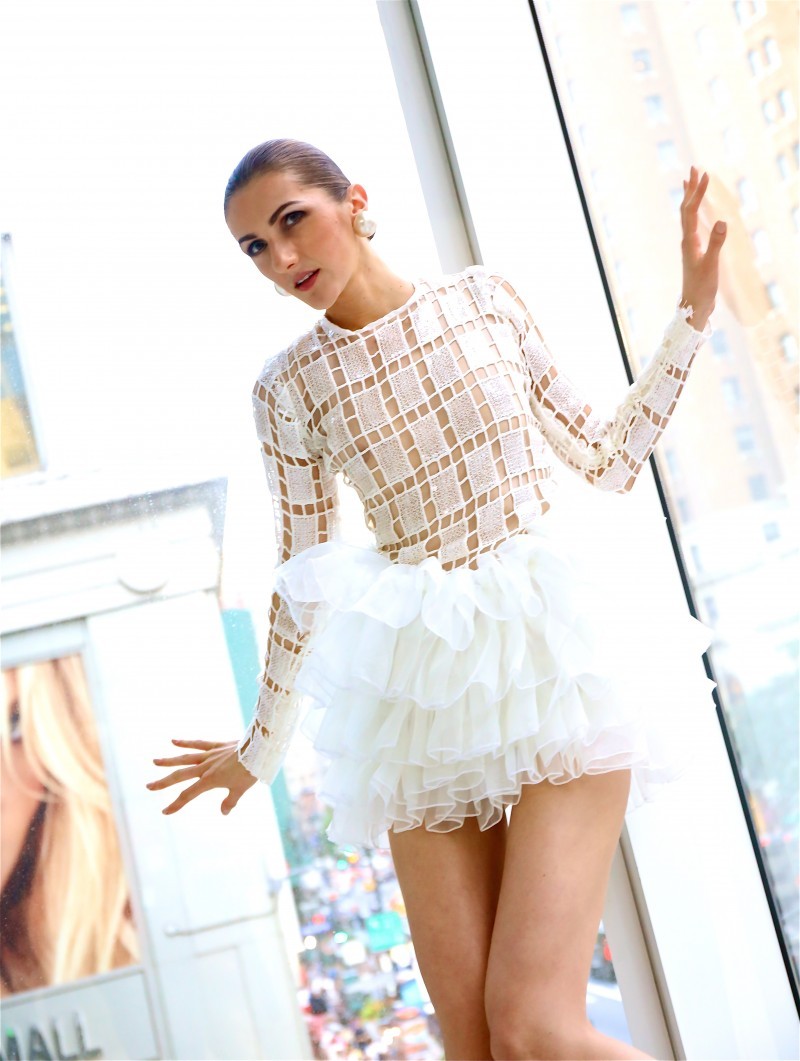 New York Fashion Weekend (NYC)–  The Marquette Collection by Ty'ron Perrin show on Sunday, September 7th, 2014 elegantly unveiled the city of love in an artistic array of sheer elegance, royal treasures, showcasing the brilliance of Paris.
Ty'ron Perrin, a 25-year-old self-taught designer and Philadelphia Native, got to show off his Spring/Summer 2015 collection entitled, Parisian Nights, during New York City Fashion Weekend which was sponsored by Yonker's KIA, Golf & Body NYC, ICU Network, Embrace Magazine, Divine Influence PR, Gio Global Management, and MJ International and it is was a success.
From self-learning the art of sewing at the young age of 15-years-old to creating one-of-a-kind pieces for celebrities, Perrin has been quite busy and it all started from a mistake.
"The first piece I ever designed were a pair of ripped, embellished skinny jeans," the 25 year old visionary revealed. "At that time, skinny's were not a trend. I wanted a pair, so I made them."
What stemmed from trial and error with his very first pair of skinny jeans has now turned into an emerging fashion house that is constantly evolving and we were able to see it in his new collection.
In attendance were many industry movers and shakers and celebrities such as Philadelphia's R&B Sensation, Jazmine Sullivan; her manager, Pam Sullivan; celebrity stylist, Troi Anthoni; supermodel, Sandra Woodley (The Face); celebrity blogger/socialite, Zach (Yeah I'm Famous); twin models, Alex Harris & Andre Harris; Luke Destin (celebrity stylist), and celebrity image consultant, Damon Campbell among others.
The RTW line featured clothing that mixed day with night. From long flowing maxi dresses perfect for a Gala, to a patterned crop top with matching bottom that is perfect for a fun and flirty day at the mall.
We really enjoyed that for Spring/Summer 2015, Marquette Collection introduced gorgeous tapestries, which perfectly complements a woman's soft, sexy femininity. The colors of blush pink, white, royal blue, orange, and floral were completely on-trend for the warmer seasons and made for a fun and upbeat assortment.
The runway collection highlighted the beauty of Paris with charming Ready To Wear pieces endorsed with Marquette's royal silhouettes–elegant pieces such as a flowy silk royal blue gown embossed with a gold decal, along with soft, blush colored pieces and intricate floral ensembles.
While staying true to this essence, Ty'ron Perrin unveiled soft, sheer looks that evoked the romanticism of Paris along with playful pieces such as the floral midi crop top ensemble with matching pants. The showstopper of the show–the Skylar dress, endorsed with a white sheer top panel, along with an exuberant tulle bottom was the perfect visage fit for a Parisian ballerina.
We also found the use of layered pearls and pearl earrings a wonderful touch as we at Pearls Only believe that pearls can make a look instantly amazing!
Check out a few of pieces from the collection below:
Photo Credit: Paul Prince Photos, Daryl Howard of Harlem Pix, & Tyjier Bailey (Editorial Imagery by: Victoria McDougal)
COVERAGE PROVIDED BY: MS. ELITOU (@tweetyelitou)
(Visited 787 times, 1 visits today)