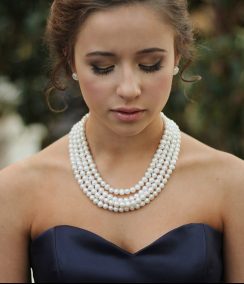 Emphasizing your outfit with a pearl statement necklace can sometimes add the touch of sophistication you were seeking for. Whether you are attending a cocktail party, a business meeting or a high-class gala, you can easily look ravishing by accessorizing your attire with the perfect pearls. These mesmerizing gemstones will instantly transform your dress and make you look polished and sophisticated. Some wearers prefer to go all pearls and opt for full sets that comprise a matching pearl bracelet, pearl earrings or a pearl ring. Those who choose a pearl statement necklace should bear in mind a few tips and tricks in order to avoid an embarrassing fashion faux pas. Ready to look smashing? Read on for the full details.
Picking Out the Right Pearl Statement Necklace for the Occasion
Are you heading out to a casual party or are you going to a high school reunion where you want to impress an old flame? Here's our exhaustive guide on dos and don'ts when choosing the perfect pearl statement necklace.
1. Wedding (for Bridesmaids)
If you are struggling to find the perfect accessories for your bridesmaids, you know there are a lot of things to take into consideration before pulling the trigger. The future bride has to take into account the wedding's theme, the bridesmaids' preferences, and complexions before deciding on their dresses and accessories.
A pearl statement necklace is the safest choice for various reasons. Pearls are timeless and they look stunning in photographs. Gift your bridesmaids this type of necklace and they will cherish it forever. They will be able to wear it for several occasions and remember your happy day dearly. What pearls and colors should you go for? Ask for friends for their personal preferences and see what they would like to wear. Pink Freshwater pearls are ethereal and perfectly fit the bill, as long as they complement the dresses. Choose a multi-strand pearl necklace with mesmerizing overtones and leave it up to your bridesmaids to accessorize it with similar jewelry or not.
2. Engagement Party (for Future Brides)
Your engagement party is a once in a lifetime event and it's only natural you want to look like a million dollars. How can you achieve this without looking tacky or going over the board? By wearing a statement pearl necklace you can be the center of attention in an understated way. A luxurious strand of large Japanese Akoya pearls will look ravishing around your neck, especially if you opt for a plunging V-neckline.
Japanese Akoya pearl necklaces comprise white gemstones, which allows women to wear mostly anything to their engagement party. You can choose to look daring in a fiery red dress with a sexy cut or you can keep it minimal and reach out for your trustworthy little black dress. This latter simple combination is purely elegant and will make you look distinguished and polished.
3. Business Lunch
Are you getting ready for a business lunch where you have to woo an important client? It goes without saying you have to look professional and trustworthy. Keep your clothes simple and neat, paying more attention to ironing your shirt and having clean shoes than combining intricate patterns. Less is more and you want your attire to speak volumes about your professionalism.
If you opt for a classic outfit with clean cuts, you can add bold accents via your jewelry. Adding a tasteful South Sea pearl statement necklace to your outfit will elevate the entire look and make you look mature, independent and simply powerful. Wearing such valuable and beautiful pearls has another hidden advantage. It immediately makes you more poised and transforms the wearer into a confident speaker who can talk business at ease.
4. Formal Event
Even if you are attending a formal event, that doesn't mean your jewelry has to be boring. Fashion is all about having fun and bending the rules just enough so that your personality can transpire through the clothes and accessories you're donning. Formal events usually have a strict dress code and the best companion to an impeccable white gown and nude stilettoes is a breathtaking Tahitian pearl statement necklace.
The pure indulgence of the pearls themselves makes this piece of jewelry a statement item. However, if you truly want to steal the limelight and impress through your choice of jewelry, you won't go wrong by wearing a double strand black Tahitian pearl necklace. Loved by Angelina Jolie and Michele Obama, Tahitian pearls are the epitome of mysterious beauty and opulence. They are the perfect elements to create a statement piece of jewelry and they will effortlessly turn heads at any formal event you might attend.
5. Christmas Party
Christmas' colors are white and red. If you already have a little red dress, you can easily enhance its beauty by pairing it with a fun Freshwater pearl statement necklace. The elegant cut of the dress is the base of your outfit and you can either dress it up or dress it down with the help of your accessories. To create a striking look, choose baroque pearls that beautifully contrast with the dress. These are a unique and creative way to beautify your attire and feel distinguished.
6. Anniversary Dinner
Wedding anniversaries are romantic events that require extra special jewelry. Whether you're embarking on a last-moment city break trip or you're going out to dinner to a cozy restaurant, you can rely on beautiful pearls to emphasize your natural beauty and make your complexion glow by candlelight. Our ideal suggestion is wearing a golden South Sea pearl statement necklace for this special event. You will feel like a queen the moment you put this exquisite piece of jewelry around your neck and you'll surely radiate with beauty and love.
Extremely sophisticated and distinguished, golden South Sea pearls are rarer than gold and will make you feel like the world is your oyster. What should you wear with your precious pearl statement necklace? Dresses are, of course, the obvious choice, yet a simple and elegant silk blouse can also fit the bill. Add the final touches by wearing a red lip and smoky eyes.
Image Source: 1, 2, 3, 4, 5, 6
(Visited 210 times, 1 visits today)