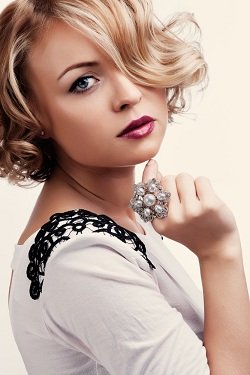 Many mistakenly believe that pearl rings are solely dedicated to women getting engaged and married. While it is true that such pieces are preferred as engagement rings and usually worn together with wedding bands, our contemporary world went beyond tradition, turning pearl rings into standalone accessories for feminine, modern and stylish women of all ages, regardless of their marital status. Pearls are probably the most revered gemstones of our time, adding the exact necessary glamor to any type of outfit without becoming flashy or looking out of place when paired with casual attire.
Pearl rings can be graceful and delicate pieces of jewelry, styling up a demure outfit, or they can take the shape and function of statement pieces when they come in laborious and luxurious designs. Generally, wearing pearl rings follows the same rules of wearing pearl necklaces: less is more. They are able to embellish a woman's hand in a polished, elegant manner without requiring to be stacked with other pieces of jewelry.
Today we will take a closer look at how a woman can wear pearl rings in a fashionable, stylish and trendy way, no matter if she attends an office meeting, a casual date or a fancy cocktail party.
What Types of Pearl Rings Can You Choose From?
Pearl rings can generally be placed into three large categories:
1. The Solitaire Pearl Rings
Just like the diamond solitaire, a pearl solitaire ring features a single pearl in a color of your choice in a metal setting. It can be silver, gold (yellow or white) or platinum. Solitaires are usually simple in design, graceful and elegant without being flashy or able to overwhelm an outfit. Pearl rings in a solitaire design do have a quiet, subtle look to them, but the metal band can spice up the central gem by featuring cubic zirconia and intricate filigrain designs.
The pearl solitaire can feature any size or pearl color, but depending on what you choose, they can play different roles in your overall outfit:
White pearl ring: white solitaire pearl rings are the very embodiment of subtle elegance, as white pearls go amazingly great with anything you wear. Surely, they won't make a good companion to your jogging equipment, but other than that they can style up a casual outfit mixing jeans, tops, flat sandals and even sneakers or pull together a casual-chic office look with skirt, jacket, and heels. Of course, a cocktail dress or an evening gown are the perfect background to feature your stylish pearl ring.
Black pearl ring: black solitaire pearl rings will boost the elegance, mystery, and sophistication of any outfit, be it formal or casual.
Colored pearl ring: pink and lavender solitaire pearl rings come together with an aura of romance, delicacy, and femininity. They go perfectly with lighter skin tones and hair, adding an edgy twist to ladies with darker skin and hair shades. They make perfect choices for dreamy, bohemian, summery and relaxed outfits, giving them the exact necessary amount of glam they need.
The solitaire pearl rings are the most popular choices when it comes to engagement pearl rings, being able to style up any outfit (after the wedding, of course). Most women prefer the solitaire as an engagement ring as it can stack up beautifully with the wedding band in a discrete, yet stylish design, especially if they share the same metal.
2. The Multiple Stones Pearl Rings
Multiple stone rings feature multiple gemstones set in a row or a cluster. Sometimes you can find rings featuring a true bouquet of small pearls or a mix of pearls, zirconia, emeralds, diamonds or sapphires. They are not massive in size and cannot be placed in the "statement" category of jewelry, but they can be worn with almost any type of outfit.
Office wear: such a ring adds a bit of style and glam to a more neutral type of business outfit to make you look more elegant and even powerful. If you want to match such a ring with other jewelry, make sure you don't look overdressed. A thin chain in the same metal as the ring to compliment your neckline should be enough.
Casual wear: while this ring can make you look dressed up and stylish, make sure you don't wear scruffy, baggy clothes to avoid making the ring look like an unfortunate accident. Slim fit, casual clothes are the best choice here, including skinny jeans, a tailor fit cardigan, and medium height heels. You can wear such a ring with your summer maxi slouchy dress, but make sure to give it the opportunity to make you look romantic, bohemian and laid back without looking negligent.
Formal wear: such a ring feels right at home in a more formal environment, being the perfect choice for a little black dress, a cocktail dress or a long evening gown.
When you pick multiple-stones pearl rings, pay attention to the color of pearls and the other gems in the montage. It is important here to be aware of the ring's metal: gold pearl rings are a symbol of elegance and luxury, but you have to pick the correct occasion to wear gold, as it is reserved for special and formal occasions. White gold and silver metals offer a rather neutral shine and you can wear them in casual or business mixes with clothes, shoes, and other accessories.
3. Cocktail Pearl Rings
Cocktail rings are larger in size, very ornate, glamorous and you can wear them as single statement pieces if you want to break boundaries and go beyond the ever-present statement necklace. Some cocktail pearl rings designs feature a large pearl in the center, surrounded by intricate metal work, being spiced up by other precious or semi-precious gemstones.
Modern pearl cocktail rings do follow the latest trends in statement jewelry, coming on oversized designs and featuring clusters of pearls, cubic zirconia, Swarovski crystals, diamonds and other stones. The latter have a dazzling, daring look to them, but both types are the perfect choices when it comes to formal outfits that fall into the "high end," "black tie," and "evening elegant" categories.
Nobody says you cannot wear a statement pearl ring at the office with a power suit, but make sure you don't overdo it by pairing a cocktail ring with a statement pearl necklace or a massive pearl bracelet. The power, beauty, and sophistication of such ring shine brighter when it is the only statement piece of your attire. Surely, elegant evening dresses ask for more than one jewelry piece to pull together the entire outfit for a dash of luxurious symmetry, so you can wear a pair of metal earrings to match the ring's metal or a thin metal chain bracelet to style up your evening dress.
What are your favorite pearl rings types? How and when do you wear yours? Do you keep your pearl solitaire only for special occasions or have you come up with solutions to mix it with your casual outfits as well?
(Visited 1,324 times, 1 visits today)