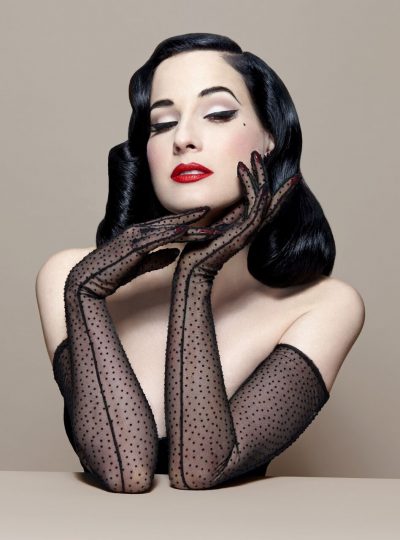 We all know and admire Dita Von Teese, the queen of the glamorous vintage style. Since we love her so much, today we decided to cover her love for vintage pearls and not only that. We will illustrate some of Dita Von Teese's fashion style tips and the way she wears pearls. Moreover, we will show you how to get the Dita Von Teese hair style and we will tell you her favorite beauty tricks. Read more to find out exactly how Dita always manages to look so fabulous and stunning.
We all think how can she possibly look so flawless, right? Believe it or not, she does not consider she is perfect. For Dita, perfection is striving to be the best you can be. And she's right.
DITA VON TEESE BEAUTY TRICKS
Believe it or not, Dita von Teese's age is 45. Yes! That's what we thought. How does she look so fresh and youthful? Make sure to check these simple, yet so efficient beauty tips.
1. Learn to love yourself. We constantly want to look forever young and beautiful and there's nothing wrong with it. One thing she keeps stating is to learn to love ourselves and accept our bodies. Embracing everything that we're made of would lead us to the path of inner love. Beauty comes with love and acceptance. Once you feel beautiful, you will look truly beautiful. And surround yourself with other great women. Here are her own words: "I've always considered myself a woman who knows that being around other great women is uplifting and inspiring and doesn't detract from her own greatness."
2. Say "NO" to chemicals. Use coconut oil religiously. Coconut oil is great for your face, hair, body. It's free of chemicals and toxic ingredients. It's antifungal, antioxidizing, antibacterial, and it makes an ideal makeup remover.
3. Do you love styling your hair in retro finger waves? Then you can get inspired from Dita Von Teese's hair style. Think about the style preferred by actresses of the 1940s, with no bangs and swept over from the side. To get this look, use hot rollers instead of curling iron.
4. Dita's beautiful pale complexion is part of her iconic look. She strongly recommends not to leave the house without using sun screen cream. As a result, protect your skin, use a quality foundation and a complementing powder.
5. Use your face cream on your neck and chest. Don't neglect these delicate parts of your body because they are also important. Include this habit into your morning and nigh routine and you'll thank her later.
6. Once you identify yourself with one perfume, wear it all the time. "Perfume is the veil of glamour that enhances a woman's beauty", says Dita. "Like lipstick, scent can change how we feel and how others perceive us. Because scent is so tied to memories, we often evoke the past when trying to describe a smell. Like memories, scent is ephemeral."
DITA VON TEESE FASHION TIPS
Interested to find out how to adopt the Dita von Teese clothing style? Known for her immaculate head-to-toe retro appearances, Dita loves to wear dresses and heels, especially high-heels. She practically invented the new modern retro. If you want to know how to dress like Dita Von Teese, always make sure that you look elegant. Here are a few lessons of elegance that reflect both her own signature style and the Old Hollywood glamor.
7. As Dita used to day, "I don't recommend you go full on vintage but I think there are little classic hallmarks that look very modern. Red lipstick is one of those. It still looks very relevant and chic yet is very much of that time". So, dear ladies, start with a fine red lipstick. But don't forget that according to Dita, your lip liner should be one shade darker than your lipstick.
8. Incorporate pearls into your outfits. You need to accessorize pearls carefully in order to not overdo it. Stick to simple but stunning and single items, like these chandelier pearl earrings or statement pearl necklace.
If you visit our collection of pearl earrings and necklaces, you'll find this dangling pair of white pearl earrings quite appropriate. And this white pearl necklace is absolutely exquisite! It really is that kind of statement necklace that needs no other pieces of jewelry.
But if we are talking about her burlesque performances or public appearances, pearls used in unexpected ways are more than welcome.
9. Dita is hardly ever seen wearing pants (or flats).  She  is known for wearing mostly dresses or skirts, which are simple but beautifully cut.  If you can't afford designer garments or tailored suits, you can still follow the same guidelines. Wear a simple , yet stylish dress, or a midi skirt with an elegant top and preferably with heels.
10. Last, but not least, you should own at least one piece from the Dita von Teese lingerie or a similar piece from other vintage inspired collections. If you hadn't had the chance to look at her designs, you should. A fine lingerie would always make you look and feel amazing. Inspired by Dita's personal collection of vintage lingerie, the Dita Von Teese lingerie range represents a modern reinterpretation of classic 1950s glamour, and offers women sophisticated sensuality. You'll find a refined retro-chic collection that gives you the option to choose between two styles: glamour girls and femme fatale.
To conclude, we hope you enjoyed the style lessons inspired from Dita Von Teeses's style. All in all, burlesque queen Dita Von Teese exudes old-school feminine glamour. And her vintage-inspired lingerie line is in perfect harmony with her image, allowing you to achieve the same timeless boudoir look as Dita herself. Her outfits and hair style are truly remarkable and we are certain these looks can suit absolutely everyone and every figure. Wear the infallible red lip and retro waves together and we guarantee this will instantly change your spirit. Find out what suits you best and make it your signature style.
(Visited 9,279 times, 1 visits today)