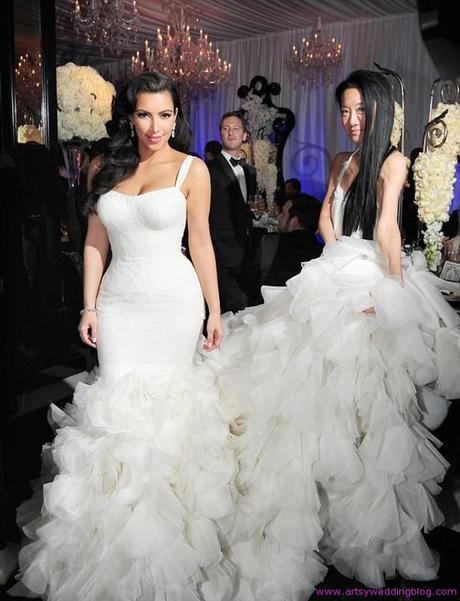 Celebrity weddings are quite possibly one of the most exciting events on the planet for fashion aficionados – when you consider all of the core elements, it's really easy to understand why as well.
High profile beauty? Check. Gorgeous cars and even flashier brilliant white smiles? Check. Dresses and suits to die for? You bet! But of course, there's always one item at a celebrity wedding that's always going to steal the show and (hopefully!) keep the media and adoring fans alike talking for a long time to come. 
The celebrity wedding dress has become an icon in its own right – the worlds wealthiest and most famous elite have a reputation to protect, so they're always going to pick the best of the best in a bid to impress the world. Come with us now on a journey down the aisle to view our four favourite celebrity wedding dresses…
1 – Elizabeth Taylor
 Liz Taylor needs no introduction; she has an esteemed back catalogue of smash hit movies and a reputation as one of the most graceful and respected actresses of all time. Ever wondered how the classy pull off class? Here's your answer – with elegance and tradition! This was actually the FIRST time Mrs Taylor adorned herself with a stunning dress for her big day – she would go on to do this a further seven times over the years, making her somewhat of an expert on marriage and in particular wedding dresses! This is our favourite though, worn for her marriage to Nicky Hilton for (at the time) the princely sum of $1,500. It's a very traditional, very beautiful choice that's as safe as it is stunning.
2 – Catherine, Duchess of Cambridge
 Lets first consider that the vast majority of ladies want to be Kate Middleton. Being the duchess of Cambridge is a VERY sought after position – royal connections, being married to Prince William (a bit of a hunk, if we're being totally honest) and the fat that, well, she's pretty gorgeous to say the least. Kate could never possibly have looked bad in anything. If she'd walked down the aisle in a bin bag, we'd probably have forgiven her – or at least come close. But luckily she chose this:
This dress works on many, many levels. Firstly, it's modern, secondly, it's sexy, thirdly? It's a strange twist of traditional and untraditional – a gorgeous cross between a flowing and elegant wedding dress and a beautifully decorated evening dress, all tied together to deliver a stunning package of beautiful royal wedding-ness. We love it, and the public did too – the royal wedding is going to be remembered for hundreds of reasons, but Kate's dress will likely be up there in the top five for all time.
3 – Yoko Ono.
 Yoko Ono is infamous – she was of course John Lennon's wife, which is going to put you down in the history books immediately, but if you've ever been blessed (cursed?) enough to listen to ANY of Yoko's own musical adventures, you will definitely not forget her in a hurry.
Yoko is an icon for freedom and spiritualism, and off the wall fashion too. Her clothing choices are often as dynamic as her music, but no one could have predicted what a Yoko Ono wedding dress could possibly have looked like.
Well, prepare to be…shocked? Disappointed? Not us. We were simply in admiration of Yoko's choice for her big day. Be honest, looking for the perfect dress is something many ladies dream about from a young age, but once all of the planning is said and done, and the guests are in their seats, and you've made yourself stressed enough for 10,000 people hoping you'll look ok in your dress…wouldn't it be nice if you could just, you know, slip into a tasteful but totally safe little number and wonder down the aisle as YOU?
That's exactly what Yoko did.
It's a nice dress! Even if its not your stereotypical wedding dress, perhaps you should ask yourself, what IS? This gorgeous little white dress looked completely in place on the day. It was all about Yoko and John, and Yoko clearly just wanted to be her self. We salute you.
4 – Kate Moss.
 It's Kate Moss, you can't blame us for including her on a list of the most stunning anything. Luckily, her wedding dress totally justifies its place on our list. When Kate married musician Jamie Hince she stunned crowds with an absolutely gorgeous traditional, vintage inspired wedding dress that was as unique as Kate herself.
It flows with all the elegance and beauty you'd expect a white wedding dress to display, but the feather details and added glitz at the base of the gown is what really make this one stand out from the crowd and its completely representative of Kate as a person. We think this encompasses everything a good wedding dress should display – individuality but with enough traditional elegance to suit the situation without making the whole thing too safe and TOO old school. If any of us are lucky enough to find a dress that manages to display our personality and please crowds as much a Kate's did, I think it's safe to say there will be many happy wives out there.
(Visited 1,313 times, 1 visits today)