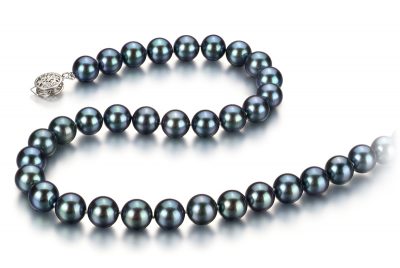 A blue pearl necklace can be intriguingly mesmerizing, don't you think? Most common colors start with white, and then gradually go through shades of lavender, pink, gold, and even black. Depending on their breeding and origin, they can have different pigmented undertones that are perfect for designing multicolored jewelry that goes perfectly with the ever-changing demand of trends, season colors, etc. The blue pearl necklaces can be the next head turner in your accessory collection, particularly if you are of those people who love wearing bold and vibrant colors such as yellow. Continue reading to find out our top choices of necklaces with blue pearls from our own collection. Find out how to style it and how to take care of it as well!
Natural blue pearls are considered a rarity and as such can be a perfect choice for the upcoming Mothers day. You can find a special discount on all Pearls Only products on our website. Wearing a characteristic and unique necklace gives women a sense of pride and boldness. Sometimes it takes a bit of spunk and creativity, as well as courage, for women to stand out in a crowd.
The most beautiful and most authentic pearl colors such as black, green, blue, metallic silver and those with overflows that resemble shades of peacock feathers, or the deep sea are produced in Pinctada margaritifera shells, a type of black shell originating from Tahiti. Black Tahiti pearls are dark and large, size 9 to 16 mm, expensive and beautiful. Also, some dark blue, green and metallic colors can be found in Akoya pearls under a particular angle and light. If you are looking for some lighter shades among the Tahitian and Akoya pearls.
How to style a blue pearl necklace?
Choosing the outfit and attire should be centered around the shades of your blue necklace. First of all, the style and layers of your outfit depend on the necklace design. Simple short strand of pearls, or a choker necklace can go perfectly with a fancy crop top, skirt or jeans, depending on your surroundings (is it casual Tuesday, or a meeting with a fancy client). The medium, or matinee pearl necklaces are the golden middle, they are perfect for the semi causal but elegant, business look for your daily errands and around the office. However, for those who like some glamour and drama, the length that goes 30+ inches is the perfect choice- it offers versatile styles of wearing it, twisted or loose, and can be glamorous and a perfect addition for an evening look, as well as a spicy addition to more dramatic everyday wear.
When thinking about the perfect combination of a business or semi-casual attire, most often women wear neutral or dark tones with white pearls. With a blue pearl necklace, the color scheme can just be reversed. A simple one strand blue pearl necklace has that classic vibe with a twist. Take some casual shirts that go from white to pale or baby blue, with denim, black skirt or pair that up with casual, skinny jeans that go well with everything.
In case you want your wardrobe to be even bolder, go for a two piece clothing combo with yellow with white, you can elegantly contrast spring and summer colors with some cold tones that will balance out your look.
Our Blue Pearl Necklace Choices To Spice Up Your Accessories
If you want to keep the look fresh and unique, you can never go wrong with Tahitian black pearls. They commonly have some nice deep blue to metallic undertones. This shade and design can go great with classic business looks, as well as with a freer and contemporary wardrobe. The strand of pearls gives that omen to a classic pearl necklace design but follows modern trends.  The blue pearl necklace's size goes from 12-12,9 mm.
2. In case your favors are with smaller pearls and are more fond of minimalist styles, the perfect choice for you is the Japanese Akoya Cultured Pearl Necklace in Black . Generally, it has a lighter black shade and has a slight blue hue. It also carries a dose of refinement and chicness that is often hard to find in a simple pearl necklace.
3.  Next, this Japanese Akoya Blue Pearl Necklace is the perfect necklace for any woman who appreciates romance and mystic stories. Shimmering and shinning,  the sparkling array of colors will compliment your neckline nicely. The necklace comes together in the back with a modern clasp and will definitely refresh your wardrobe.
4. The black pearl of the Darlene pendant shines with beautiful blue tones. This is the kind of blue pearl necklaces that goes with a classic elegant style. You can efortlessly style it with a white shirt that will make that blue pop, or with a midi red dress. We also recommend wearing it with high-neck tops  or sweetheart necklines. The AAA graded 10-11mm pearl delivers classic and timeless beauty with a slightly modern touch.
Did You Know Natural Blue Pearls Can Be Found in Waters of New Zealand?
Blue colored pearls are obtained from the species of  a seashell commonly known as abalone. Such snails can be found in purely crystal clear waters of the New Zealand sea. There, these snails are more commonly known as paua. Pearls made from these shells have fascinating glow and color because Paua or abalone is one of the most beautiful sea creatures with incredible colors on it.
Source
In New Zealand, people have abalone farms with the intention of producing blue pearls for commercial use. In these farms, different sizes of the core are injected into the abalone, and after two or three years, the pearl is removed from the snails of the snare, after which it is ready to make the most beautiful jewelry
The quality of the blue pearl depends on three important aspects, which are the shine, color, and texture of the surface. These three features are equally important and together determine their value. There are still several criteria for determining the lifespan of the pearls, such as the thickness of the mantle, size, and shape, but they do not significantly affect the price. It should be noted that the pearls we are talking about are very valuable and have a fairly high price, which is a product of their rarity.
You wonder, where does this beautiful blue color come from? It is, believe it or not, the natural color of the type of snail we have already mentioned. The color spectrum ranges from azure blue, green, over the color of lavender, very violet, to the pink. The high-gloss pearl reflects the light, and the intensity depends to a large extent on the thickness of the mother-of-pearl. There are no two abalones absolutely of the same color, so there are no two same pearls. The color of cognac is, however, the most valuable and highly quoted when demand is concerned.
The Perfect Blue Pearl Necklace Texture
The surface texture is another aspect that determines value in terms of money. Smooth surface and impeccable texture make the blue pearl extremely valuable, and therefore extremely expensive. A blue pearl with a perfectly smooth surface and without one stain is very rare, almost impossible to find. It is very important to worry and dedicate, in some way, jewelry from a blue pearl. They cannot, for example, be worn permanently, but only for several hours. After use, it is necessary to wipe it with a dry cloth and put it in a satin bag or purse. Not to mention that, like any other jewelry, you should not mix it with pieces of other materials in order to avoid scratches on the surface.
Also, we strongly recommend to avoid wearing your jewelry of blue pearls with moisture and chemicals like hair sprays, perfumes, deodorants and the like. Do not wear it during hot summer days, as you can damage it when sweating. The pearl needs fresh air to keep its glow, so try to get the chance and put it at least once a month.
Looking for the perfect blue pearl necklace? You can stop your search and visit our collection of black pearl necklaces with multiple blue shades. We guarantee you'll find them enchanting, intriguingly beautiful and  hard to resist! Add a this kind of refined temptation to your collection of pearl necklaces and get ready to shine!
(Visited 1,303 times, 1 visits today)