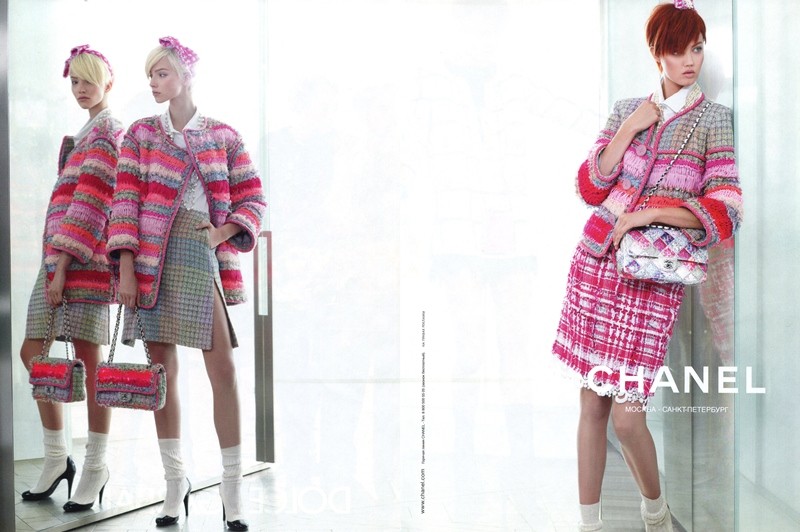 Chanel is an iconic brand that has always been known for their signature pumps, fashionable tweeds, and their absolutely gorgeous variety of pearls. We at Pearls Only love Chanel's designs and we were more than excited how they showed off their well-known signatures in a new and fresh way– especially the pearls!
Chanel just released their new Spring/Summer Ready to Wear Ad Campaign for 2014 and we are happy to say that Chanel and their Creative Director, Karl Lagerfeld did not disappoint.
The campaign features, bright and inviting colors, youthful cuts, fringed tweed shorts, loose tweed skirts, tailored coats, crop tops, and amazing pearls of all varieties and designs including a daring metallic future-inspired pearl cuff necklace with multiple large pearls and also a three strand pearl necklace with a large statement pearls in the front and back of the piece.
The collection is quite chic and artistic which Lagerfeld attributes to his interest in both art and fashion. In an interview on Chanel's online news steam he stated, "Andy Warhol really got the right idea that those things [fashion and art] can very well live together."
He then went on during the interview on to say, "[His] idea was to make a collection that could be right for a woman to go to an opening of different artists."
We completely agree! Nothing is more beautiful than the perfect combination of art and fashion.
The ad features a simple photo-shoot location and complimenting mirrors which makes the clothing the focal point of attention.
All together, we think that the images for the campaign, taken by Lagerfeld, look great and the models, Lindsey Wixson and Sasha Luss are an appropriate look for the ad.
What do you think of Chanel's 2014 Spring/Summer Ready to Wear Ad Campaign? Will you be wearing the collection?
Photo Credit: Chanel Ad Campaign 
(Visited 320 times, 1 visits today)