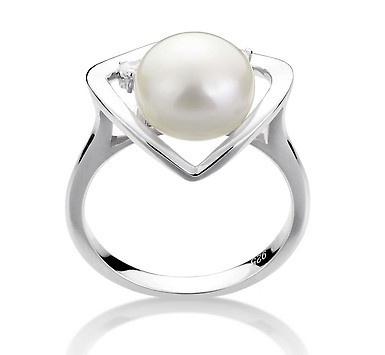 Pearl rings are growing in popularity because they are as versatile as a diamond, and also have the precious value of being unique and cultured. We, at Pearls Only, are excited to showcase some of our most beautiful and eye-catching pearl rings that are sure to make your friends "clutch their pearls".
Today,  we are featuring five of our most gorgeous pearl rings that are perfect for either a loved one or for you! These rings come in all kinds of natural pearl colors, shapes, sizes, styles, finishes, and prices making it easy for you to get a set that best fits you.
Below are some of the best rings for their season. Check them out!
Katie Heart Ring – White AA 9-10mm Freshwater Pearl Ring- $69
This beautiful heart ring is a gorgeous. It has everything a great ring needs: a perfect centerpiece and great framing. This ring features a gorgeous white freshwater pearl with neat sterling silver framing. We love this ring because although it is simple, it shows that love can be shown simple with a good heart.
Sadie Ring – Pink AA 9-10mm Freshwater Pearl Ring- $69
Yet another pearl heart ring but this one has its own fun twist. Instead of a perfect heart, this ring features a beautiful pink pearl surrounded by a wonderful sterling silver framing in the shape of a side-way heart. We love this ring because it is humble yet attention demanding.
Caroline Ring – Black AAA 7-8mm Japanese Akoya Pearl Ring- $389
Nothing is better than standing out and being the center of attention and with this ring you will be just that. This pearl ring features a perfectly placed black Japanese Akoya pearl accompanied with 4 diamonds and a 14K white gold finish. We love this ring because it will look great with everything and those who see you with it will think you spent a fortune.
Dana Ring – Lavender AAA 6-7mm Freshwater Pearl Ring– $55
Simple and sleek design with just the right amount of pizazz! This pretty ring features a dynamic lavender freshwater pearl with nicely paired sterling silver framing and just a touch of sparkle. We love this ring because it is flirty and chic and is a very modern twist to a classic pearl ring.
Caroline Ring – Lavender AAAA 9-10mm Freshwater Pearl Ring- $369
The stunning ring is from our Black Label Collection and is one of our favorites. This ring features beautiful lavender freshwater pearl accompanied with great diamond sparkle, and delightful 14K white gold framing making for a perfect combination. We adore this pearl ring because it's unique and delicate. It would be a tragedy to not get it for this affordable price.
What do you think of these stylish and affordable pearl rings? Who do you see yourself purchasing one of these rings for?
For more beautiful pearl jewelry visit: www.pearlsonly.com
(Visited 696 times, 1 visits today)