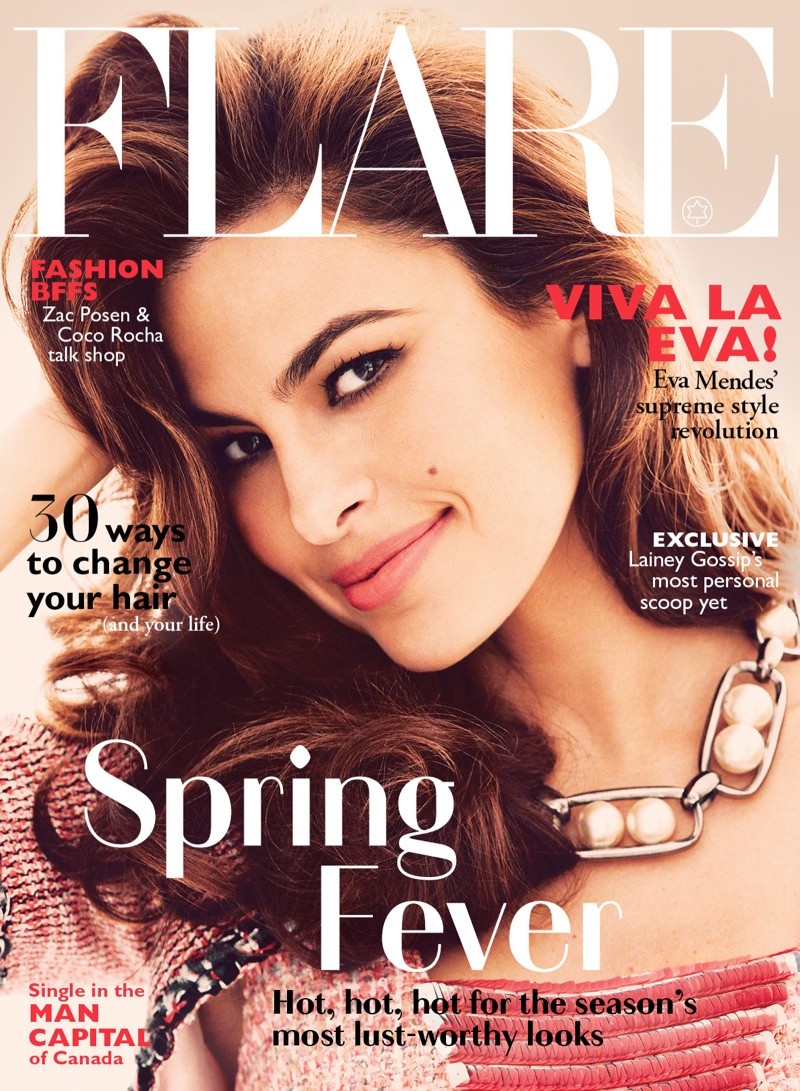 Lovely Latina, Eva Mendes looks more beautiful than ever as she graces the cover of FLARE Magazine for May 2014.
What caught our attention other than the actresses stunning looks? The pearls, of course!
On the cover Eva can be seen with natural makeup, a Chanel dress, and a gorgeous pearl necklace.
Photographer, Guy Aorch, continued to take great images of the beauty and her retro-inspired style in complementing Zac Posen, Rochas and Chanel dresses.
In the magazine the star shared some really interesting facts about her including her mother's critiques about her work and style:
"She's usually on the money. If she doesn't like something, I can usually see why: it didn't photograph well or looked weird around the waist."
She continues, "My mother always says she wants to see me in more fitted things! She's always saying, 'Show off your body, it's not always going to be like this!'" We think that mom has a great point. Eva Mendes has a great physique that seems to get greater with age.
Why she loves dresses:
"I'm always in dresses, in a skirt—I think they're so easy. People are always saying, 'I love jeans, they're so casual and easy,' but I think jeans aren't easy. They're my worst nightmare."
In addition, the Out of Time star likes to be creative with her style and about her choice not to be so revealing in her clothing:
"It's not that I'm against body-conscious clothes: I have worn them on the red carpet or out, but when I'm photographed in them, I always regret it. For me, it's always been the easy way out. When I wear something a little more revealing, I think, Oh, gosh, I should have been more creative."
She continues, "I don't like when it's just me and I'm not working. I don't like feeling like I'm on display."
What do you think? Will you be reading? Be sure to learn more about Eva Mendes and visit: www.flare.com
Photo Source: FLARE Magazine
(Visited 285 times, 1 visits today)