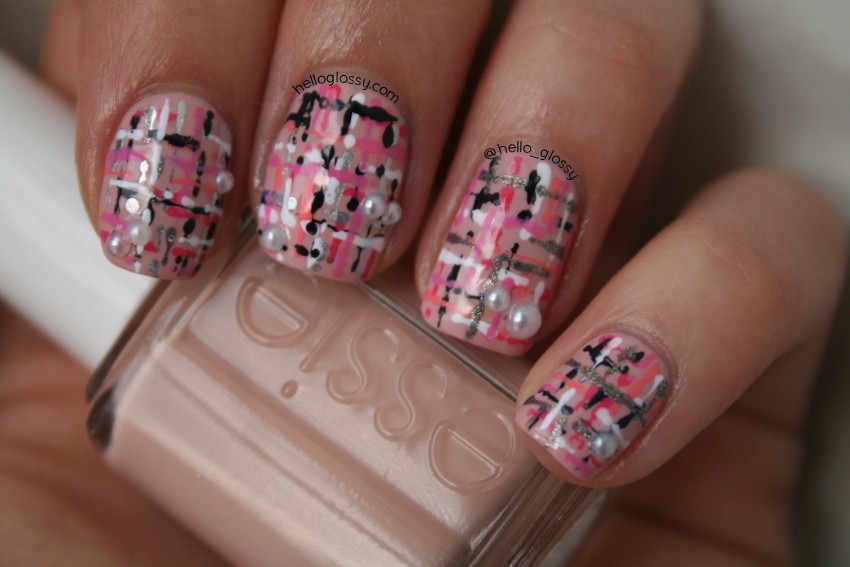 Everyone loves a great nail art job and we have found just that!
Natacha Medeiros, owner of blog, Hello Glossy created fabulous nail art with pearls! Natacha created the nails as a special request from Flare Magazine, who asked her to create a nail look using their May 2014 cover as inspiration.
"I recently got contacted by Flare (ahhhh!), one of my fav mags, to do some nails inspired by one of their recent covers, so naturally I jumped at the opportunity. I chose to emulate their most recent, May cover featuring Eva Mendes in some pretty pink tweed, silver accents and pearls with a beigy-peach backdrop. Can you tell I did just that? I hope my nails look like tweed. And I especially hope they evoke the cover! My mani will be on Flare.com sometime soon (so exciting!), so I'll defs link back once they're up!" Natacha stated.
The magazine cover featured Eva Mendes wearing a tweed style Chanel dress, and a gorgeous pearl necklace. This was evidently enough to give the young nail artist enough inspiration to create this beautiful nail art.
Natacha continued on her blog, "While this look did take some patience, I completely fell in love with the outcome. I'm not going to write a full polish list because I used, like, 10 different colours but if you really want to know, let me know down below and I'll update this post with them. I know my base was an Essie colour from their Spring collection and I used some OPI and Sally Hansen in there, as well. Basically a plethora of pretty polish! I didn't even use a brush for this, but instead used a super skinny, teeny-meeny dotting tool whose end is basically not a dot but more of a point and then I just dragged the polish on in the messiest way, as sometimes tweed is a little deconstructed, and then slapped some pearls on there and voilà, a fashionable Flare mani."
What do you think of her nail art?
Photo Source: helloglossy.com
(Visited 345 times, 1 visits today)