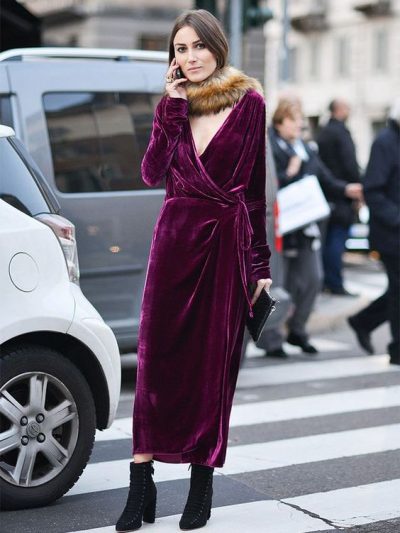 You and a Tahitian black pearl necklace? You were meant to be together! Not quite sure you are a match? Wondering how can you wear this kind of pearl necklace in order to value them and look your best? There is no secret that when you look great, you feel amazing, too! Pearl necklaces definitely contribute to your mood. And since they are coming from exotic French Polynesia, this makes Tahitian pearl necklaces the most luxurious gems. Since many of you sometimes struggle to find the perfect outfit to wear with black pearls, we have decided to make a list of clothing items that will make your choices much easier. Continue reading our article and find out how to buy the perfect Tahitian pearl necklace and how to wear it!
Taking into account their size, luster, value, and color, Tahitian black pearl necklaces are usually appropriate in more formal situations. According to traditional etiquette, they are not meant to be flashy. What they actually symbolize is pure seduction, elegance, sophistication, dignity.
Tahitian pearls have the richest and boldest color that you can imagine. They inspire confidence, power and they lay beautifully around your neck. What's most important is that their colors are all natural. It's worth mentioning that Tahitian pearls cannot be color treated, while the other types of pearls do suffer treatments in order to achieve the black color.  They are easier to notice as a result of their darker colors and metallic shine overtones. The overtone is the subtle color the pearl reflects. Most of the Tahitian black pearls will fall into the range of gray – from dark grays that are almost black to lighter ones that are almost silver. As a result, we have this wide variety of shades, such as gray, pistachio, silver, black, aubergine, peacock.
HOW TO PICK & WEAR THE PERFECT TAHITIAN BLACK PEARL NECKLACE
1. First of all, is it a gift for a special occasion or is a gift for you? Do you want to mark a celebration of an anniversary, birthday, or graduation? Think of the receiver's style and sense of fashion. As a general tip, always go for small or medium pearls, unless the receiver likes bold statement pieces of jewelry.
2. Usually, Tahitian black pearl necklaces look amazing on women with fair to olive skin. If you have dark skin, then we recommend going for a lighter hue black pearl. As a general rule, try to choose colors that don't exactly match your skin – contrast is good! Preferences aside, knowing what looks great with your complexion can help you look more beautiful:
If your skin is dark, go for rich, deep colors.
If your skin is medium, choose black pearls in shades of blue, brown or tan colors.
If your skin is olive, green or brown are great options to bring out the best in your skin.
If your skin is fair, peach, navy and dark green will all help accent your rosy hue.
But, if you don't plan to wear pearls on bare skin, then you can definitely wear colored clothing that will accentuate or enhance their color.
3. Accentuate your features! Maybe your eyes are a deep, coffee-brown color. Maybe you have elegant collar bones, strong, sturdy thighs or set of wide, quarterback-caliber shoulders. Whatever it is, don't be afraid to play it up! When you shop for clothes, choose your hairstyle, and pick out colors to wear, think about how you can make your favorite pearl necklace stand out.
4. To get the most out of your Tahitian black pearl necklace, your need to consider the size of the pearls. For example, pearl necklaces of 8-10 mm are just what you need when attending formal meetings, business events, office days. On the other hand, large pearls of 10-13 mm are ideal for women who enjoy opulent and prominent looks. Are you bold enough to wear a strapless dress with the largest Tahitian black pearls around your neckline? Then this might be your perfect match!
5. Inspiration never hurts! Find a style icon that you admire and study her outfits and accessories. There are many celebrities who love Tahitian pearls.It would help to search for good examples of the type of people wearing the clothing and hairstyles you like. Is there a celebrity or other public figure whose style is particularly attractive to you? Once you have a few people in mind, look how their wardrobes are built and how they accessorize them. Also, style bloggers are amazing sources of inspiration. The great thing about blogs is that they're created by people of all backgrounds, shapes and sizes, so unlike fashion magazines, they actually reflect reality. That's a lot more helpful when it comes to figuring out what might work for your particular features.
6. Don't be afraid to stand out from the crowd. There is nothing wrong with throwing style rules out the window and just wearing whatever you want – as long as you feel comfortable in it.  Do you feel like wearing a chunky black pearl necklace or multiple pearl necklaces around your neck? Do that! What matters when it comes to style is your confidence. If that's there, heads will turn as you pass by, and people will want to know your secret.
ITEMS TO WEAR WITH YOUR TAHITIAN BLACK PEARL NECKLACE
Now that you decided to wear your black pearl necklace at the next event you have to attend, do have in mind some of these outfit suggestions. We guarantee they all have a wow-effect!
1. The classic black dress
Because Tahitian pearls are the embodiment of luxury, your outfit choices should reflect that.  A formal event requires the most polished outfits and the lush black pearls look stunning with strapless black dresses. Just have a look at these two selections!
2. The modern black interpretation
To celebrate turning a new leaf, any woman will appreciate a strand of black Tahitian Pearls. Pearls are a perfect match for more mature women, emphasizing their natural elegance. If you want to keep it casual, but still conserve the black elegance, a black jumpsuit will work wonderfully!
3. The red blazer dress
Now, this is a bold choice that will make you look absolutely refined and dazzling in the same time! The black and red contrast is a timeless combination that sparks attention every time you wear such an outfit. A red blazer or a red dress are gorgeous outfit options!
4.  The yellow blouse
Nothing pops us the rich dark color like a super bright yellow! Yellow in a mustard tone is also a good choice if you don't like bright colors that much.
5. The yellow dress
As we previously mentioned, yellow does accentuate the beauty of your black pearls. A dress is always a good idea and the V-neck allows you to wear a multi-colored Tahitian black pearl necklace.
6.  The refined ivory blouse
Pastel nuances like ivory accentuate the beauty of black pearls. Just imagine how well delicately they enhance your features as well. Wearing a genuine smile will truly capture people's attention. And the same goes for your Tahitian black pearl necklace.
Image source
7. The mint blouse
Although they are known for their distinct dark range of colors, even black Tahitian pearls are not actually black, as we also mentioned before. They are instead silver, charcoal, or a multitude of colors, with the dominant color being green. An often sought-after color is "peacock green" – the greenish black color of a peacock feather. And in this case, a perfect item would be the mint blouse.  The soft green shade will work magically with the pearl's green shade.
8.  The green suit
A sleek green suit can definitely be accessorized with a natural black pearl necklace. If your necklace has a green shade that's even better! Their glamorous shine will blend perfectly with the sophisticated emerald green!
9. The violet velvet dress
Sumptuous, rich, extremely elegant and dashing, the violet velvet dress represents a perfect outfit for the woman who loves to wear her black Tahitian pearl necklace, be it day or night time. Violet and black beautifully compliment each other.
You can also get your inspiration from the catwalk. Since Pantone announced that ultra violet is the color of the year, you can now easily incorporate it in your wardrobe.
10. The burgundy vintage dress
We all know that vintage clothes and pearls are a match made in heaven.  The fabulous retro look can be easily achieved with a burgundy vintage dress and a Tahitian pearl necklace that will make you shine. Accentuate your waist and your neckline and you're ready to go!
11. The timeless cashmere sweater
The elegance of black pearls will be enhanced by a soft cashmere sweater. Should you prefer the classic version, opt for the nude cashmere sweater. But for those of you who want to have a fresh and modern look without losing the refinement, a pink sweater is a gorgeous and delicate option.
Image source
All in all, we hope you enjoyed our suggestions as much as we enjoyed sharing them with you. There is no universal recipe or policy when it comes to styling a Tahitian black pearl necklace. Apart from the classic and beautiful way of wearing a pearl necklace with a tailored suit, we will always have modern and hip manners of styling a Tahitian black pearl necklace. As a final piece of advice, every time you decide to wear your precious Tahitian necklace, always start by highlighting the qualities that make you and your pearls special.
(Visited 5,410 times, 1 visits today)