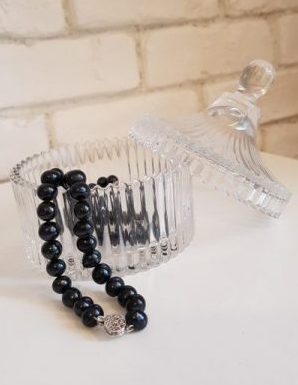 Black pearls have always represented a sensual touch of mystery, a way of expressing a lot through less, a timeless piece of natural and human art combined. You often wondered which are the best black pearls and how to pick the right ones. Well, if you want to find out what is so special about them and how to incorporate them into your outfit, make sure to read this post.
1. What is the value of black pearls?
First of all, the black pearls value can be established correctly by taking into account the type of pearl. There are three types of black pearls: freshwater black pearls, Akoya black pearls, Tahitian black pearls. All black pearls can come in many shapes, sizes and colors as well. Plus, they can be dyed or natural. How much are black pearls worth can vary based on a few value factors. These factors include pearl luster, size, roundness, surface quality, color, and nacre thickness.
Secondly, black pearls come in different shades of black actually: dark blues, dark greens, peacock (a mix of green, rose, and gold), dark silver or copper. Plus, the color intensity can fluctuate radically. So let's see how pearls divide taking into account their type and next, how can you establish the value of black pearls.
Black Tahitian Pearls: Tahitian pearls are the most known real black pearls on the pearls market. Deep and dark lustrous black is the most recognizable shade of the Tahitian pearls. The color is genuine, so no treatments are needed to obtain the multiple shades of black. The most important factors in establishing their value are size, shape, luster and surface quality.
Cultured Tahitians are nucleated with round beads. However, only approximate 40% are round and an additional 20% are symmetrical. As a result, the rounder the pearl, the more valuable it is. Round pearls are harder for the oyster to create. Since they are rarer, they are more expensive. Here is a full guide on establishing Tahitian pearls value. Usually, Tahitian black pearls are the most expensive ones. As you will see next, there are also some more affordable options, given the fact that Freshwater and Akoya pearls experience dye treatments to imitate this natural color.
Black Japanese Akoya Pearls: Dyed Akoya black pearls are genuine and have been available in fine jewelry establishments since the 1930's. Nowadays, the demand for dyed Akoya pearls has increased. As a result, treatments were developed in order to offer consumers access to colors that are not naturally available. Plus, they come in smaller sizes than traditional Tahitian pearls. Their darker colors are brought on by two types of treatment: irradiation or a silver salt treatment. After the treatment, the nacre of the pearls changes. The metallic iridescence resulting from these treatments is very beautiful. Most dyed black pearls are under 8mm to 9mm.
The most popular are black with green-peacock, deep sapphire blue and dark onyx black. The most important factor in defining the Akoya black pearls value is the luster.
Dyed Black Freshwater Pearls: Due to major popularity of Tahitian pearls, dyed black freshwater pearls have also gained notoriety in the fine jewelry market. This is mainly because freshwater pearls in black have a similar deep metallic shine. Black freshwater pearl colors are usually created by irradiation treatment that permanently changes the nacre of the pearls. What is remarkable about this treatment is that it provides a new color range and the look of black Tahitian at a fraction of the price. The most popular are black with green-peacock, deep sapphire blue and dark onyx black. The freshwater black pearl value can vary based on specific factors such as roundness, luster, size, surface quality.
2. Are black pearls rare?
As we previously mentioned, there are several categories of pearls, so how rare black pearls are, depends on their type. Freshwater pearls dyed in black are plentiful and easier to access. They have become a major and the most common product in the jewelry market. Akoya pearls undergo special treatments as well in order to reach the beautiful black shade. The only natural black pearls are the Tahitian pearls. They are extremely rare, and generally considered one of the most beautiful kinds of pearls in the world. The hard to find round shape of Tahitian pearls shows how rare are black pearls.
Therefore, why are some pearls black depends on the kind of treatment suffered by the original pearls (in these cases Akoya pearls and Freshwater pearls). If you want to find accessible naturalpearls, you can look at our collection of black pearls.
3. The black pearls meaning
The black pearls sophisticated and exotic look fueled multiple interpretations and meanings. A Polynesian legend says that Oro, the god of fertility and peace, while visiting the earth on a rainbow, offered a black pearl to Princess Bora Bora. As you may expect, the pearl was a symbol of his love, and nowadays it's commonly believed that when you offer a black pearl jewelry to your special one, it denotes eternal love.
Moreover, in Chinese civilization, black pearls symbolize wisdom since they were thought of being formed within the head of a dragon. Once they reached maturity, the pearls were carried between the dragon's teeth. According to this myth, one had to cut the dragon's head in order to gather the pearls. The black pearl meaning is often associated to wealth and prosperity, protection, independence, allure, strength and mystery.
As you could see, you are allowed to interpret their meaning in several eays. In the end, you can attribute the black pearl significance that you consider appropriate and closer to your feelings.
4. Where do the best black pearls come from?
If we're talking about Tahitian pearls, then they are produced by the Pinctada Margaritifera oyster, which is found exclusively in Tahiti and several other French Polynesian islands. This is why they are so important to Tahitians and French Polynesians. The majority of Tahitian pearls range from 8.0mm up to 16.0mm or higher. Since black Akoya pearls are originally simple Akoya pearls, they are found in Japan's waters, whereas freshwater pearls can be found in China's lakes and rivers. 
5. Black pearl jewellery and how to wear them
If you have never owned a piece of black pearl jewelry, it's high time you were given a nice gift. A symbol of true beauty, black pearls represent a significant valuable addition to your jewelry collection.
Where and how to wear black pearls?
During day time, at the office, you can easily pick a black pearl pendant or a pair of black pearl earrings, or a combination of both.  Wear them with a pant suit and you'll be amazed. Try to avoid black pearl bracelets because they will cause a bit of discomfort while typing at your laptop or while taking notes at meetings.
A gorgeous pearl necklace will do justice to a black dress if you're planning to wear it at a formal event. Our suggestion is to wear a combination of two items. Three black pearl jewels might be considered too much. It really depends the time of the event and its type.
You can wear black pearls with casual blazers, jeans or pleated skirts. A pair of black pearl earrings can easily blend into a casual, yet stylish outfit.
Taking into account that pearls can have multiple shades of black, the most important aspect in picking the right color is the wearer's skin. The skin tones and complexions play an essential role in choosing the perfect shade. They can make the pearls blossom differently.
Clothing colors that go extremely well with black pearls: black, white, yellow, cobalt blue, beige,  powder pink.
In the end, we hope we clarified some answers referring to the black pearls value, meaning and manners of styling. Without any doubt, they are a remarkable real pearl jewelry choice, perfectly wearable during day or night events. Whether you prefer black freshwater pearls, black Akoya pearls orTahitian pearls, we are certain they will impress you with their quality. At Pearls Only we carefully select them in order to satisfy any taste and quality standards. Our black pearl bracelets, necklaces, earrings, rings and pearl pendants have extremely affordable prices and they all enjoy free shipping.
Image sources: 1.
(Visited 14,534 times, 1 visits today)