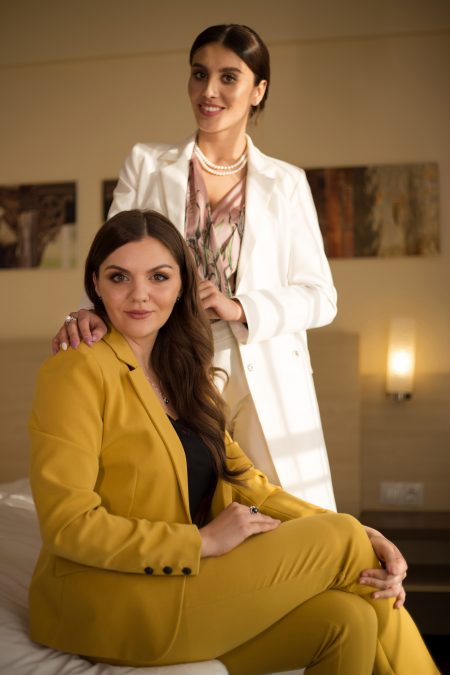 You've probably got comfortable with wearing your winter wardrobe now.  But as we now move on into 2019 you are probably starting to think about what new pieces you should be buying to add into your wardrobe collection?  Curious to know the fashion trends that will dominate the year?
Despite quite a few designers now choosing to experiment with the fashion calendar, and choosing to produce "see now buy now" collections.  They do this in order to keep up with our demand for wanting new outfits straightaway.  But luckily, most in the fashion industry still prefer to show their pieces a season in advance.  Allowing us to get a sneak preview of what is going to be available.
What we've noticed is that this year is really going to be amazing.   It may be another few months before you can buy what was shown.  But we intend to give you a heads up here so you can start to think about what items you really do want to add to your wardrobe when they appear on the high street.
What Are The Fashion Trends For? 
As you scroll down you will soon discover there are quite a few different pieces that you may want to wear this year.
Oversized Hats
Throughout the summer last year everywhere you looked on Instagram the wearing of the Jacquemus La Bomba hat was prevalent.  It now seems that other designers are wanting to get in on the act and coming up with their own versions. But of course, you can really make yours stand out from the rest by pairing it with a beautiful pair of drop pearl earrings or a necklace made with large pearls.
Sensible Shorts
Last year cycling shorts were very much on trend, but in 2019 designers have chosen to go with shorts that look a little looser.  They are more tailored and come in a knee or micro length style.   Yes, this coming spring and summer a more boyish look is being touted by the likes of Alexa Chung and Margaret Howell.
Tight Pleats
Pleats are very much in fashion as they were in 2018.  But you will notice that they are a lot more intricate compared to last year.  They are much tighter than before and the use of micro pleats is definitely here to stay for 2019.  The micro pleat provides a lot more impact as not only do they generate more movement but help to enhance a woman's silhouette.
Tie-Dye
I bet you are surprised to discover that this 60's print is going to be a fashion must-have in 2019.  But what you will find surprising is that this look is a lot chicer.  You could go for the no holds barred look and wear a bold matching two-piece outfit.  But you may want to be a little subtler and choose to say wear a maxi dress for the beach instead.   Of course to really help add a touch of elegance to this outfit you could also wear a lovely simple pearl bracelet or necklace.
Fringing
In 2018 we saw late in the year that cowboy boots were a must-have fashion accessory.  But in 2019 you will find more Western-inspired pieces are going to be making their way into stores.  Fringing won't only be adorning jackets but also skirts and handbags as well.   Designers such as Tom Ford and Coach are already producing pieces that will become hot numbers throughout 2019.
Neon
This isn't something to be worn by the faint-hearted.  The vibrant zesty hues are really back with a bang in 2019, especially after the last few years have seen pastel colors being favoured by the trendsetters.   If you really are feeling brave you could opt for a double dose of all things neon such as some of the pieces that have been created by Jasper Conran.
Colour Wheel Tailor
Suits are always an essential piece in any woman's wardrobe, yet you don't have to stick with the usual staid black, dark blue or grey one.  This year you will find that suits are available in much bolder brighter shades that will really pack a punch.  Yet you can help to soften the look by wearing them with shirts or blouses in softer hues.   You can also really help to give the whole outfit a more feminine softer look by wearing a set of pearl stud earrings or a pearl choker.
Robe Dresses   
These are going to be the cute cosy fashion item of 2019 and one that we are most excited about.  Such dresses can be worn whenever you like and will really make you feel glamorous yet comfortable.   Such designs are suitable for women of all shapes and sizes to wear and can be dressed up or down any way you like.  For the perfect night out then team such a dress with a pair of slinky sandals and a lovely pearl and diamond pendant necklace.
African Influences
If you were to take a look on Pinterest you will see that searches for prints that are African influenced have gone up substantially over the last few months.  This year is going to pieces from designers in Africa are going to be hot especially with those who really appreciate what they create.   Everything from jumpsuits to dresses is going to be available that won't look out of place when worn casually or to more formal events.
Sequins
When have sequins not been trendy?  Well throughout the past few months' sequins were definitely hot and are going to remain on trend during 2019.   There are plenty of different pieces available from simple tops through to more lavish dresses and jumpsuits.   You could, of course, stick to just one colour but multi-coloured sequin outfits are definitely making a big impact these days.
Certainly, when it comes to fashion trends in you will find yourself spoilt for choice.  But it also means you are likely to find pieces for your wardrobe that aren't only great looking but will suit your personality.   Whatever trend you opt for it is just as important to make sure that you choose the right accessories to go with the outfit.
Keeping things simple when it comes to accessories is your best option.  Certainly, most of these outfits would look even more glamorous and feminine if you were to wear a pair of pearl earrings or a pearl necklace.   Here at Pearlsonly.com, we have a wonderful selection of pearl jewelry to choose from that will really make any outfit you choose to wear look like a million dollars.
(Visited 3,661 times, 1 visits today)