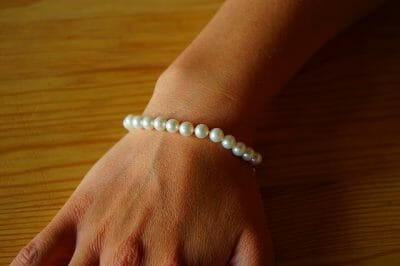 White pearl bracelets are becoming very popular these days as they are no longer see an as a fashion statement.   These pieces of pearl jewelry can be worn anytime not just for special occasions such as birthdays, weddings or anniversaries.
Investing in such jewelry is a great idea as they truly add a beautiful touch of glamour and elegance to any outfit from casual to more formal.
These days you have a great selection of different white pearl bracelet designs to choose from.  But before we take a look at some of them lets take a look at some of the different kinds of pearls being used today to make such wonderful pieces of jewelry.
Types Of White Pearls Used In Bracelets
There are 3 main varieties of white pearls that would be incorporated into this type of pearl jewelry.  These are the Akoya, Freshwater and White South Sea pearl.   Each of which has their own unique beauty.
So in order to help you decide what type of white pearl bracelet you should get we take a brief look at each type we've mentioned above.
Akoya Pearls
These are mainly cultivated in the colder waters of the Pacific Ocean off the coast of Japan.  However, there are now a few pearl farms in China also producing these Akoya pearls.
These pearls tend to range in size from 2mm up to 9.5 mm.   As well as white they also come in silvery-blue and golden hues.   These tend to be true round pearls but sometimes they come in the baroque shape as well.
Freshwater Pearls
Most of the freshwater pearls used in any silver and white pearl bracelet will have come from China.   They come in a wide variety of different shapes and sizes.   You will find that unlike Akoya pearls these ones can measure in size from 2 mm in diameter up to 12 mm in diameter.
These types of pearls because they come in a wide variety of shapes from round to baroque it allows you to own a very unique piece of pearl jewelry.   As such large amounts of these are being cultivated each year these are the most affordable types of pearls being used in creating say an 8-inch white pearl bracelet.
White South Sea Pearls
These are the largest pearls that you will find being used today in creating fine pieces of pearl jewelry including bracelets.   Their size ranges from 8 mm up to 20 mm in diameter.
Very few of the pearls that are produced by the White South Sea oyster are round or near round in shape.  In fact, well over 70% of all these pearls will be baroque or drop shaped.   Yet they still get used to create some very stunning pieces of high-end designer pearl jewelry.  As you would expect these are the most expensive types of white pearls being used today.
The first thing you will notice when it comes to white pearl bracelets is that they are very graceful looking.  But what really makes them stand out is the quality of the pearls used to create such amazing pieces of pearl jewelry.
So What Style Of White Pearl Bracelet Should You Buy?
As you can imagine like other pieces of pearl jewelry you will be spoilt for choice when trying to decide what style of white pearl bracelet to buy.  To help you we take a look at the main kinds of bracelets now being made including white pearls in their design.
Single Strand White Pearl Bracelet
These types of bracelets are very delicate and very feminine looking.  Such a piece of jewelry will make a great addition to any woman's wardrobe.   The main reason why so many women choose to invest in such apiece is that they are very versatile, as they can be worn with a wide variety of different outfits.
Beautiful Akoya white pearl bracelets look stunning when you team them with an outfit when going out for dinner.  Yet they look just as stunning if you decide to team yours with your work clothes especially if you like to wear a crisp white blouse and black skirt or pants.
Double Strand White Pearl Bracelet
This is the kind of bracelet you should be teaming with your business attire or with any formal attire when you are attending any special event.   The double strand of pearls easily draws the attention of others and so helping to enhance your own natural beauty.  Definitely a statement pearl bracelet to wear!
For a classic refined look opt for a double stand white pearl bracelet that is fitted with a gold clasp.
White Pearl Stretch Bracelet
These white pearl bracelet designs are very convenient to wear as you can simply slip them off and on to your wrist.  Certainly, if you are a woman that is always on the go and need to create a more polished look in a matter of minutes then investing in this kind of pearl jewelry is a really good idea.
White Pearl Bracelet With Charms
If you were thinking of buying a white pearl bracelet as a present for your daughter, niece or granddaughter then this piece of jewelry would be perfect for them.   The playful look will make them feel really special and the use of white freshwater pearls in the design helps to make it a little more unique.
They can wear this style of white freshwater pearl bracelet with any outfit they like from casual to more informal outfits.  It would look amazing when they pair such a piece of jewelry with a nice white t-shirt and a pair of jeans.
As well as deciding on the type of pearls and style of bracelet you want another factor you need to take into consideration before purchasing such an item is the size of your wrist.
When it comes to buying any kind of white pearl bracelets you need to make sure that the one you buy sits comfortably on your wrist.
How To Find A Suitable Size White Pearl Bracelet
The easiest way for you to find out what size bracelet you should be wearing is to actually measure your wrist.  To do this you simply take a tape measure and wrap it around the wrist on which you intend to wear your bracelet.   Now take a note of the number that the end of the measuring tape is closest to.
If your wrist measures up to 15.4 cm you will need to buy a white pearl bracelet that measures around 7 inches in circumference.  However, if you find the measurement is between 16 and 18 cm then you should choose white pearl bracelets that measure upwards of 8 inches in circumference.
As you can see above there is a wide array of different kinds of white pearl bracelets you can now buy.  Here at Pearlsonly.com, we have a wide selection of different white pearl bracelet designs for you to choose from so finding one that really suits your particular tastes and budget shouldn't prove that difficult.
(Visited 253 times, 1 visits today)