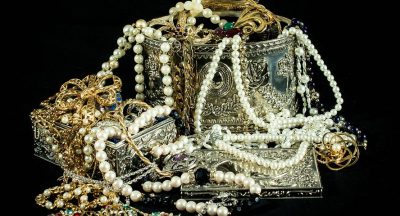 Coco Chanel said, "A woman needs ropes and ropes of pearls." But did you know what else a woman simply needs in her jewelry collection? At least one pair of vintage pearl earrings! Vintage jewelry will always be in style; it's timeless, it has character,  an eternal elegance, and, if you're lucky, you get awesome deals on it. We're passionate about pearls and we absolutely adore pearl earrings, so today, we thought we would take a look at some vintage pearl earrings. We'll give you 13 celebrities who have been spotted wearing vintage-style pearl earrings in the most fashionable manners, and we also have some tips and tricks for you on how to pick your next pair.
Should You Buy Vintage Pearl Earrings?
The short answer would be yes! Why? Well, firstly, if you're someone who loves all things jewelry, then you should definitely own a pair of lovely, vintage pearl earrings. The thing with them is while, they're undoubtedly classic, they can work with more modern outfits. And they will never get out of style. In fact, they have a timeless elegance that works well with pretty much every outfit. You can wear them at fancy event, and also to your job. After all, Jackie Kennedy famously said, "Pearls are always appropriate." Therefore,  you don't need a special event or pretext to wear them.
Secondly, vintage pearl earrings make a great gift, and if you stumble upon some which are in great shape, you can either pass them on to your daughter, or simply gift them to a pearl-loving friend. It's bound to make someone really happy!
And lastly, the reason why you should buy vintage pearl earrings is that in most cases, they are quite affordable. Take some time to scour the internet and some yard sales and you're sure to find something to your liking and get a sweet deal on it. Besides, rummaging through old jewelry boxes at yard sales is a joy in itself and stumbling upon a pair of beautiful pearl earrings is surely going to make your day.
13 Celebrities Wearing Vintage Pearl Earrings
One of Grace Kelly's most famous quotes includes this one about pearls: "I favor pearls on screen and in my private life." It appears that many celebrities agree with her, because they love wearing pearls both in their private lives and during formal events. Let's take a look at 13 celebrities who have worn and looked stunning in vintage pearl earrings and hope they can serve as inspiration for your next purchase.
Diana, Princess of Wales
One of the most popular and gorgeous shapes for pearl earring is the teardrop. Here, you can see Princess Diana wearing some vintage pearl earrings by Collingwood Jewellers at a British Embassy reception in Washington D.C. It was November 11, 1985 in Washington, and the whole world was falling in love with her.
Katy Perry
Another pearl drop earring, this time on Grammy nominee Katy Perry. The artist opted for a long-sleeved, pearl embroidered dress and a classical hairstyle and makeup, which make her look majestic and elegant. The vintage pearl earrings complete her look and pull everything together.
Kate Middleton
The Duchess of Cambridge is a big fan of peal earrings. You can see in the above photo that she's worn the same pair on two different occasions. And how can you not? When you have such a stunning piece of jewelry, you want to show it off as often as you can. We love that Kate isn't afraid to repeat neither jewelry, nor clothes. She's one of the most relatable members of the British royal family.
Angelina Jolie
Image source
The former Hollywood bad girl is now a human right advocate and mother of 6. Here, you can spot her wearing a gorgeous pearl set, looking regal and stylish. Just like Kate, Jolie has been seen wearing this exact set several times, which means that, like us, she must really love her pearls. You can easily recreate the look with our pair of white pearl earrings. At 7-8mm, they will be noticed and appreciated by any pearl lover. Classy and elegant, they can transition from the casual wear to business and to formal wear with little effort. Dress up your wardrobe without the expense of replacing your clothing.
Nicole Kidman
This Academy Award winner is one of Hollywood's most elegant actresses. In this photo, she is wearing a pair of stunning vintage pearl earrings and looking very much like Hollywood royalty. If you're looking for something similar, we recommend you browse our website and take your pick of pearl earrings! Loving Nicole's look? Here is a stunning option: this pearl earring pair in Colleen white. With a total length of 0.8", the fascinating and dazzling AAA shape and luster of the white freshwater pearls have a natural shine. Get ready to embrace a lot of compliments!
Marilyn Monroe
Is there anything left to say about legend Marilyn Monroe? This iconic photo of her depicts her wearing her beloved vintage pearl earrings. Her posing, her makeup, and her hair are perfect and we're just going to leave it at that!
Zendaya
Image source
This former Disney actress likes to experiment with her style, just like any other 21-year-old. And what better way to experiment, that with pearls?! Here, she is wearing a pair of vintage pearl earrings, a white off-the-shoulder dress and looking gorgeous. We absolutely love this look from her!
Dita von Teese
Burlesque phenomenon, Dita Von Teese is class personified. She is always put together and glamorous, so it wasn't a surprise to find out that she's a fan of pearls. Here, she is wearing a smile and a delicate pair of gorgeous vintage pearl earrings and looking like a million bucks. If you've not worn pearl earrings before, we highly recommend you this style.
Ashley Olsen
These huge pearl earrings look stunning on Ashley Olsen. They complement the dress and her lovely shoes perfectly. Even though there are a bit more on the modern side, you shouldn't completely exclude chunky pearls when you're shopping for pearl earrings!
Scarlett Johansson
Image source
Yes, this is Scarlett Johansson as the Girl with the Pearl Earring, the character from Vermeer's masterpiece. Johansson actually played this character in the eponymous 2003 movie directed by Peter Webber. The gorgeous earring is the focal point of the painting and the picture above and she's portrayed the character better than anyone else could have, we believe!
Milla Jovovich
Go big or go home! Mila Jovovich has hit it out of the park with this stunning pair of teardrop pearl earrings. They simply shine on her and only enhance her natural beauty, which is what jewelry is supposed to do.
Olivia Wilde
We absolutely love these earrings that actress Olivia Wild is wearing! They're intricate, yet minimalistic, and look wonderful on her. Paired with that stunning choker, this mother of two looks simply beautiful. This style is perfect for those who aren't mad about drop earrings – choose studs, but with a twist! A similar pair is our cultured pair earrings in Lilia white. Reminiscent of old Hollywood vintage styling, these earrings bring classy sophistication to whatever you're wearing. The Deco-style diamond shape with a gently curving side and tip frame two amazing 6-7mm white freshwater pearls. The Lila earrings have a style that's dressy enough to compliment formal business attire and glamorous enough for a black-tie party and your drop-dead gorgeous evening gown. With this vintage looking pair of earrings, you'll add a stylish glow to any outfit you wear.
Elizabeth Taylor
Image source
We've saved the best for last! It was only natural that Elizabeth Taylor, jewelry collector, would be on our list! Her vintage pearl earrings are stunning, but the famous La Peregrina Pearl that sits on her chest is the true star of the photo. The pearl was discovered in 1513 and has been through the hands of kings and queens, before being gifted to Taylor. Read more about the La Peregrina here.
Tips and Tricks on Buying Vintage Pearl Earrings
"I feel undressed if I don't have my pearls on. My pearls are my security blanket."          Lady Sarah Churchill
When you're out shopping for vintage pearl earrings, there are a few things that you should look out for and keep in mind:
Check for faults – is the clasp broken? Do you notice any damages on the pearl or on the metal? Can it be repaired? If the pair of earrings is too cheap, there might be a reason. Should you decide to buy it, make sure the flaw is not too visible.
Check for fakes – there are several ways you can tell a fake pearl from a real one, in fact we've written an entire article about this, read it here. Be careful,  especially if you happen to attend vintage yard sales.
Keep an eye out for hallmarks – is the setting gold, silver, platinum or a cheap alloy?
Negotiate – not everyone has negotiation in their blood, but if you're up for it, you'll be surprised at how much you can knock off the original price. That's the beauty of buying vintage!
Bring your loupe with you – a magnifying glass can make the difference between buying a gem or a worthless piece of jewelry.
Read up on eras – is this brooch Art Deco or is it Victorian? Before you go out looking for something, read up a bit about the styles and eras. If the seller sees you know your stuff, they could even shave a few dollars off!
Buy from reputable sellers – if you're not the savviest vintage shopper on the block, then you should stick to buying from reputable sellers. This way you'll avoid fakes and you might get an certificate of authenticity.
Settle! – If you haven't managed to find your dream vintage pearl earrings, then we recommend you stick to buying new pearl earrings, but with a vintage feel to them.
Do you own a pair of vintage pearl earrings? Do you yearn for one? Were you lucky enough that grand-grandmother left you hers? If not, we totally recommend you start scouring vintage fairs and yard sales and, who knows, you might get lucky and stumble upon a pair of stylish pearl earrings and you'll fall in love with them. We believe that anyone who is serious about jewelry should own a pair, which is why if you don't find vintage, we recommend new, in a vintage style. If you need any help, take a look at our Pearls Only website and search for your perfect pair.  We have the perfect sized pearls. They are not overwhelming or boastful, they are simply graceful in size and design.  Find yours!
(Visited 919 times, 1 visits today)