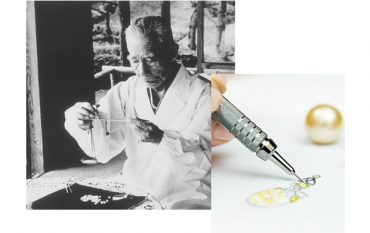 Everyone knows about the Mikimoto pearls empire. It has become a  true and unique cornerstone in the world and market of pearl jewelry."You can't ever go wrong with pearls. Perhaps pearls are a girl's best friend after all" used to say  Ki Hackney. And we totally agree.
Pearls have always fascinated people – they're the epitome of luxury and beauty. They can be classical and modern. They look good on all women, regardless of age or social status. Pearls can be worn with a pair of jeans and a leather jacket, or they can gloriously hang around the neck of princesses and queens. They can make anyone who's passionate about jewelry fall even deeper in love with pearls. And if you don't own a pearl, well, we believe it's about time you did!
We're going to take a look at where it all began with cultured pearls, how to choose the perfect pearl for you, how to care for your precious pearls, and even take a look at three of the world's most famous pearls.
Mikimoto Pearls – Where It All Began
Known as the "Pearl King", Mikimoto Kokichi created the world's first cultured pearl, thus giving birth to the cultured pearl industry that is now so popular. His fascination with pearls began when he was a little boy, watching the pearl divers return to the surface with these gems.
At the age of 13, he left the one-room school to support his family working in the noodle shop.  He was fascinated as he was watching pearl divers who were often forced to descend to depths of over 100 feet on a single breath.  Most of the time, divers had to go 40 feet (12 meters) or over 125 feet (40 meters) deep to find pearl oysters. In 1988 Mikimoto took a loan to start the first pearl oyster farm on Ago Bay, Japan. It took him 12 yeas of trial and error until he managed to create spherical pearls that were virtually identical to the natural ones. To be more precise,  Kokichi was able to create his first cultured pearl in 1893.
In 1899, he opened his first shop in Tokyo and 14 years later in London. New shops are then opened in Paris, New York, Los Angels, Bombay, and Shanghai.
In 1926, Mikomoto met Thomas Edison at the Philadelphia World Exposition.  During a meeting,  Edison said to Kokichi, "It is one of the wonders of the world that you were able to culture pearls." Mikimoto humbly responded, "If you were the moon of the world of inventors, I would simply be one of the many tiny stars."
As a result, this unfathomable feat changed the world. By 1935 there were close to 400 pearl farms all over Japan and the country produce a whopping 10 million pearls every year.  Kokichi's company was awarded patents for pearl cultivation and in 1985 to commemorate the 100th anniversary of the patent system he was selected as one of Japan's top 10 inventors. Today, the vast majority of pearls on the market are cultured pearls. Thanks to him, now everyone can own a pearl!
A true visionary in this world of jewels and beauty, it was his dream to "adorn the necks of all women around the world with pearls."
His company, Mikimoto, is still thriving and leading the cultured pearl industry. Mikimoto pearls are now synonymous with quality, and if you're interested in buying your first pearl jewelry, you simply can't go wrong with Mikimoto!
How to Choose the Perfect Pearl for You
If you want the have the certainty that what you're buying is the best quality out there, then, by all means you should choose Mikimoto pearls. They have a wide selection of pearl styles and collections and you will surely find something to your liking. Pearls Only also offers you a wide variety of quality pearls.  And more affordable actually. Of course, nothing will match the real Mikimoto pearls, but ours as well come with a certificate of authenticity. Plus, our designers have created pearl designs that are similar to those of Mikimoto's. We will show you some models as well.
But first, think about the shape of pearl you would like to purchase. What do you want it for? Special events, or something you'd be wearing almost every day? You should know that perfectly round pearls are most valuable and also the rarest out there. They're as classic as pearls come! But tear drop and baroque re also very popular and quite timeless. It all comes down to personal preference, in the end.
Once you've settled on the shape, think about the color of your Mikimoto pearls. Have you always wanted a perfectly white pearl, or does the idea of a gorgeous black pearl intrigue and fascinate you? A nice Mikimoto pearl ring with diamonds like the one below is simply gorgeous for any occasion and would make the perfect gift. And this black South Sea cultured pearl is nothing short of perfection!
Here you have some similar designs to the one above.  Unfortunately we do not have Black South Sea pearls, but these rings are created in our manufactory rooms using only high quality pearls like Japanese Akoya black pearls or Freshwater black pearls.
Once you've settled on the shape and color, feel free to browse the website in search of your perfect pearl. Whether you're searching for a pair of Mikimoto pearls or Pearls Only pearls, you can't go wrong with them!
How to Care for Pearls
Now that you've settled on the type of pearl you would like to own, let's get down to caring for your gem. Pearls are organic, which means that they are vulnerable to various liquids, such as strong detergents, acids, or even perfume. If you're the lucky owner of a string of pearls, here's how you need to take care of them to ensure that they remain in tip top shape, so that they can potentially be passed down to future generations.
Care
Put your pearls on last, before you leave the house, as to avoid getting perfume on them. Take them off first, when you're done, as to avoid getting makeup remover on them or various other detergents.
Do not shower or take baths with them.
Do not expose your pearls to temperatures over 140°F (60°C).
Restring your pearl every other year if you don't wear them often, and every year, if you do.
Cleaning
Do NOT use ultrasonic cleaners on your pearls, they will cause permanent damage to your pearls.
If you find that your pearls have lost their shine, or that they're dirty, we recommend you take them to be professionally cleaned. If you want to take a stab at it yourself, use a baby shampoo and use your fingers to wash them, not a brush. Be as gentle as you can when you're cleaning them!
Rinse and wash your pearls with distilled water, never tap, as it contains chlorine which can and will damage the shiny surface of your pearls.
Dry your pearls using a soft cloth, don't let them soak in water or leave them to air dry.
Storage
We recommend you store your pearls in a separate container from the rest of your jewelry. This way you will avoid them getting scratched.
Avoid dry storage conditions, as these might dry out your pearls and increase their brittleness.
We recommend storing them in a bag made of velvet, satin, or silk. Never plastic!
Don't hang your pearls, as it will cause your string to stretch and in time, break.
Famous Pearls
When it comes to famous pearls, almost all of them are natural pearls, discovered in the wild. Some of them have a history that dates back half a century, and some of them have been lost, or are owned by collectors who keep their whereabouts a secret. One thing's for sure, a pearl has always been, and will always be the queen of gems. Here are three of the world's most famous pearls.
La Peregrina Pearl
A list of famous pearls wouldn't be complete without the mention of La Peregrina Pearl, probably one of the world's most famous pearls. The pearl was found in 1513 by an African slave on the coast of the Santa Margarita isle in the Gulf of Panama. The slave used it to buy his freedom, which led the pearl to Don Pedro de Temez, the administrator of Panama's Spanish colony. From de Temez, La Peregrina (Spanish for pilgrim) ended up with Philip II of Spain who gave it to his wife, Mary I of England. After she died, the pearl returned to the Crown of Spain and stayed there for the next 250 years. It was worn by various queens, including Margaret of Austria, Elisabeth of France, and Mariana of Austria. Portraits of the queens wearing the pearl exist to this day and can be seen in museums across the world.
Queen Mary I (Bloody Mary) and Elizabeth Taylor both wearing the La Peregrina Pearl
The stone changed owners again in the early 1800's, when Joseph Bonaparte, Napoleon's brother became king of Spain. When he had to flee the kingdom, he took several jewels with him, including La Peregrina, which after his death, ended up with his nephew, Napoleon III of France. After his exile in England, Napoleon III sold it to nobleman James Hamilton who gave it to his wife Louisa. La Peregrina stayed with the Hamilton family until 1969 when they sold it at a London auction. The buyer was none other than Richard Burton, who bought it for $37,000 and gave it as a Valentine's day gift to his wife Elizabeth Taylor, to add to her impressive jewelry collection. She had it mounted in a necklace with rubies and other natural pearls by Cartier. After the actress' death, the pearl was auctioned off by Christie's for the record price of $11 million.
The Gogibus Pearl
Next, we have the Gogibus Pearl, which is one of the most mysterious pearls out there. It has the shape of a pear, and it was discovered in the seventeenth century, by a  Spanish merchant named Gogibus, in what was known as West Indies, the Antilles today.  He used to wear it as an adornment in his hat. This pearl weighs 126 carats, and it was sold to Felipe IV. Unfortunately, the pearl's trail has been lost in recent times, as nobody really knows where it is. It is believed to be privately owned by a collector who wants to keep it all to themselves.  As a result, with its long and mysterious past, the lost Gogibus Pearl still sparks controversies. Given the characteristics of the Gogibus Pearl, that it is a pear-shaped, white, saltwater pearl of excellent orient, the most probable oyster species in which the pearl must have been produced is the Atlantic pearl oyster Pinctada imbricata, which is closely related to Pinctada radiata (Persian Gulf oyster, Ceylon oyster), Pinctada fucata (Akoya pearl oyster) and Pinctada martensii (Akoya gai pearl oyster).
The Hope Pearl
The Hope Pearl was named after gem collector Henry Philip Hope, who owned both the famed Hope Diamond  ((the one in the movie Titanic) and the Hope Pearl. Can you believe that this large baroque pearl weighs three ounces  and that it has a diameter of four and one half inches? At the moment, the pearl is a permanent fixture at the British Museum of Natural History. The largest saltwater natural pearl discovered to date, the Hope Pearl is a green-blue gold color at the bottom and white at the top. If you're ever in London, pay it a visit! This is the most famous salt water pearl discovered to this day. It weighs 450 carats, has the shape of a drop, and its color ranges from green to gold and white.
To conclude, these were some of the most famous pearls in the entire world. Each of them has a truly unique and special story to tell. A rich history, with signs of wealth and nobility. Regarded as natural wonders, these are among the most exquisite and rare examples of their kind.  After all, we just have one final question. Are you ready to write your own pearl story?
All in all,  whether you are interested in purchasing pearl jewelry for your or as a gift for a loved one, we invite you to take a look at what Pearls Only or Mikimoto Pearls has to offer, and choose from only the best pearls in the world.
(Visited 1,362 times, 1 visits today)