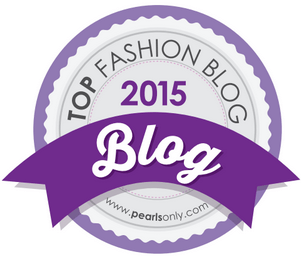 Fashion month is officially kicking off this week and we are excited to see all the fabulous new trends and looks for the Spring/Summer 2015 season. While we can't give you a ticket to the shows in New York, London, Milan or Paris, we can give you the next best thing.
After hours of scouring the web, we have put together a list of the top 45 fashion blogs to follow in 2015. In no particular order, these fashionistas offer insight and inspiration into the world of fashion. Follow them to see beyond the runway!
Victoria Beckham may have started out as a pop star, but it's her fashion line, Victoria Beckham, and her knack for turning conventional dresses into stand out ensembles that turned her into a fashion icon. See how she does that with a classic pearl bracelet accessory with a simple black dress.
Rebecca Laurey, Raspberry and Rouge
Raspberry and Rouge is full of interesting content – and it's all thanks to Rebecca Laurey. Her trendy style takes edgy and cool to a whole different level. See how she mixes vintage denim dungarees with a camel coat, sporty shoes, and classy pearl earrings to create an interesting look.
Nicoleta, Oteea Land
Style blogger Nicoleta of Oteea Land makes looking chic easy. With a wool hat, a faux leather jacket, a striped top, black jeans and a chunky pearl necklace, she has an awesome way of taking clothes and color to a whole new level.
Lauren Felix, La Petite Fashionista
Lauren Felix initially just wanted to share her outfits and fashion thoughts. Now with a quarterly digital magazine on top of her blog and another social media website coming up, this fashion girl is out to inspire more women to keep it real and come to their own style.
Zina Charkoplia, Fashion Vibe
Zina has the looks to turn heads on the streets, but it's her personal style that stands out. See how she totally owns this denim jacket with pearl detail by wearing it with an oversized graphic tee, black jeans, a leopard belt, and Dr Martens.
Dora, Dora Love
Dora shares her unique and interesting style in her blog, Dora Love. A perfect model for street style fashion, Dora fuses upscale and everyday wear yet still looks awesome. Look how she combined her clustered pearls and seductive blue dress with unexpected sneakers!
Kimberly Pesch, eat.sleep.wear
Kimberly's creativity translates to graphic designing, style, and cupcakes. Her blog, eat.sleep.wear, highlights her passion for clean design on both her computer and in her closet. Here she shows us how to wear layers of pearl necklaces from Baublebar to gussy up an otherwise standard daily outfit.
Estera Matras, Thief Clothes
Polish blogger and photographer Estera M. of Thief Clothes shows us how wearing pearls can be fashionable and totally doable. We love that her trendy look – shaggy knit cardigan, tall boots, and a pearl necklace – can take you from a day of shopping to a night out with friends.
Sarah Vickers, Classy Girls Wear Pearls
New England girl Sarah Vickers knows her pearl accessories – and it shows! Check out how she used a simple 2-piece pearl necklace to complete this classy coat-over-dress outfit. We also love the name of her blog! Don't you too?
Natasha Lee, Stylish Lee
Style blogger Natasha L. makes fashion more of an all-around lifestyle. Her Jamaican-based blog Stylish Lee shows her casual-luxe Caribbean style by fusing basic and trendy pieces to create her looks. Here she goes for a romantic All-White look. She pairs her adorable lace skirt with a simple white body suit. For a more polished look, she added pearl necklaces and a nude and pink belt.
Klara H.
You don't need to go to an evening affair to wear pearls. Klara shows us how to incorporate pearls for everyday wear and still look great. Check out how she turned this casual look into something hip and stylish.
Gaby, Moda Capital
We love how Gaby added a statement pearl necklace to her look. It simply complemented her cool jumpsuit, moto jacket, amazing heels and bag. She looked so feminine and fashionable! You can see more of her chic outfit styling on her blog, Moda Capital.
Tiffany L., F.A.M.E.
Pearls can be embellished on denim, on sandals and on bags. Tiffany L., fashion blogger of F.A.M.E., shows us her hip style in her leather-inspired skirt and accessories, including a pearl clutch. She loves the idea of dressing up and inspiring others with her looks. We think she looks awesome from head to toe.
Mayo Wo, Mellow Mayo
From pearl clutch bags to pearl headbands! Despite her demure looks, fashion blogger Mayo Wo finds it easy to add a blast of fun to every outfit she wears. Here, she shows off her style with a beautiful pearl headband. Follow her blog, Mellow Mayo, for more detailed photos of her outfits.
Justyna G
Justyna already looks stunning in her plunge black dress and heels but looks even more glamorous with the addition of her pearl necklace. Another thing we love about Justyna is that she designs her own clothes! Check out her fabulous designs in Justyna G.
Karina Malinana, Baby's On Fire
This fashionista shows us how easy it is to look girly-chic and comfortable. Karina, style blogger of Baby's On Fire, looks great with her beautiful brown cable knit sweater, loafer heels, white socks, smart business bag and pearl necklace.
Elaine Jung, Pretty in Punk
Style blogger Elaine of Pretty in Punk is in love with lace, velvet and punk rock. Here, she's sporting a tartan print dress, tights and a chunky pearl necklace. She notes that since the dress has a bold print, she's adding pearls for some softness. This look is a combination of preppy, punk, and edginess.
Konstantina, Serial Klother
Style blogger Konstantina of Serial Klother shows us that leather and pearls can be the perfect match. She looks totally edgy with her daring leather-looking crop top and a floral blazer along with a pair of fun slacks, a chained purse and pearl earrings. Her flats also scream comfort, ease and style.
Nicole Aguinaldo, Girl About Town
Nicole of Girl About Town looks stunning in her brightly patterned jumpsuit, yellow bag and strands of pearls. We love it when people bring color to simple strands of pearls. This effortless yet modern look shows us that pearls and splashes of colors always look good together!
Kristen U, The Boston Fashionista
Just how do you spruce up a black outfit? For Kristen U of The Boston Fashionista, a chunky off-white pearl necklace not only adds color to a black turtleneck, it also complements the bouncy polka-dotted skirt she's wearing with her black leggings and leather shoes.
Kimberly, Sensible Stylista
Kimberly pulled off a lady-like look with an adorable white dress, an oversized cardigan and a stunning pearl statement necklace. We love how the pearls complemented her dainty look's overall scheme.
Olga Oliwye Soukupova, Everyday-Runway
We love fashion blogger Olga's simple yet edgy style. Her denim jeans and top, leather bag, heels, loop earrings, and pearl sunglasses make her look super stylish. We think that the simplicity of her style was just the touch of class and fun that every outfit needs.
Fashion favors the slender, but style blogger Kim doesn't let that stop her. Her fashion blog, Naturally Fashionable is geared towards curvy girls. Here she rocks a sheer peach top with black trousers, and tops it off with the perfect multi-string pearl necklace to give off an edgy spring look.
Lidia Frolova, Gvozdishe
Sometimes, fashion is all about being adventurous. Lidia, fashion blogger of Gvozdishe looks both adventurous and luxurious in this zebra and pearl look! Her pearl-encrusted top by looks very elegant with a touch of casual.
Rachel-Marie Iwanyszyn, Jag Lever
Rachel-Marie's summer style makes her the ultimate weekend chic. Her sheer tank top, high-waisted ripped jean shorts, vintage bag and heels as well as layers of pearls and chains is cute and girly that everyone would want to follow her.
Jana, Spilling Tuesday
Black and white truly never goes out of style. So does pearls! Jana, fashion blogger of Spilling Tuesday looks chic and classy with her fabulous skirt and striped top. Her belt and awesome piles of pearls complemented her overall look.
Laura, Spanglish Fashion
Laura is a fashion lover, stylist, jewelry designer, wife and blogger of Spanglish Fashion. Here she wears a pastel pink skirt, a white tank tied at the waist, a shoulder purse and to top off the look, a gorgeous pearl necklace by Laura herself. We love that she looks fresh, sophisticated and cool all at once in this fashionable look!
Ann Kim, Andy Heart
Simple lines define Ann Kim's fashion tastes. The winner of Refinery 29's The Next Big Style Blogger 2012, her blog, Andy Heart, showcases a minimalist elegance and chic styles. Check out how simple pearl bracelets and rings are highlighted charmingly by a black and white outfit.
Irina Goncharova, Yours Eureka
Irina shows us that simplicity still wins in fashion. Her oversized powder blue blazer and white ankle strap heels, reflective aviators and classy pearl pendant complete her look which is fresh, clean and amazing!
Natalie Ast, Natalia Style
Natalie has been following fashion ever since she was a child. Several years later, she started sharing her thoughts on fashion online and posting daily outfits to Lookbook. Now we see her personal style on her blog Nataliest. Here we see her effortlessly adorable, in a striped shirt, overalls, and a beautiful pearl necklace.
Oby Grace, I Spy Oby
Pearls always look good with leather. Oby, fashion blogger of I Spy Oby shows off her smart style in a little black dress with all black shoes and bag, incorporated with layers of pearls. Her look is classy, timeless, and effortless!
Kryz Uy, Thirstythought
Fashion and style blogger Kryz Uy of Thirstythought loves her DIY pearl shorts. We do, too! Her turquoise beaded necklace, bunch of gold plated bracelets and pearl shorts gives off an effortless casual look that can also be holiday-ready.
Leondra, Fash-Lee Unorthodox
Pearls can be embellished on denim as well as on your favorite tees! Look at what Leondra, fashion blogger of Fash-Lee Unorthodox, did to her graphic tee. She cut it into a crop top and added pearls on the neckline. That, plus a fashionable print pencil skirt, chic clutch and color-clocking heels make the perfect summer-friendly look.
Kristin Buchholz-MacKillop, Highland Fashionista
Kristin believes in expressing your true self through fashion, and she does just that on her blog, Highland Fashionista. Here she is in her element – grey hair included – rocking a lavender dress with nude slingback pumps and a classy pair of pearl earrings to finish off a girly look.
Daniela Ramirez, Nany's Klozet
Rocker chick Daniela of Nany's Klozet shows off her style in leather, edgy accessories and a unique pearl crop top. She combines her burgundy maxi skirt with bold bracelets, red lipstick and the showstopper – a pearl crop top. We think this look is terrific.
Lisa Hamilton of See Want Shop
Lisa considers a great fitting pair of jeans a wardrobe staple. That doesn't stop her from channeling her inner laid-back Aussie style by sporting denim cut-off shorts and a long-sleeved button down shirt, with a simple pair of pearl earrings to cap off the look.
Alana Ruas
Fashion blogger Alana Ruas makes lace, metallic and pearls a winning combination. Here she wears a cute baby blue and white lace dress with two layers of different pearls. She adds an oversized metallic clutch as well as white pumps to get the overall look.
Andre Judd, The Avant Gardien
Andre Judd, blogger of The Avant Gardien, wowed us with his extreme styling. Check out the beautiful artsy headpiece with pearl detailing! He calls this bold look "Interstellar Copper Kid." His Couture jacket, black skinny pants and platform boots truly complement his artistic pearl and copper headpiece.
Trine Kjaer, Trine's Wardrobe
With a beauty line under her belt, Trine of Trine's Wardrobe is a certified fashion icon. Her European style features uncomplicated and relaxed, yet fashion-forward outfits. Case in point: this ensemble of leather shorts from Ganni, an H&M shirt, bag from Chanel, pearl earrings from Glitter, and Topshop sandals.
Kristina Bazan, Kayture
Kristina wears many hats, but it's her role as co-founder of Kayture, one of the most influential style blogs in the world, that's got her name out in the fashion realm. With a classically elegant style, her knack for accessorizing serves as inspiration for fashionistas the world over.
Vanessa Hong, The Haute Pursuit
With her eye-catching avant-garde style, Vanessa of The Haute Pursuit wears and pulls off outfits that most people would normally not dare to wear. Check out how she makes this edgy black jacket and skirt ensemble work with sexy heels, a clutch, and pearl accessories.
Serena, Serena Saga
Pearls can be fun and fabulous. Serena, blogger of Serena Saga, shows us just how. Her own carefree and fun style can be seen through her look: black leather skirt, plaid and denim button-down blouse, red accent clutch and multiple strands of pearls. Her great hair and beautiful smile also makes her overall look a sensation!
Tricia Gosingtian, Tricia Will Go Places
Tricia looks like a modern fairy in her dainty ensemble. We love her pearl-embellished shoes! We also love how her powder blue dress matches her footwear and side braid.
Yuni, KawaiiYuni
Yuni, style and fashion blogger of KawaiiYuni shows is that you can make pearls work anywhere, including poolside! Look at her make a splash with her swimsuit, simple knitted hat, shades and pearl earrings. Who thought pearls would look so chic with a colored bathing suit?
Hallie Swanson, Hallie Daily
If Hallie Swanson isn't already in your fashion radar, then you're missing out. Her colorful and feminine style has even landed her a spot on Vanity Fair's International Best Dressed List!
Whose style was your favorite? Let us know in the comments below.
(Visited 4,698 times, 1 visits today)