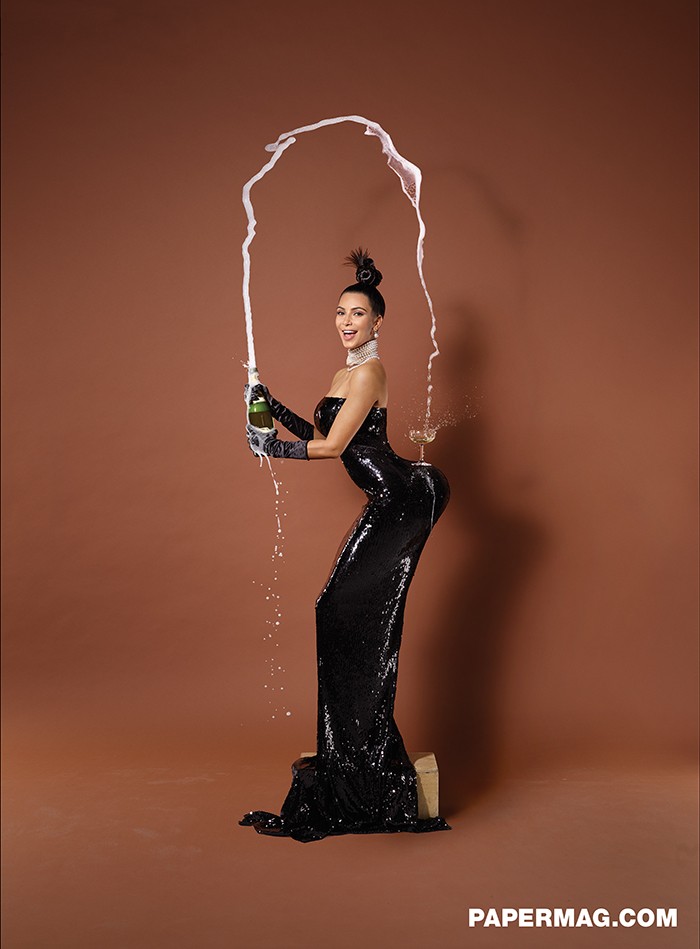 If there is anything that we all can agree on when it comes to the Keeping Up with the Kardashians Reality TV star is that she is very famous. We may argue about how she became famous, but it does not take away from the fact that she is known in homes far and wide; and she has a derriere that could cause an eclipse.
So it should have come to no one's surprise when the wife of Kanye West promised that she would break the internet. On November 11, 2014, Paper Magazine revealed the cover image for the magazine that had people talking about Kim from Earth to the Milky ways. Dressed in nothing but Mikimoto pearls, and a dress caressed around her most valuable assets, Kim Kardashian outdid herself and set new boundaries for those that have followed in her footsteps to be a famous reality star. There was also a second cover in which Kim was wearing the same pearls and the dress was now actually being worn on her body but her posterior gave a new meaning to the concept of bottoms up as she popped the cork to her bottle of champagne.
The image shot by legendary Jean Paul Goude, was one of the most talked about and sought after images the day after the revealing. Although the 34-year-old mother of North West did not actually #breaktheinternet as the cover title had promised, she did gain amazing numbers on social media. According to Adweek, Paper's website saw 6.6 million page views on Nov. 12, the day after publishing the Kardashian story, 5 million of which were unique views.
Wall Street Journal later reported that Papermag.com's traffic surged still higher, earning 15.9 million page views, 11 million of which were unique.
To put that into perspective, the site averages around 25,000 page views per day in October, based on data provided by SimilarWeb.
The internet highway traffic also extended to social media, where a tweet of the magazine cover, sent by her adoring husband, Kanye West, who has 11 million followers on Nov. 11, racked up more than 88,000 "favorites" and 79,000 retweets. These numbers are amazing!
We, at Pearls Only, would like to share our thoughts on the photos—we love those pearls! While many may not like the images and find it typical or even a stunt that Kim Kardashian would dare to be completely naked in photos, we have to say that she looks stunning in her natural makeup, the dress  was a great custom design, and the hair was picturesque. The photography was what we would expect from a legendary photographer—art at its finest! Jean-Paul Goude is no stranger to capturing art at its best. Remember this image of the walking work of art, Grace Jones:
Love her or hate her, people are talking about her and this image ended her year with a BANG! If she didn't break the internet this year, we are sure that she will attempt again next year.
Read the interview and see the provocative images here: www.papermag.com/2014/11/kim_kardashian.php
What do you think of the Paper Magazine images? Did Kim come close to breaking the internet with these photos?
Behind the Making of the Photos:
Styling by Alex Aikiu
Hair by Laurent Philippon at Calliste Agency
Makeup by Mario Dedivanovic
Manicure by Tatiana Sery at Aurelien Agency
Photographer assistants: Philippe Baumann, Franck Joyeux and Nicolas Premoli
Digital imaging: Helene Chauvet for Kilato
Digital: Christian Horvath For D-Factory
Producer: Virginie Laguens for Belleville Hills
Assistant producer: Gråce Salemme
Styling Assistants: Vanessa Ntamack and Ben Depinoy
Photos: Paper Magazine, Jean Paul Goude
(Visited 2,389 times, 1 visits today)