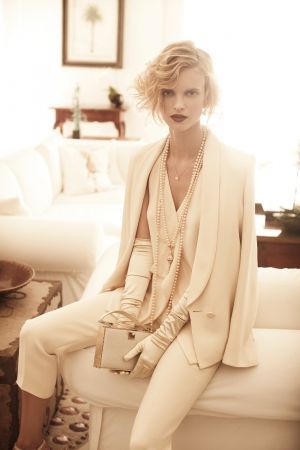 Wondering why the long pearl necklace is the most versatile and fashionable accessory? Because you have endless ways of styling and wearing it! But before you buy one, let us show you how to choose the ideal length! So how can you determine just which one is right for you when it comes to buying a long pearl necklace?  Read this post to find out our simple and easy tips on choosing it. Plus, find out how you can wear the long pearl necklace on various occasions!
You won't be surprised to learn there are certain questions that need answering before you buy your first ever long pearl necklace.
So you may have an idea when it comes to the kind of long pearl necklace designs you are interested in.  But before you do buy you need to decide what type of pearl yours should be made with.  Then you can look more closely at designs and how much the design you want will cost.
How To Choose The Right Type Of Pearl
You've decided to spend money on a long pearl necklace, but aren't sure what type of pearls yours should be made of.
There are in fact 4 main types of pearls you can select when buying a long pearl necklace.
Japanese Akoya
Freshwater – These types of pearls mostly come from China
Tahitian Black – Which actually comes from French Polynesia
White or Golden South Sea Pearls – These come from Australia and the Philippine Islands
Each one of these pearls comes with its own unique beauty, the range of sizes, and colour.  Anyone of these pearls when made into a long pearl necklace will add a touch of glamour and elegance to any outfit.
We suggest you choose pearls that not only you like the look of but also sit well within your budget parameters.
Once you've decided on the type of pearls for your necklace the next thing you need to decide upon is what length of necklace you should buy.  As you will see below pearl necklaces now come in a variety of different lengths.  The great thing about investing in a long pearl necklace and earring set for example is how versatile the necklace is.
So What Length Of Pearl Necklace Should You Get?
There are several factors you need to take into consideration when it comes to buying such a piece of jewelry.  The first of course is what your own particular tastes and styles are.  The next is what type of event you intend to wear yours too, finally, the kind of look that you are trying to achieve.
Only when you've answered these questions can you determine what length of necklace is most suitable for you.  But to help you better understand what is construed as a long pearl necklace we list below the different designs and their lengths.
Choker – Will measure between 15 and 17 inches long
Princess – Will measure between 17 and 19 inches long
Matinee – Will measure between 20 and 24 inches long
Opera – Will measure between 30 and 37 inches long
Rope – Will measure between 48 and 60 inches long
However, it should be noted that because of the organic nature of the pearl, not each strand is going to reach these exact measurements.  Natural variations will occur so there tends to be a difference of between 0.10 and 0.25 inches even in a very long pearl necklace.
Although both the Choker and Princess style pearl necklaces are very popular, we wouldn't actually class these as being a long pearl necklace.   So we are going to discuss below the other three all of which are very versatile and can be worn in a variety of different ways.  Further on we will show you just a few ways of how to wear a long pearl necklace.
Matinee Pearl Necklace
This type of pearl necklace rests about mid-chest level, so just above your bosom.  When worn it has a slimming effect as it draws people's eyes down in a vertical line from your chest.
Such a necklace can add a touch of personality to the most conservative of outfits, yet still, add a touch of elegance.  Ideal to be worn to work or when going out for the evening, but best worn with say a tailored shirt, a turtle or cowl neck top.
Opera Pearl Necklace
This type is considerably longer than the matinee-style necklace and will often rest against the end of your rib cage or the upper part of your stomach.
It achieved its name as women tended to wear these when pearls were very fashionable to very glamorous events in the evening.   Just like all other kinds of pearl necklaces, you'll find this one will add a touch of elegance to any outfit when worn.
Rope Pearl Necklace
These types of very long pearl necklaces are becoming increasingly popular with women of all ages.   The main reason, of course, is that these are the most versatile of all long pearl necklace designs.
But if you are looking for a long pearl necklace for wedding attire then might we suggest you consider looking closely at the matinee-style one.  This won't just add a touch of elegance to your outfit but won't detract from it also.
Here are multiple ways to wear a rope pearl necklace.
How To Wear A Long Pearl Necklace
As we've already mentioned such necklaces are very versatile and so can be worn in a variety of different ways.  Here are some ways you may want to try out for yourself after you've brought such a piece of jewelry.
1.  Long And Loose
This is the easiest way of wearing such an exquisite piece of jewelry.  Just wear it long and loose so it hangs down.   It is best to wear only the matinee or opera styles in this way.  You will probably find that the rope style is way long and won't feel comfortable when you wear it as a single strand.
2.  Double It Up
It is quite simple to double up with say your gold and pearl long necklace.   You simply need to loop the rope around your neck twice.   Then adjust it to suit your own particular style.  You could opt for say tightly wrapping part around your neck so it looks like a choker whilst the rest of the pearls drape down towards your chest.
3. Go Triple
You will need either one of the opera or rope length pearl necklaces to create this look.  You will need to undo the clasp before you then wrap the necklace around your neck three times before then doing the clasp back up again.  Then simply take time over adjusting the necklace to suit your personal tastes.
To make it even look more unique wrap around three times.  Once you have done this combine long pearl necklace with pendant attached.  This is a look that Princess Diana favoured, although she used a 3-strand choker rather than a long pearl necklace.
4.  Single Knot
You simply wear this necklace as you would normally but around half way down you would tie a knot into it.  This will add a touch of vintage glamour to any outfit you are wearing.
Image source: Pinterest.com
5.  Double Knot
After you've put on your long pearl necklace knot the strand of pearls wherever you like.  Most women tend to knot theirs around mid-chest, but you could knot it further up by the neck as well.
6.  Sexy Back
This is not something you see women doing, but will look amazing if the dress you happen to be wearing is backless.   Such would look stunning if your wedding dress is backless and will accentuate the beauty of your attire even more.
As you can see from above when it comes to wearing a long pearl necklace you are spoilt for choice.   So don't be afraid to try and experiment with how you wear yours now and in the future.
Hopefully, the above information will also help you to determine just what length of pearl necklace is right for you.  You can always experiment at home before you decide to buy such a piece of jewelry.  The best way of doing this is, of course, to say buy a long necklace made of beads so that you can try it out to see which length best suits you.
Certainly, your height will play a factor when it comes to buying such a piece of jewelry.  For tall women, they may find that wearing say a very long pearl necklace is their best option.  Whilst for shorter women they may find that the length of a princess style pearl necklace is suitable for them.
Here at Pearlsonly.com, we have a wide selection of different styles and lengths of necklaces available.   So finding one that doesn't only suit your tastes, but also your budget shouldn't prove at all challenging.
Even a simple strand of pearls such as those you see in long pearl necklace designs really make a wonderful accessory.  They aren't only beautiful, but pearls are also subtle and will go with just about any outfit in your wardrobe.  They can be dressed up by teaming them with a stunning pair of pearl earrings for that special occasion, or they can be worn on their own for more casual events.
Whatever way you choose to wear your long pearl necklace you'll find that you'll love doing so.
(Visited 3,787 times, 1 visits today)