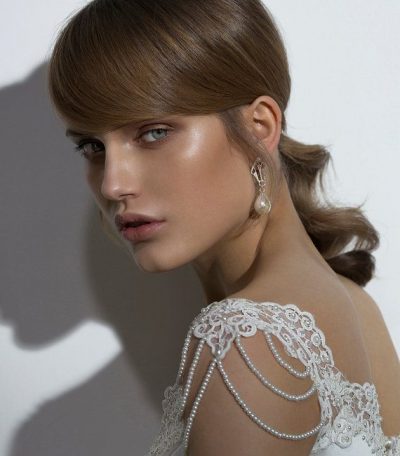 So the big day is about to come and you have done all that you can to arrange every possible thing at your wedding. You have your something borrowed, your something blue, and now you are wondering what could be your something new. Here's an idea – our Pearl Earrings Wedding Edition! Pearls are the safest bet for any wedding jewelry. For years pearls have been associated with affluence and nobility. Also, Ancient Greece regarded pearls as a sign of marital harmony and auspiciousness. In fact, they believed that pearls had the power to prevent the splendorous bride from breaking down. Simply put, there is so much pressure on you to look amazing and naturally, you would want to look your best on such a wonderful occasion.
A simple accessory can make your look divine! All you need to do is master the skill of how you are going to use it to pull off the splendid look! Here's a comprehensive guide on how to choose the perfect bridal earrings, styling tips, and how to accessorize on your special day. We have exquisite options for basically every type of wedding dress.
Pearl Earrings Wedding Collection: Make Your Pick
Bridal pearl earrings could be the most important accessory for your wedding. Most brides ditch every other jewelry so the single accessory that shoulders the entire look is the humble pair of earrings. Choose any one from the following based on your tastes.
Vintage vs. Contemporary Pearl Earrings Wedding Sets
Bridal earrings can have styles that are a characteristic depiction of a certain era. It is important to find a pair of pearl earrings wedding collection, which is complementary to your wedding trousseau. Most pearl earrings can be classified as vintage or contemporary.
If you are looking for earrings that will give a vintage look and complement your traditional lacy, delicate wedding gown, choose the pearl earrings that have an antique silver or gold plating. Check out the Lilia earring set and you will know what we're talking about!
On the other hand, if your wedding gown has sleek lines with a long tail or a fishtail, you can select contemporary style pearl earrings. Uniquely shaped earrings always have an edgy look that screams modernity. If you are looking for a pair that will have people talking, do take a look at the Marissa Earring set.
Studs vs. Drop Pearl Earrings Wedding Sets
Depending on the style that you have chosen, you would also have to consider whether you are wearing studs or drop earrings. Based on your wedding gown, earring style, and your personal preference, you can control what kind of a statement you wish to make with the earrings. If you are accustomed to wearing large accessories and can pull off statement pieces, you can even consider a Chandelier earring.
If you wish to keep your wedding jewelry simple and your style statement modest, you can settle for stud earrings. Studs are the go-to option if you have no prior experience of wearing chunky jewelry. However, do not confuse 'simple' for limited choices because there is an array of options when it comes to pearl earrings wedding collection. You can select any, from simple studs to luxurious, intricate studs, which will make you the focus of everyone's attention. Say "I DO" with this pearl earrings wedding set, with a timeless beauty and elegance. Plus, you can pass them on from generation to generation without worrying they will get out of fashion.
Drop earrings are a good option for a graceful, stylish, and sophisticated bridal look. Long to medium sized drop earrings go well with most wedding gown styles and strike a perfect balance between minimal and classy. Also, if you have a vintage-style gown, the bridal pearl drop earrings will accentuate your elegance. The refined 14K yellow gold seashell tops and classy detailing is enhanced by the diamond accents, and sparkling radiance.
For a modern drop earring, take look at the geometric Hanadama Anya Earring set.
Long Drop Earrings
For a statement jewelry, long drop earrings can really help you stand out. If you are not wearing a neck piece, a long drop earring would be suitable for your attire. Long drop earrings often sport a hook making the earrings lightweight and comfortable.
Short Drop Earrings
If you are not comfortable with wearing jewellery and do not wish to wear studs, you can pick a pair of short drop earrings. There is a variety of short drop earrings available. Short drop earrings often have a lever-backed clasp that holds your earrings securely.
Pastel vs. Vividly Coloured Pearls
The primary appeal of pearls stems from the variety of colours to choose from. Pearls are no longer restricted to white but have incorporated the shades of the rainbow!
White, Peach, Rose (Pink), Cream Pearls
White coloured pearls are the most traditional picks for most brides irrespective of the skin complexion. Similarly, those having light skin should select pearls having metallic overtones, such as bronze, copper, and gold. Pearls having a purple tone will look heavenly against your skin. For those having an olive complexion, choosing white pearls with silver tint and it shall prove to be a prudent decision.
Black Pearls
Pretty much like white pearls, black pearls are suitable for most skin types. However, they stand out exceptionally well on darker skin tones. Black pearls host a spectrum of colours as its overtone, the most famous being purple, peacock, and rainbow.
Golden, Cream Pearls
Golden and cream coloured pearls can be a hit or miss for many, but those having a dark complexion can seamlessly pull off the brilliance of these pearls. These pearls have the overtones of bronze, green, champagne, yellow, or rose thereby making your skin glow.
Pearl Earrings and Face Shape
The shape of the face is often an overlooked feature while choosing earrings. Do not commit this mistake while getting a pair of pearl earrings for a wedding. Here's a quick and easy way to figure out what kind of earrings will suit the shape of your face.
Earrings of all shapes and sizes can go well with oval shaped faces.
If you have a round face, wear dangling earrings to give a slimming appearance to your face.
Round or angular styled earrings lengthen square faces and soften the angles of anybody having a square face.
To counter the triangular appearance of a heart-shaped face, wear earrings that are broader at the base and taper upwards.
For a slim and narrow face, choose bulky earrings to widen out your face. If selecting a drop earring, go for one that is a short drop and pans out at the base.
Earrings having more width and less length are suitable for those having a diamond-shaped face. Avoid any design that has a diamond shape or is similar to your face structure as it will end up highlighting the angles of your face. Short earrings with delicate drops are a safe bet.
The Metal of Pearl Earrings and Wedding Gowns
If you wish to look flawless, you will have to pay attention even to the minute details. Hence, as trivial as it may sound, pay close attention to the metal in which your pearls are set. Match the earrings with your dress. Here's a guide that will come handy:
White gown: Choose soothing and eye-pleasing colours like platinum and silver.
Ivory gown: The creamy shades of ivory will be highlighted by shades of gold in your jewelry.
Champagne gown: The warm tones of the pale beige colour will be complemented by jewellery of gold. However, if you have a vintage gown, choose a pearl earrings wedding pair that is in shades of silver.
Blush gown: Rose pearls look divine on wedding gowns that are a shade of pink. And if these earrings are set in gold, you will hit the jackpot!
Pearl Earrings Wedding Styling Tips
Heavy earrings can stretch out the earlobes. However, if you still wish to wear intricate, dangling earrings without the weighing down your earlobes, opt for earrings having a filigree base.
If you are wearing other accessories, ensure that the metals of your earrings and the same as the other pieces.
A safe length for most dangling pearl earrings is 2-inch. But feel free to personalise the length according to your tastes. As long as you are confident, you can pull it off.
Do not forget to consider the theme of your wedding and the colour templates that you are picking while choosing the colour of your pearls.
Tie your hair in an updo if you are going to wear small, button-shaped studs. If you are wearing your hair down, go for something that will stand out more.
You can mix and match pearls with other stones and gems if you are looking for a statement earrings. However, ensure that the stone that you choose does not clash with the pearl.
Other Accessories
Follow the 'less is more' approach while deciding on the jewelry items that you shall be wearing on your wedding gown. Remember, heavy earrings call for a bare neck. Conversely, when you are wearing a statement necklace, wear plain earrings.
Apart from going overboard, another common mistake is aping someone else's style. Be comfortable with your personal preferences and choose earrings and other accessories according to your comfort. After all, it is your special day.
All in all, we really hope we made your choice easier. We know how much you care about making and having everything special. Therefore, you definitely deserve something unique and refined to mark the moment. Say "I DO" wearing our wedding pearl earrings and enjoy them not only for one day, but for the rest of your life.
(Visited 425 times, 1 visits today)