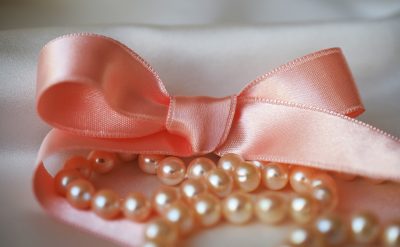 The pink pearl bracelets are no longer reserved only for the romantics! Bracelets can come in different colors and materials, and reflect an entire trend with many different styles. With the warmer weather coming in slowly, it is the perfect time to learn and think of new ways to wear them. Your hands are exposed and naked and simply crave for some decor that will emphasize your skin tone and glow.
Now, we know that pearl jewelry that can be combined with an entire outfit in so many magnificent ways. You can combine your trendy, casual and even sporty clothes with an evergreen pearl bracelet. We will present a few ways you can wear them. Step away from your everyday style, and distance yourself from the classic cocktail dress (not that they are not great, but today's fashion allows you so much more expression!).  You will be surprised how well, different and put together you can look with a simple bracelet with pink pearls.
HOW TO WEAR PINK PEARL BRACELETS
In this article, we decided to show you how you can wear and style pink pearl bracelets, but feel free to adapt what you have learned from other styles and jewelry as well. There are a few things that you should take into consideration. When building a look inspired by pearls that are not white and different arm candy styles, combine your makeup and other accessories to tie in with the color of your bracelet. In addition, it is important to pay attention to the material and texture of your outfits and choose comfortable and light materials that are easy but efficient to wear, much like any type of pearls.
Boho or hip style
The relaxed boho style is perfect for those warm spring and summer music vibes. With a simple denim short and a light, colorful poncho, you can perfectly finish the look with pearl bracelets. They can easily adjust to any arm with and complete the elegant and relaxed look.
If you want to take things up a notch, choose several shades of pink and wear them on both hands, divided by some silver or gold simple bracelets. We recommend that you wear more on one hand than the other; it makes up a perfect asymmetrical balance.
Classic and elegant
When we say classic, we mean business. Don't go too over the top, and rather decide to go with a less invasive look with bracelets that are neutral colors that match your clothes or makeup.
The pink freshwater Bliss Bracelet is a perfect combination that will allow you to wear warmer colors and can go great with bold white business suits and simple day to day wear. But if you are of the paler complexion tone it down and go for the more pinkish one-row quality freshwater cultured pearl bracelet in pink.
Elegant layers in a new dimension
Like wearing several different silver or golden, thin bracelets, you can add layers to your pink pearls. In case you are from the minimalist crowd, then stop after you have read the 'Classic and Elegant' part. A simple piece can really go a long way, but with the developing fashion trends, it is hard to stand out from the crowd if we simply follow the already set parameters.
Going a little out of the comfort zone, but not going wild is a perfect way to accentuate your elegant and professional look. Moreover, as the fashion changed, so did the dress code in most companies. Business suits for man and women have transformed in jeans and a blouse- this is where the jewelry becomes the statement piece of the outfit.
Three pearl bracelets combined together can emphasize the tender and romantic, but devoted person you are. Try combining a purple shade, or a black pearl among two pink pearl bracelets. This is the usual arrangement light, dark, light shades- this is good if you are again streaming for the uniform look. Moreover, you can tie them with a ribbon and you obtain an extremely chic version of pearl bracelet.
But if you want fashion, build up the tones of the bracelets, go from the darkest to the palest- in this case, purple, then two pink ones.
Monochrome pearl bracelets
Much like the previous suggestion, you can achieve an interesting effect if you take several bracelets of the same color but different design or shade. Pair a few shades of pink together that slightly differ in design and your statement accent will be on the spot. Or simply go with a double row of pearls and take the pink freshwater pearl Maxima bracelet.
The perfect wine & dine jewelry
If you take into account all of the above it is easy to transform from a daily, casual and professional look to a sophisticated night outing with the same accessories. When you have a statement piece bracelet composition on one or both of your hands, keep it simple with the rings and necklaces. Show more skin and deepen your makeup for a more dramatic look with a dark shadow or even burgundy colors, some fake lashes and some nude mate lipsticks. You can have dinner and easily touch up while being glamorous and looking high end just because of your bulky and bold pink pearl bracelets.
Blue jeans and a pink pearl bracelet- your two-piece recipe for success!
Bracelets can be considered as a subtle detail that will make the entire difference! Take your skinny jeans and high heels, short sleeved shirt, and a bold but elegant two-row pink pearl bracelet.
The double row bracelet of freshwater pearls, like the Lee bracelet,  can go well with light and dark skin color. Its mild warm tone is perfect for the spring season and your new look! Take a casual, flirty shirt with some high waist jeans, slip this bracelet on, and take a business jacket and a nude look- you are good to go.
This combination is perfect for all women who have busy and active lives, but still want that sense of minimalist glamour everywhere they go. From businesswoman to casual lunch or romantic date, this bracelet will be noticed every time you pick up your phone to make a call or send a text.
Teddy faux fur jacket extravaganza
Fur and pearls are a risk some trendsetters are willing to take. People in their early twenties that are not chained down to dress code or the mainstream fashion are perfect for the coming outfits and the fashion future.
The newest trends of fake fur jackets in bold colors can greatly complement a simple pink pearl bracelet settled discreetly on your wrist. This will make you look glamorous and sleek. After you chose your two bold accessories (the jacket and the pearl bracelet), tone down the look with a simple design dress or skirt and neutral colored blouse. But if you are really feeling texture inspired, you can wear a lace or knitted dress and some statement piece shoes of your choice.
When you run out of ideas how to look original and stand out, choose a simple, basic but attractive accessories. You will give an entirely new look to your old outfits. Fashion experts recommend jewelry that will cause admiration and respect, an authentic and original approach, and, most importantly, respect the 'less is more' code.
Whether you are looking for a business statement piece, or you have an important event, like a wedding, or a simple romantic date, it is important to compose your jewelry with your outfits. Find pink pearl bracelets that represent your character- lighter or colder colors, a combination of the few.
Always wear something that is beautiful for you and what will compliment your wardrobe. Try to keep in mind that your age and personal taste can heavily impact your style. Too much color and bulk layers in wardrobe or jewelry can be great for young people who are searching for their personal style. On the other hand, calmer and basic colors, monochrome layers perfectly reflect independence and a building character for those who are adult, self-aware and proud.
The possibilities are endless and are for those special days when you decide you want to be noticed. Here is a short reminder- wear your pearls as much as you can. These babies don't tolerate negligence. You have to know how to wear them. Pearls and particularly pink pearl bracelets are worn by special women, who feel their seductive power and charm. Wear them with a smile of confidence and happiness.
(Visited 463 times, 1 visits today)