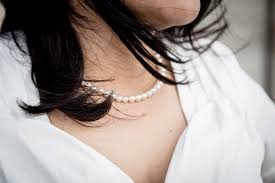 Most women tend to shy away from wearing pearl necklaces, as they tend to feel that they are suitable for more formal occasions.
But this simply isn't the case any longer, as this year designers have come up with some amazing looking pearl necklaces that you can wear whenever you like.
So how should you be wearing pearl necklaces this year?
Simple Is Best
As Jackie Kennedy Onassis once said "Pearls are always appropriate" and simple is never overrated.  You won't go wrong by choosing to wear a string of pearls this year.   Again you can either choose to just one string of pearls or you can choose to wear two or three strings together.
If you really want to create an even more stunning look why not choose to wear two or three strings of pearls of different lengths together.  Plus you could even choose to wear pearl necklaces that are made up of different colour pearls as well.
Go For Oversized And Chunky
A chunky pearl necklace will provide a dynamic twist to even the most simple of outfits this year.  The wonderful thing about such quality pearl necklaces is you can wear them throughout the year.
This type of necklace looks great when you team it with a simple t-shirt and jeans or a chunky jersey.   Plus it would look just as stunning when you decide to wear it with that little black dress for a night out.
(Visited 238 times, 1 visits today)