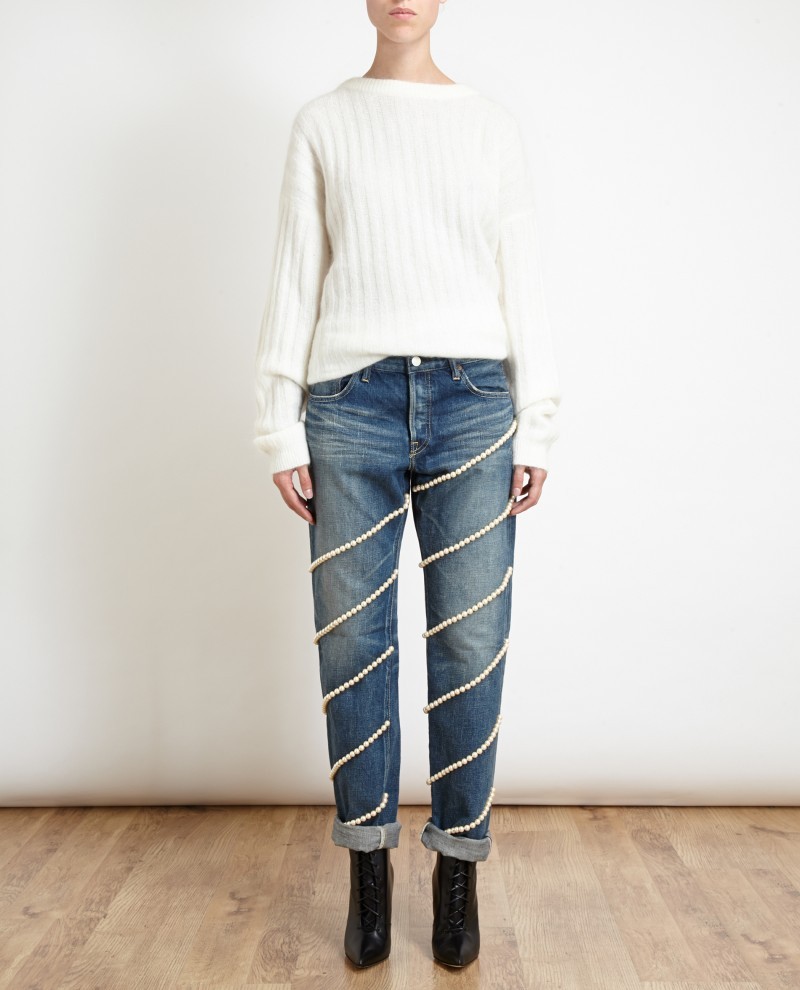 "Clutching Our Pearls" is all about horrendous and outright ridiculous fashion and accessories! We are really shocked with today's find and we are looking forward to hearing what you think.
Today's feature that has us clutching our pearls is the "Tu Es Mon Tresor Pearl Studded Jeans".
These stone washed selvedge denim jeans with regimented pearl embellishment are button down fly with belt loops and classic five pockets.  They are cut for a boyfriend fit. The cost is a whopping $860! You can purchase them here.
These jeans are questionable on our list because we believe that jeans should be simple and carefree, yet chic and stylish. We also think that the pearl embellishments are rather gaudy, fabulous and fashionable.
Since we are big fans of all things pearls these jeans are actually a plus if you are looking to gain attention. Here is a look that we think makes these jeans a Fashionista's need:
Add a little color to the decorative jeans by adding the color red. We chose this red knit jacket that is also embellished with pearls to add a little class to the trendy look. We also think that red accessories that have a little pearl décor add a little fun to the fashion.
If you want to make a true fashion statement that will make people say "wow" then wear this oversize pirate blouse with necktie which is subtle but stylish. Add the same red accessories and receive the same attention as if you were wearing the red jacket.
Of course each look wouldn't be complete unless you add the gorgeous dangling Colleen Earrings that can be found at Pearl Only. These earrings are perfect for day or night, and can always be worn to add a little flair to your fashion.
Overall, we think that these jeans are definitely worth the try because you can make them fit your style.
What do you think of these pearl jeans? Are they something that you would wear or is it something that you would leave to the more daring fashionistas?
(Visited 475 times, 1 visits today)