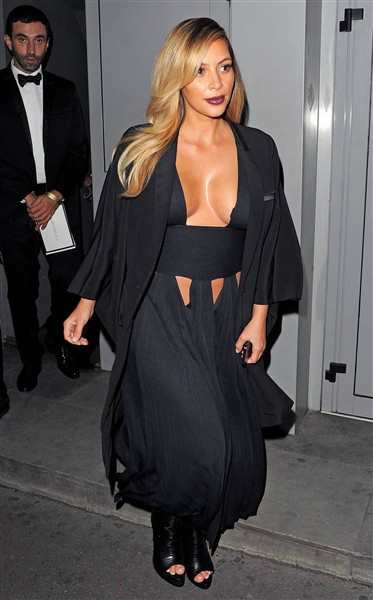 "Clutching Our Pearls (Featuring Celebrities Fashion Fails)" is when we find the biggest fashion fails created by celebrities and their stylists.
Everything from ugly heels to disastrous dresses, we will find the bad, the worse and the worst from both the past and the present to make sure it is never done again by celebrities or their loyal fans!
We are really shocked with today's find and we are can't wait to share it with you!
Today's feature that has us clutching our pearls is the infamous, Kim Kardashian!
Kim may be famous by making some of the worst choices in life, but one thing she made sure of was that her fashion, makeup and hair were always on point!
Well, she didn't deliver to her fashion reputation a few months after having her baby, North West.
We think this star tried way too hard to get attention when she wore this long black dress with major cleavage and cutouts at the premiere of "Mademoiselle C" in Paris on Oct. 1, 2013.
The look went from sexy to desperate making if a fashion-fail in our books!
What do you think? Do you agree? Do you disagree? Do you love it?
Share your thoughts and opinions.
Photo Source: Wonderwall (MSN)// Beretta/Sims/Rex USA
(Visited 163 times, 1 visits today)