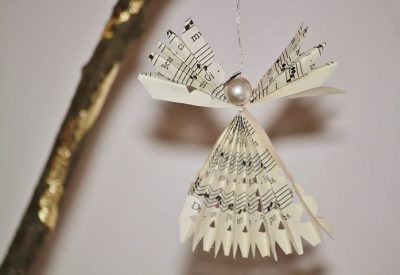 For most of us, Christmas decorations are indispensable when it comes to celebrating this wonderful holiday. For those who love pearls, we have curated a list of pearl Christmas ornaments that will enchant your eyes and your guests. Any pearl lover knows that pearls are always appropriate and you can use them to decorate so many things, not just your outfits 😊. For this reason, we have decided to show you how easily you can incorporate them this season into your Christmas decorations.
Decorating your home to celebrate Christmas means a lot more than hanging ornaments around the house. It can be a wonderful occasion to reconnect with your family members that live far away, to bond, and to create memorable moments. Your festive mood should not reflect in your wallet as well. So, save some money and use them for your real pearl Christmas gifts.
This season, celebrate in style with these amazing and easy to create pearl Christmas decorations. From pearl wreaths and pearl Christmas globes to pearl Christmas garlands, these ornaments will simply bring you that wintery feeling into your home without having to spend too much. They are not tacky and most of all, not ordinary! We all know that pearls can instantly add a touch of class to anything, so toss that overrated glitter and this year, welcome these elegant pearl Christmas decorations.
WINTER WONDERLAND:ELEGANT PEARL CHRISTMAS ORNAMENTS
1. Pearl Christmas Tree Decorations
Take a look at these charming pearl Christmas tree ornaments. They are such a fun and easy craft. Plus, they bring a delicate wintery feeling into your home. You can use them for your own Christmas tree or you can offer them as a gift.
Pearl Wired Christmas Globe
For these Christmas globes you only need: faux pearls, wire (silvery or golden), transparent glass globes. Insert the faux pearl beads along the wire, twirl it and put it inside the glass globe. Voila! Here you have a less time consuming handmade ornaments for decorating a traditional Christmas tree.
Pearl Covered Christmas Globes
For the pearls Christmas ornaments below, here your have a simple to follow DIY tutorial from Two Sisters Crafting. Easy, quick and a cheap way to create your own decorations.
Pearl Vintage Christmas Decorations
Looking for a vintage way to decorate your tree? Grab some thin rope, some old Christmas globes with smooth surface, lace, silk ribbon, glue and faux pearl beads and you have everything you need to create these pearl globes.
Pearl Christmas Tree Topper
A Christmas tree is never ready if it does not have a chic tree topper. So, finish decorating your tree with this pearl embellished tree topper. You can still use it many years after since pearls will never fade away. Your tree will now reflect your own sense of style. Ready to receive the Christmas gifts!
2. Delicate Chic Pearl Ornaments
For a chabby chic Christmas theme, definitely add some pearls. Red and green don't always need to take center stage, so pink or other pastel colors will enhance the beauty of your room. As a result, use silky ribbons, lace, antique decorations, silver accents and pearl garlands to create a vintage, yet contemporary look. Shabby chic  pearl Christmas ornaments are truly special this season and have an eternal beauty. It simply does not get more timeless than this!
This pearl tree ornament is actually an essential oil diffuser. Here is how you can create it.
3. Pearl Christmas Home Decoration Ideas
Deck the halls of your home for the holidays with indoor Christmas decorations that have multiples purposes. These stylish Christmas ornaments can instantly transform your home into Santa's favorite place to hang out.
Pearl Decorated Candles
A cozy Christmas requires some candles on your table for the lovely dinner.  Round out the scene with some pearl decorations and enjoy your Christmas Eve. For a more subtle look, go for a small size pearls tapped into wires. But if you like opulence, then use all the bag of pearls.
Pearl Christmas Garland
Go ahead and buy a few yards of pearl Christmas garland. You will need it for your Christmas tree and for your chandelier. Yes, that's right! You can obtain a sophisticated décor only by hanging some pearl garland on your lamp's arms.
Or, you can decorate your letters. Buy some simple letters like these ones and embellish them with strings of pearls. White Christmas ornaments never looked better! It will give them and the entire space that "wow" effect in seconds. They are appropriate for window décor ideas or table setting décor.
Pearl Trees
For this pearl ornament you only need some paper cones, glue and faux pearls or different sizes. Invent your own design or replicate the one illustrated bellow. You'll find them cute and elegant in the same time.
4. Pearl Christmas Outdoor Ornaments
Your home is not fully decorated if you don't hang on your door a Christmas wreath. A common Christmas decoration can be transformed in a sophisticated center piece. Here are some gorgeous pearl decorated wreaths that will greet your guests with elegance and class.
Here is a quick tutorial on how to create your own pearl wreath. You can also use dry pine cones and a golden spray.
A great alternative is to use mistletoe. Tie the mistletoe branches together with some rope, glue the pearls as you wish and add a fancy ribbon. Enjoy the Christmas spirit with pearl decorated mistletoe branches that you can hand on your stairs or front door.
5. Pearl Christmas Cards
Holiday cards are a nice way to express your Christmas wishes. This year you can forget about the same old greetings and create your own cards just by using paper, pearl beads, glue and silk ribbons.
Get inspired by these refined pearl Christmas cards and give your wishes a little shimmer. Be creative and design a snowflake, a Christmas tree or a tree globe. Pastel colors or plain white pearls will do the trick!
In conclusion, you can never go wrong with pearls. Their versatility is so useful when you want create your own tree decorations or outdoor pearl Christmas ornaments. Plus, they don't deteriorate and you can use them the next years as well. Create your own pearl Christmas theme for your house and tree and be ready to amaze your guests as well. You will be surprised to see how easily they recreate the effect of that white bright snow. Have a unique, elegant and merry Christmas!
(Visited 721 times, 1 visits today)