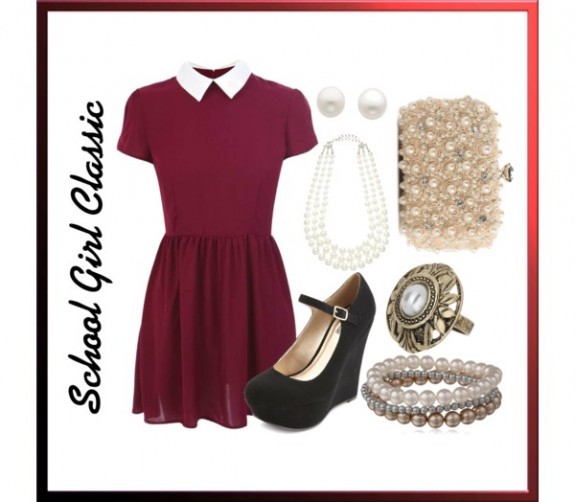 .
.
.
.
.
.
.
.
.
.
Dear Ms. Elitou:
I am 16 years old, and I received pearls for a Christmas gift from my boyfriend. What in the world do I wear with pearls?
-16 year old Pearl Girl
At 16 years old, there are many things that you can wear with pearls, and depending on the length of the strand, plenty of ways to wear them. Perish the thought that pearls are just for your mom and your grandma. Pearls are for every girl that loves to be stylish and girly.
Here are a few looks with pearls that are perfect for a stylish teen:
This school girl classic style is very chic! The skater dress with the wing-tipped collar looks great with a multi-strand of pearls, a pearl bracelet, and pearl earrings to add that classy touch. Add pizzazz when you add a cocktail ring with a pearl center piece and a pearl clutch that looks stunning with your Mary Jane wedge heels. Wear this look almost anywhere especially to dinner, church or a stylish party.
Be a stylish geek when you wear your pearls.  Dark blue fitted jeans with a really cool bright colored sweatshirt looks great with a multi-strand pearl necklace. The color white always looks good against really bright colors. Add your bright colored purse and a pair of matching sneakers and look flashy and classy all at once.
Here is a really girly look. Wear pink and add a few pearl accessories that will take your look to the next level. Add a little edge to your girly pink by adding a graphic sweatshirt midriff, a pair of ripped jeans and pink high-tops. Finish the look off with a multi-stacked pearl bracelet and delicate pearl earrings. Cute and edgy is a look that can never be boring.
We hope that these looks give you the inspiration that you need to wear your pearls. Wear your pearls on a date with your boyfriend and he will feel like he made the right choice on getting you a gift that looks good on you.
Do you have questions on fashion? Send an email to Ms. Elitou.
(Visited 306 times, 1 visits today)