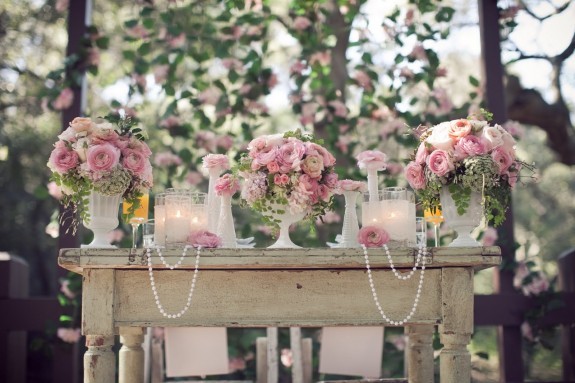 Pearls are amazing stones that are very versatile and bring the perfect touch of sophistication which makes it a splendid addition to your wedding theme.
A question you need to ask yourself is, "Do pearls fit my theme?"  This important question must be answered in order to determine if pearls would be too much, out of place, or the perfect décor to your special occasion.
There are many ways to add panache to your wedding with a touch of pearls by incorporating them into the following:
The Cake
The Shoes

The Décor
 The Centerpiece

The Dress

The Bouquet
The Veil
SIDE NOTE: Never over use pearls in your wedding because too much is always an overkill.
Hope this helps!
Ms. Elitou
Photo Credits (in order): heavenlybloomsblog.com,  thepastrystudio.com, zzkko.com, pintrest.com, a1weddinginvitations.net, elizabethannedesigns.com, chicvintagebrides.com, trendymods.com
(Visited 244 times, 1 visits today)