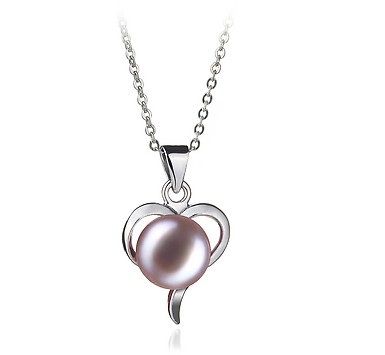 As you hold and embrace the one you love this upcoming Valentine's Day, give her something she will always cherish and wear close to her heart—a pearl heart pendant. These pendants that we are sharing with you are not only beautiful but they are also an inexpensive way to give the one you love something totally unique and straight from the heart. There is no doubt that she will love these pieces for years to come. 
Check out some of the most heartfelt pendants for this loving holiday.
 Leeza Pendant – Lavender AA 9-10mm Freshwater Pearl Pendant
This pendant clearly demonstrates your affection for your love one. The lavender freshwater pearl pendant will look darling on your sweetheart's neck.
Bridal Pink Heart Pendant – Pink AA 9-10mm Freshwater Pearl Pendant
We love this piece because it is very striking and very well structured. This wonderfully deigned pink freshwater pearl is a focal point in this heart design. You will love the look in your darling's face when she puts on this loving piece of jewelry.
Katie Heart Pendant – Lavender AA 9-10mm Freshwater Pearl Pendant
We adore this pendant because it is befitting for a woman of any age and especially for the young lady in your life. This gorgeous design with the perfect lavender freshwater pearl is surrounded with beautiful sterling silver heart frame accompanied with delightful cubic zirconia studs. Let your love forever intertwine as she wears this beautiful pendant.
Randy Pendant – Lavender AAAA 7-8mm Freshwater Pearl Pendant
This cutesy pendant will definitely warm the heart of your little sweetheart. It is very pretty and chic with its simple design of a lavender freshwater pearl, hanging from a heart shaped cubic zirconia. This centerpiece will be the center of her attention.
Prudence Pendant – Gold AAA 10-11mm South Sea Pearl Pendant
We saved the best for last! This is the pièce de résistance with its amazing combination of a south sea pearl, gold, and diamonds creating a remarkable fashion statement and financial investment. Your loved one will never forget the day that you placed this beauty around their neck.
What do you think of the pendants? Would you wear?
Photo Credit: pic.sc.chinaz.com
(Visited 341 times, 1 visits today)