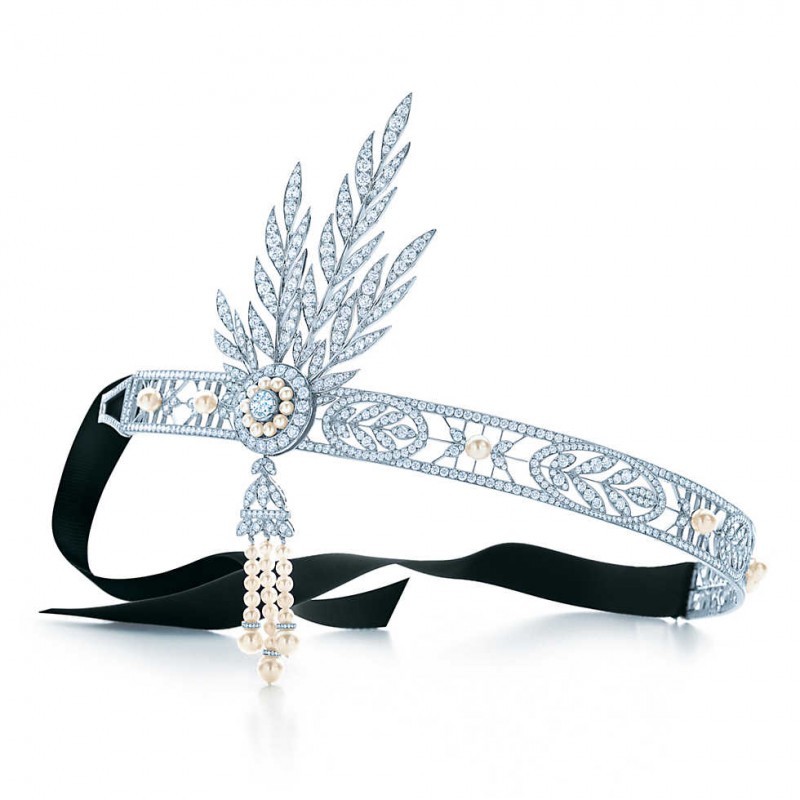 Above is "THE SAVOY HEADPIECE" which was the headpiece that was showcased in The Great Gatsby movie featuring favorites Leonardo DiCaprio and Carey Mulligan.
This headpiece was created for the movie by Tiffany & Co. designers in platinum, a detachable brooch, diamonds and freshwater cultured pearls. The total Carat weight: round brilliant diamonds, 25.06 and the Pearls, 3.6-6.9 mm.
This beautiful Tiffany & Co. Savoy Headpiece is worth $220,000!
According to Tiffany's this is "A Crown Jewel of THE JAZZ AGE" and it is inspired by the Roaring Twenties and Tiffany's beautiful vintage designs:
"During the Roaring Twenties, Tiffany designed the jewels that epitomized American glamour.  These magnificent creations expressed all the energy and optimism of New York City in that most marvelous of times.
Tiffany's designers celebrate this fabled period in a headdress of diamonds and pearls, featured in the Blue Book collection. Inspired by an archival design, the Savoy illuminates the night with Tiffany diamonds and pearls that form a tassel and a spray of feathers that doubles as a brooch."
What do you think of this headpiece? Do you think it is worth the price?
(Visited 1,148 times, 1 visits today)