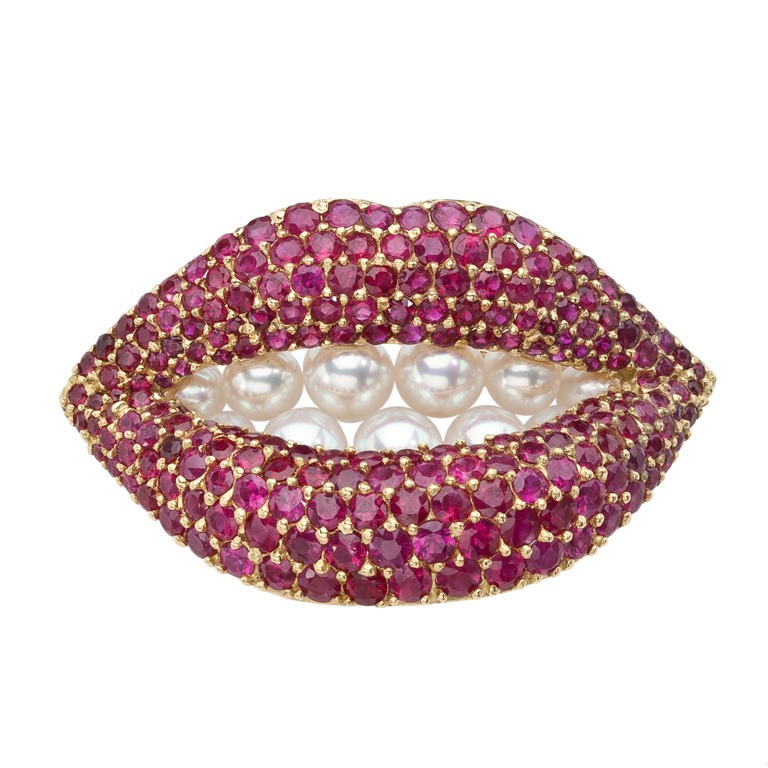 Looking to get your pearl fix? Look no further than these "Salvador Dali Ruby Lips Brooch" featuring pearls and rubies.
Learn more about the brooch below:
"An iconic brooch by surrealist artist, Salvador Dali, of ruby lips with pearl teeth set in 18 karat gold the brooch consists of approximately 200 pave set rubies and eleven spherical pearl teeth. The rubies are well matched with good saturation and weigh approximately six carats. Signed on the side with "18K" and the impressed mark reading "Dali HK" The HK stands for Henry Kaston who made Dali's jewelry from the late 1970's through the 1980's.
Dali (1904 – 1989) designed the lips in 1949. In typical Dali fashion he wrote about the lips saying "Poets of the ages, of all lands, write of ruby lips and teeth like pearls. It remained for Dali to translate this poetic cliché into a true surrealistic object."
This is one of the most amazing combinations of gems that we have seen. The setting is beautiful and the idea is just in time for a fashion trend that is beginning to grow. Red lips are showing up on everything from dresses to jewelry and we love it.
So what do you think of this artistic piece of jewelry? Would you wear? Share your thoughts…
(Visited 1,023 times, 1 visits today)