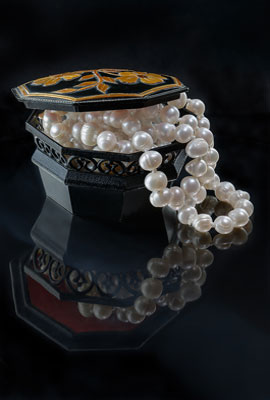 Freshwater pearls are the most popular type of pearls on the market because they can be integrated into a wide variety of jewelry pieces. They are extremely versatile and they can be included in both casual and formal outfits. This makes them valuable power pieces in every woman's jewelry box.
Another important benefit is the fact that prices for freshwater pearls are extremely accessible. Depending on the shape, the size and the integrity of the specimen, the price can range from a couple of American dollars to as much as a few hundred.
Let us tell you more about these pearls, all the amazing jewelry pieces that can be created with them and how you can choose the perfect ones. Whether you are interested in delicate necklaces, statement bracelets or engagement rings, freshwater pearls should definitely be on your list.
What Are Freshwater Pearls?
Cultured freshwater pearls are created by using freshwater mussels. China is currently the leading producer worldwide, with export rates of thousands of tons each year. One of the most interesting aspects about them is that they come in a wide variety of shapes, sizes, and colors.
Round freshwater pearls are extremely rare, though. It seems that less than 2% of them have a round shape while the vast majority are oval or baroque. This is one of their defining characteristics that provides them with a unique charm. They are easily recognizable and they always manage to portray the wearer as adventurous.
As for their color pallet, freshwater pearls range from flawless white to gorgeous pink and champagne, and all the way to a generous assortment of metallic colors. Please note that there are no natural black freshwater pearls available.
Light-colored specimens are perfectly suitable for artificial coloring and this enables production companies to manufacture freshwater pearls of absolutely any color imaginable.
Freshwater Pearl Value
Freshwater pearls are common worldwide because they are massively exported by the Chinese. This has managed to lower their price considerably and as such, they are extremely accessible. The final price depends on the pearl's grade, which is given according to its shape, size, and integrity.
As opposed to gems and precious stones, a universally accepted grading scale for pearls does not exist. At the moment, there are two main scales that are jewelers use as guidelines to determine the true value of pearls: the AAA-A grading system and the A-D grading system.
Freshwater pearls are graded by using the AAA-A system, which includes three main grades. A is the lowest and AAA is the highest, but rarely does a specimen fit perfectly into one single category. Due to the immense versatility of these pearls, intermediate grades such as A+ or AA+ have been included in order to relay the full potential of each individual pearl.
Freshwater Pearl Necklaces
Freshwater pearls are extremely versatile. As such, they are suitable for a wide variety of necklace types. Round and almost round specimens are ideal for single-strand necklaces, while baroque-shaped specimens can be used for a wide range of necklace types, ranging from princess length, to rope necklaces and all the way to double and triple strands.
It is precisely the immense shape variation of freshwater pearls that makes them the ideal material for more creative necklace types. A nylon filament is typically used to accentuate the impressive diversity of these beautiful pearls. Nylon necklaces are statement jewelry pieces that can be integrated into casual and formal outfits alike.
Freshwater Pearl Earrings
Single-pearl earrings are a timeless symbol of grace. This is why simple white single pearl earrings have remained the most popular choice for brides along the years. Freshwater pearls make this touch of elegance accessible to women from all socio-economic backgrounds due to their relatively low prices.
While round freshwater pearls symbolize elegance and grace, baroque-shaped specimens are ideal for women who have a well-developed creative nature. Even in single pearl earring types, baroque pearls can make the wearer stand out.
Freshwater pearl beads can be paired with other precious stones, such as cubic zirconia or even diamonds. The result is a refined piece of jewelry that can make any woman feel elegant and radiantly beautiful.
Another technique employed by jewelers is polishing the pearls into new and original shapes. Oval freshwater pearl filaments are extremely popular and they can be paired with baroque-shaped specimens to create amazing pieces.
Freshwater Pearl Bracelets
Freshwater pearls are the perfect gems for charm bracelets because they can be easily cut into flat shapes. These statement bracelets are playful, yet stylish and they can complete any casual or formal outfit.
While the charm bracelet is the signature model for freshwater pearls, they are also appropriate for classic single-strand models. Round specimens can be integrated into classic pearl bracelets while baroque-shaped ones can be used to create unique models.
If you are curious to find out more about freshwater pearls, you will find many more articles about them on our blog. These natural gems are of a unique elegance and every woman should own at least one piece of jewelry made with them.
Freshwater Pearl Rings
Freshwater pearl rings are an excellent alternative to the traditional diamond engagement ring. Pearls symbolize grace and refinement, which makes them ideal tokens for such an important live event. Single-pearl rings are the best fit for engagement rings because they emphasize the delicate nature of the pearl.
You can also opt for models which include small diamonds or other precious stones alongside the central pearl. These stones actually make the pearl stand out and the results are staggering. In fact, the market for diamond and pearl engagement rings is getting stronger and stronger every year.
Jewelers love experimenting with freshwater pearls when creating ring models because they can combine specimens of various shapes and sizes to create some breathtakingly beautiful multi-pearl models.
In fact, pearls have remained a true symbol of womanhood along the years because they have been passed on from mother to daughter as important family heirlooms. A freshwater pearl necklace will bring out a woman's timeless beauty and she will feel elegant and empowered, which makes this the perfect gift for any occasion.
(Visited 3,211 times, 1 visits today)