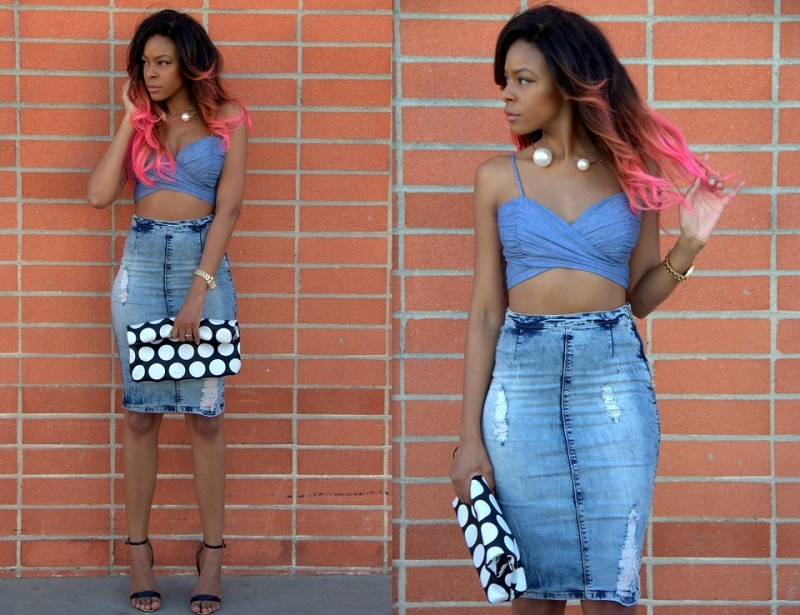 This Fashionista was chosen as our "Fashionista of the Day in Pearls" because she is totally on trend with her jean combination and pearl necklace!
"Slim", fashion blogger of All Things Slim, showed off her style with her "All Tied Up Crop" by Nasty Gal, denim pencil skirt by Dungarees Online, strappy heels by Shoe Cult/Nasty Gal, polka dot fold over clutch  by Front Row Shop and as a great finisher, a pearl collar by Front Row Shop.
 "I have been looking forward to going to the On The Run tour for so long!"
She goes on to state on her blog: 
"I'd been so wrapped up in the baby that I didn't really take the time to plan an outfit, but I knew I wanted something easy and sexy. Lately, I've been loving denim, and I've purchased a few (3) denim skirts. This one is my favorite. There's something super sexy about the length and how it hugs the hips 🙂
To complete my look, I wore a chambray wrap top I got from Nasty Gal. I did NOT pack well, so I didn't have any of my denim Diors (how cute would that have been?) but I did have my polka dot Front Row shop bag. At the actual concert, I did closed toe pumps (there was a lot of dirt and grass and I did NOT want dirty feet, but beforehand, I did open toed. Are you guys in to the denim on denim or "Canadian Tuxedo" look? What about the resurgence of denim skirts from the late 90's? I certainly am! Let me know in the comments. "
We think this Fashionista looks cute and we are sure that you will love her look as well.
What do you think? Does she look chic?
Visit "Slim" at her website: allthingsslim.com
Photo Credit: allthingsslim.com
(Visited 156 times, 1 visits today)