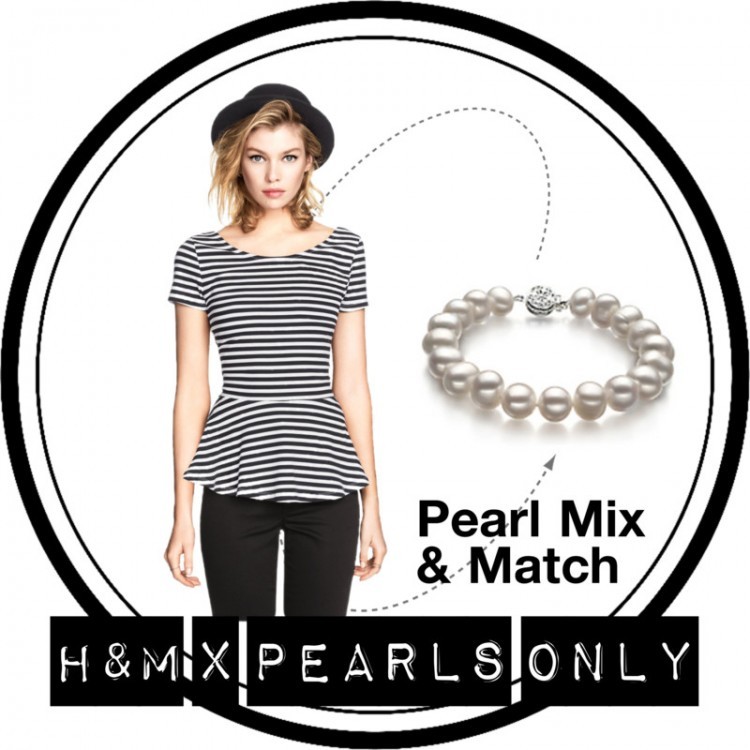 We, at Pearls Only, are trendsetters and we love to share with you the hot new trends that on the rise! Today on our "Pearl Mix & Match" we are going to show you how to make the trendy stripes fad work for you!
Stripes are in every magazine and are showing up on all the best runway shows and collections so we know they are going to be a hit this season in your stripes and pearls.
What we like about the stripe trend is that it comes in all colors, designs and styles and is offered in all articles of clothing from tops and skirts to dresses and even shoes. ,
We did a little online window shopping and found an awesome top that features stripes and a peplum design (which is still in for this season)!
Today's Pearl Mix & Match features the great combination of a chic top by H&M.com, and gorgeous pearl bracelet by Pearls Only.
We adore the eye-catching style of this top because the black and white color is very flattering to almost every size and the peplum on the top compliments the waistline and gives the illusion of a flat stomach.  The top looks amazing with the Pearls Only pearl bracelet because it is simple all while being an eye catcher! We think this look will pair perfectly with fitted black jeans and a black hat. So chic!
You can find the top at HM.com for the low price of $9.95 and the bracelet from Pearlsonly.com for $49, making the look cheap and cheerful for any Fashionista with the price being under $60.
What do you think of the look? Are you interested in seeing more fashion-forward trendy clothing?
Photo Credit: Pearls Only//H&M
(Visited 194 times, 1 visits today)