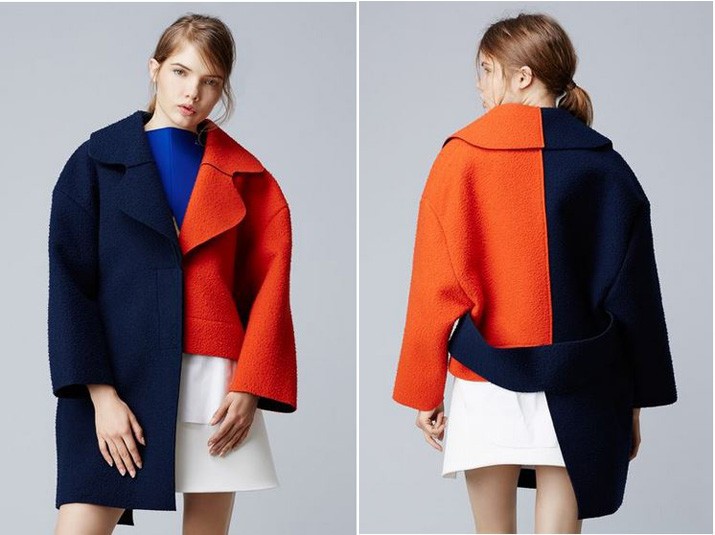 "Clutching Our Pearls" is all about horrendous and outright ridiculous fashion and accessories! But sometimes it features fashion that is so amazing that we can only clutch our pearls in amazement. We are really shocked with today's find and we look forward to hearing what you think.
Today's feature that has us clutching our pearls is the Jacquemus Le Manteau Asymetrique.
This is by far one of the most unique items we have featured on our page. This is a coat made in France that combines a long coat with a short jacket. Strange, right?
The coat was described on Openceremony.com:
"Simon Jacquemus' collections are celebrated for their simple yet singular silhouettes. His Fall collection, titled "La Femme Enfant," takes a cue from children's cut-out drawings, rendering them into vibrant, whimsical shapes. Watch for this season's major motif: bold oval-shaped patches and pockets that appear on the oversized garments—called "oreille" for its resemblance to an ear.
A long navy coat on one side and a short orange coat on the other. The two colors come together with a hidden button placket and symmetrical, oversized lapels. To match the oversized sleeves and rounded shoulders, a large navy belt panel swoops in the back. Included is a removable, white cotton hem at the left side and black lining throughout."
If this coat tickles your fancy you can get it for $985 on Openceremony.com.
When we clutch our pearls to this, it is not because we are in love with it, it's because we don't understand it. This is definitely a style that we can only appreciate as art.
What do you think of this coat? Would you wear it? What would you think if you saw someone wearing it?
Photo Source: thefashionpolice.net
(Visited 669 times, 1 visits today)