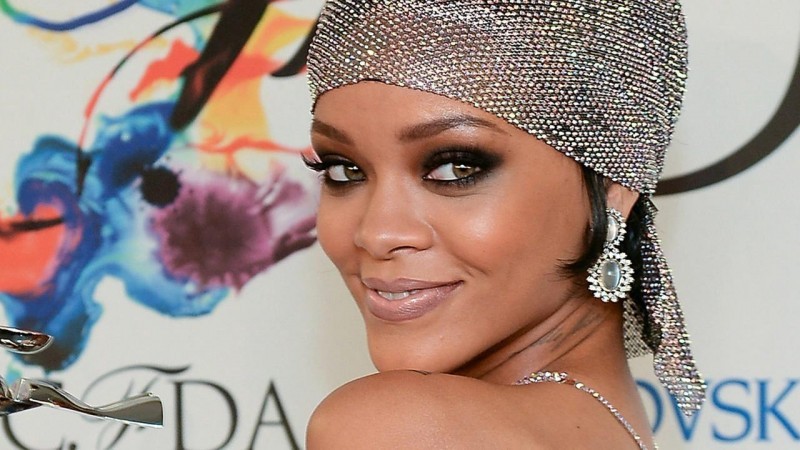 Rihanna has always been one to stand outside of the box with her music, personality and style. Her style cannot be categorized in one place because it is always changing, evolving and redefining itself. In many ways her style is daring, outstanding, and sometimes very controversial. Whether it is her notorious nipple rings, plunging backless dresses or topless and revealing outfits this "Diamond"singer is always getting attention!
The Council of Fashion Designers of America seem to love this young star's dress game because she was recognized for her fashion savvy when she received a "Fashion Icon of the Year" award from the CFDA Awards on Monday.
Rihanna seemed to take the award seriously because she was dressed up in a glitzy crystal gown which easily made it clear why she is an icon!  This star looked adorable in this long and beautiful custom Adam Selman gown covered in Swarovski crystals.
The style looked quite familiar as it was inspired by the legendary singers, Josephine Baker and Diana Ross but of course it has the familiar Rihanna twist.
The star worked her sheer and sparkling dress filled with over 200,000 Swarovski crystals along with nothing but a nude thong, matching head wrap, long evening gloves, and a glamorous fur stole.
Rihanna was very grateful for the award that was given to her by Vogue's Editor and Chief, Anna Wintour. She received the award with pride as she shared that fashion to her is, "an outlet for me to express myself, to speak up, to say who I am and to be very loud about it at times."
She also stated, "There are rules! But rules are meant to be broken."
Who can deny this truth? What do you think? Check out more fashionable images of her look below.
Photo Credit: cdn.abclocal.go.com, Rex Images; Getty Images
(Visited 313 times, 1 visits today)